Bundesliga Zeitung, by Andy Wales.
History was made in the Bundesliga this past weekend as this unpredictable season continues to spring surprises upon us.
Saturday evening's Top Spiel was the hotly-anticipated first ever Berlin derby in the top flight between Union and Hertha.
"East meets West" is something you'd expect to hear from an 80's movie, but here it was the plucky underdogs of the former East Berlin, Union, against their more illustrious neighbours from the west, Hertha.
It is almost thirty years to the day since the Berlin wall fell and I can still vividly recall the feeling of hope as that symbol of division crumbled at the hands of Germans from both sides.
The history between Hertha and Union stretches back to the days of division, with fans of both clubs supporting the other on various occasions.
A bond of friendship existed between the two sets of supporters and they even played each other in a one-off game in 1990 as Germany began to re-unify.
They have since met in the 2. Bundesliga, but this was their highest-profile head-to-head and those old friendships have dwindled over passing years.
Even so, their rivalry has not manifested into anything like the animosity we see when Schalke meets Dortmund, as Union and Hertha are vastly different clubs, operating on vastly different finances.
The atmosphere at Union's Stadion An der Alten Försterei grew in notoriety last season, peaking with the incredible scenes after they beat VfB Stuttgart to gain promotion to the Bundesliga.
Observers were not let down on Saturday evening as both sets of fans put on the kind of terrace spectacle that draws so many to the Bundesliga.
Fans, decked in club colours, bouncing and singing in union was a truly captivating sight.
The pyrotechnics temporarily halted proceedings shortly after kick-off and will have upset the authorities, but added to the sense of occasion.
The match itself never quite lived up to the hype or atmosphere, but Union were clearly the more dangerous of the two sides.
Pre-season, I predicted Hertha to perhaps break into the Europa League spots this year, but they've been wildly inconsistent. Here, they barely turned up and although Union eventually got the winner they deserved, it wasn't without controversy.
In the closing minutes of the game, Christian Gentner fired a shot wide, and as his foot came down, it landed on Dedryck Boyata who'd slid in to try and make a block. Gentner went over and referee Deniz Aytekin awarded the penalty.
VAR reviewed the incident advised the referee to look at himself. Replays suggested it wasn't a foul, but Aytekin surprisingly stuck with his original decision and Sebastian Polter tucked the spot-kick away with aplomb.
A famous win for Union wasn't the only history being made in the Bundesliga.
RB Leipzig recorded their biggest ever win in the 8-0 desolation of Mainz. Star of the show was Timo Werner, who bagged a hat-trick of goals AND a hat-trick of assists.
3⃣ goals
3⃣ assists

Today, Timo Werner became only the third player since data collection began in 1992/93 to have a hand in six goals in a single @Bundesliga_EN game…https://t.co/B8ejrCe8mU

— Alex Chaffer (@AlexChaffer) November 2, 2019
But even this bludgeoning was overshadowed by Eintracht Frankfurt picking apart champions Bayern München in a blockbuster 5-1 victory.
Bayern have often looked vulnerable this season and were not helped here by defensive injuries. With Niklas Süle out long-term, Jerome Boateng has found himself back in the team but didn't last long in this contest, getting a straight red card for a foul inside ten minutes.
Frankfurt took full advantage and their quick passing and pin-point crossing saw them take a two-goal lead as the visitors chased shadows.
Robert Lewandowski created a little more history for himself by crafting out and finishing a goal to continue his incredible record of scoring in every Bundesliga game this season.
There was no magical Bayern comeback though, as Frankfurt restored their two-goal advantage early in the second half. A bewildered Bayern defence soon crumbled and disintegrated as Manuel Neuer was powerless to prevent the goals going past him.
After ten Bundesliga games, this is now Bayern's lowest points total in nine years and worst defensive record in 11 years. So, whilst Lewandowski is breaking records in the right way, his team are also setting some unwelcome ones.
Niko Kovac looked a forlorn figure on the sidelines and Thomas Müller was seen talking to angry Bayern fans after the final whistle.
Bayern have long been a ticking time bomb and the future of Kovac is again looking perilous. The week ahead could be a career-defining one for the Bayern coach. Victory in midweek at home to Olympiakos in the Champions League is a must; but even that might not be enough to save his job as a reversal next weekend could see the axe fall.
The reason for that is because Saturday evening's Top Spiel is Der Klassiker, Bayern v Dortmund at the Allianz Arena.
"This result is no surprise, it has been coming," Manuel Neuer said about #Bayern's 5-1 defeat to Eintracht Franfurt. A sentence as devastating as yesterday's result. For more read my article on @ForbesSports/@ForbesEurope now! https://t.co/K1vhReSS9E

— Manuel Veth (@ManuelVeth) November 3, 2019
Lucien Favre is also a coach who has come under scrutiny this season, though the pressure on him is nothing like that on Kovac.
Dortmund's patchy form and defensive fragility have caused questions to be asked of Favre, but a comfortable 3-0 win over Wolfsburg was a welcome birthday present for the Swiss coach.
Given the coverage and pressure mounting on Kovac, it would seem almost remarkable that Bayern are only a point behind their rivals, but that probably says as much about Dortmund's short-comings this term as it does about Bayern.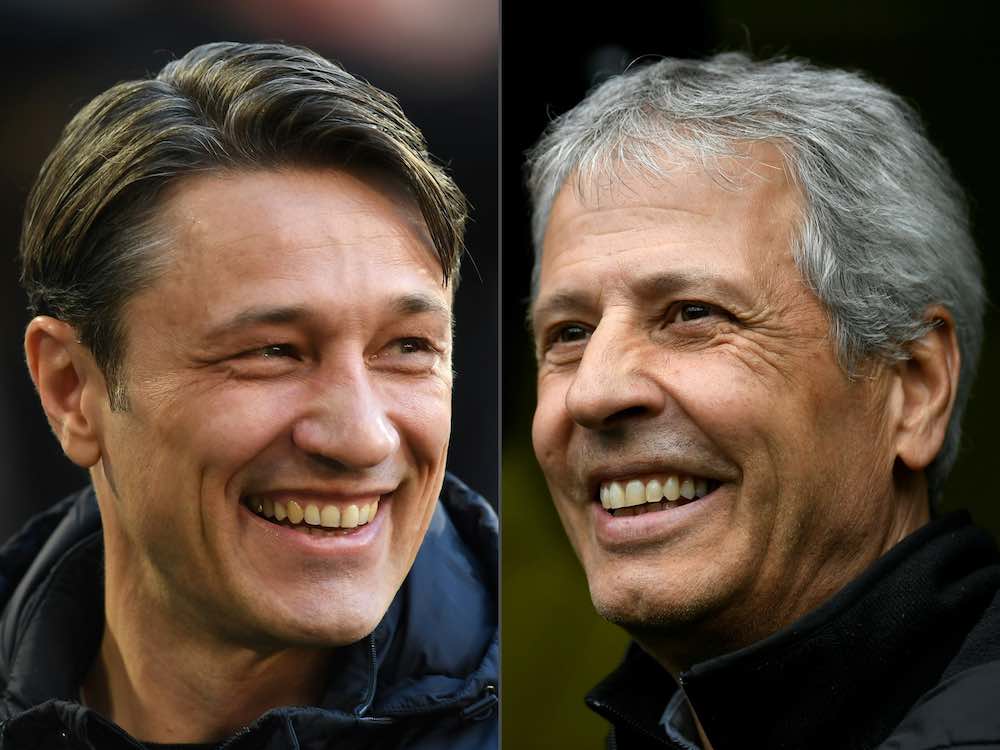 Striking such a psychological blow as a win in Munich would be huge for Dortmund and potentially pivotal in the title race. It might also prove to be a catalyst for Favre and his team to really kick on this campaign.
That scenario would also likely signal the end for Kovac at Bayern, a reign that's been in serious trouble since the manner of their Champions League exit to Liverpool last season.
On the flip side, back-to-back home victories against Olympiakos and Dortmund would be the perfect response for Kovac and perhaps provide some impetus for the weeks ahead. Bayern's injury problems and fragile confidence do make that seem an uphill task.
Whatever happens, we can look forward to another memorable week of Bundesliga action in this tremendously unpredictable season.