It's been a year full of excitement and surprises in South American football. Louis Smith takes a look at some of the year's standout moments.
Copa Sudamericana
We start off in Ecuador at a small club with a big heart who won their first-ever continental competition.
Independiente del Valle were crowned champions of the Copa Sudamericana after a 3-1 victory over Colón in the final in Paraguay. Their journey to Asunción included triumphs over some of the biggest teams in South America — Corinthians and Independiente, for example.
This is not the first time Independiente del Valle has caused an upset. Just three years ago they made it all the way to the Copa Libertadores final.
The most remarkable thing about the club is their focus on producing talent which is often sold off to bigger clubs, while still managing to be successful in the short term. It's something every team can take inspiration from, earning plenty of money to help them continue to develop talent.
Roque Santa Cruz
He may be 38-years-old, but Roque Santa Cruz has not lost his goalscoring touch. In 2019 he helped Olimpia to their fourth straight title in Paraguay.
In 2019 the former Blackburn and Bayern Munich man scored 25 goals in 40 games, and in the last five games of the year, he managed 11 goals — an impressive feat in any league at any level.
Four of those goals came in one game during a top of the table clash between Olimpia and rivals Cerro Porteno. The match ended 4-2 (which also included a perfect hat trick) and showed how important Santa Cruz is, not just to Olimpia, but to Paraguayan football.
Roberto Rojas, a Paraguayan-American football journalist for beIN Sports USA, gave an insight into the reaction in Paraguay regarding Santa Cruz and Olimpia's outstanding fourth consecutive title.
"The reaction in Paraguay has been appreciative of Santa Cruz given his importance to Paraguayan football, not just at its current stage, but of all time he is the leading goalscorer for the national team," Said Rojas.
"He is kind of an ambassador for the sport over the last 20 years. To come back and demonstrate his ability at a veteran age, doing so with Olimpia winning a fourth straight league championship, he's aged like a fine wine and he's done brilliantly.
"He's been the epitome of a wonderful player and individual and has been an important player that has always been an Olimpia fan. It's his boyhood club. and him coming back in his twilight years for a moment in the spotlight.
"The main reaction across Paraguay has been the respect for Roque, to score four goals against bitter rivals Cerro Porteno is an outstanding achievement.
"With his recent performances, there is talk about him maybe coming back to the national team,
"On a personal level, I don't see it happening, just because of his age and I don't care how good his form is I would not want a 38-year-old on my team to put it plain and simple."
Rojas also gave his thoughts on what could be an exciting future ahead for Olimpia.
"The gap between Olimpia and the other challengers was clearly evident and now the big question is how he and the team will fair heading into the Libertadores in 2020," he added.
"Everyone is expecting that they can achieve, obviously, it's not going to be easy but given their history and the way they have dominated Paraguay in the last couple of years it's going to be fascinating to see what happens."
Flamengo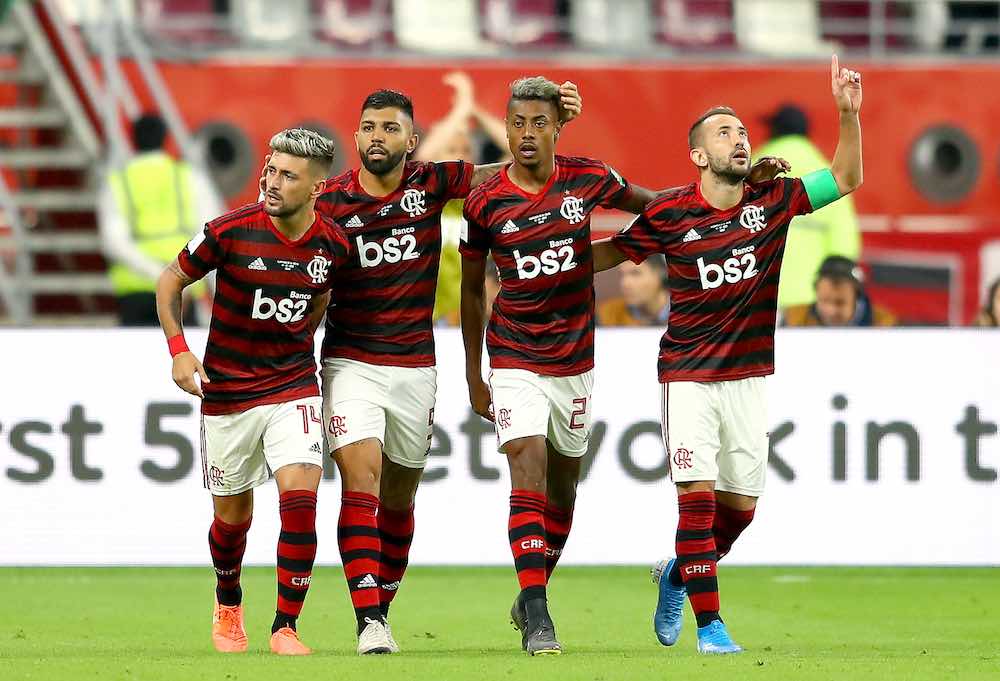 In 2019, Flamengo went on to be the best team in South America, not just because they won the Copa Libertadores but because of the way they showcased an exciting brand of football which helped them lift three trophies and enjoy one of the greatest seasons in the club's history.
At the end of 2018, Rodolfo Landim was elected as club president for a three-year term and from the off, he showed his intentions.
Giorgian De Arrascaeta was signed for the equivalent of £13m — a Brazilian record — Bruno Henrique was added from Santos, and  Gabriel "Gabigol" Barbosa was brought in on loan from Inter Milian.
Their first piece of silverware came in April with a 4-0 aggregate win over rivals Vasco da Gama in the Taça Rio winning 2-0 both home and away.
It wasn't all plain sailing for Flamengo in the early stages of the Libertadores and Brazilian championship.
The Rubro-Negro sneaked through the group in the last game of the Libertadores with a goalless draw against Peñarol which saw them finish on ten points along with the Uruguayans and LDU Quito. Superior goal difference helped them advance to the next stage.
In the league at this point, they had played six matches winning three, losing two and drawing one, leaving them on ten points heading into the break for the Copa America.
This was not enough to please the Flamengo board and coach Abel Braga received his marching orders and was replaced by Portuguese manager, Jorge Jesus.
That's when the domination of Brazil and South America began. Jesus brought in Gerson, Felipe Luis, and Pablo Marí — all players with experience of playing in Europe and fit the style of football he wanted to play.
The playing style he adopted was a high pressing game with a high defensive line with both full-backs would join the attack meaning.
At some stages of the match, Flamengo would have eight players in attack as well as being able to suffocate their opponents for space with a high press.
This style of football helped Flamengo to win the Brasileiro by stunning 16 points. In the same weekend they were crowned champions of Brazil, they also won the Copa Libertadores.
Flamengo took on River Plate in Lima which was their first Libertadores final since way back in 1981.
Proceedings were not looking great for Flamengo heading into the final few minutes of the game with River Plate leading 1-0, but Gabigol grabbed a late brace to snatch the trophy from River's grasp sending the Flamengo faithful into delirium.
The victory in the Libertadores meant Flamengo qualified for the Club World Cup in Qatar, a 3-1 semi-final win over Al-Hilal set up an exciting final against Liverpool.
Flamengo gave a very good account of themselves, especially Bruno Henrique who caused many problems of the Liverpool defence and the game was 0-0 after 90 minutes. Unfortunately for the Brazilians, Liverpool won in extra-time thanks to a goal from a Brazilian of their own, Roberto Firmino.
It is worth mentioning how well the front four of Gabigol, Henrique, Éverton Ribeiro and De Arrascaeta all gelled together across the season as they scored 73 goals and assisted 42 between them.
Binacional
The next highlight comes from Peru, and a club only formed at the start of the decade and ended it with a top division title.
Binacional made their debut in the Peruvian top-flight, winning the Copa Peru in 2017 which earned them promotion.
In 2019 they won the Apertura, finishing four points ahead of Sporting Cristal. The triumph means they will compete in the Copa Libertadores in 2020, as well as the Liga 1 Playoffs.
Following the victory, coach at the time Javier Arce left following a disagreement with the board and Roberto Mosquera replaced him.
They finished fourth in the Clausura meaning they finished second in the aggregate table, giving them a bye to the play-off final where they took on Alianza Lima.
The first leg was played at Juliaca the hometown of Binacional. A red card for Alianza Lima fullback Anthony Rosell, following a long VAR delay, was the turning point in the tie. The hosts ran out 4-1 winners and travelled to Lima with a healthy lead.
The game in Lima finished 2-0 to Alianza, crowning Binacional champions of Peru for the first time with a 4-3 aggregate lead.
Millian was one of the standout performers for the champions scoring 23 goals along the way as well as providing 9 assists for his teammates.
His strike partner Aldaír Rodríguez also chipped in with 11 goals along the way.
Other Highlights
Defensa y Justicia almost causing an upset and winning the Argentine league, falling just short of Racing. They did, however, manage to earn a Libertadores group stage spot for 2020
Athletico Paranaense winning the Brazilian Cup for the first time in their history with a 3-0 aggregate victory over Internacional.
Cruzeiro being relegated from Serie A, leading to mass protests in the Mineirão.
The football season coming to a premature end in Chile with several games left to play due to ongoing political issues.
Delfín of Ecuador winning their first-ever league title.