By Adam Brandon
Independiente del Valle are not just a football club, they are a school.
Those were the words uttered by the co-commentator on the local coverage right after the full-time whistle, as the modest-sized club from Ecuador recorded a 2-0 victory away to Brazilian giants, Corinthians, in the 1st leg of their Copa Sudamericana semi-final tie.
Independiente del Valle (IDV), based a few miles south of the Ecuadorian capital Quito, had once again sent shockwaves through South America by registering a major upset away from home.
Their remarkable 2016 run to the Copa Libertadores final saw a victory on the road against Boca Juniors in the semi-finals after they had already knocked out River Plate. At the time it was one in the eye for their detractors who said their success was solely down to the advantage of altitude.
The victory over Corinthians last week was their first on the road in the Sudamericana this year, but wasn't their first in this year's competition to make headlines across the continent.
🤩🎉🇪🇨 What a night for @IDV_EC in São Paulo against @Corinthians in the first leg of the #Sudamericana semifinal! pic.twitter.com/oXJM6236W5

— CONMEBOL Sudamericana EN (@TheSudamericana) September 19, 2019
In the second round they faced Chilean champions Universidad Catolica, a side that is running away with the title in Chile for the second season in succession and had only narrowly been knocked out of a tricky Copa Libertadores group.
IDV humiliated their opponents and were 4-0 up inside 20 minutes in the first leg in Quito.
They added just one more in the second half to record a 5-0 victory. It was the worst defeat Universidad Católica have ever suffered on the continental stage. A solid 2-0 aggregate victory followed over Caracas FC in the third round.
In the quarter-finals they edged out record winners of the Copa Libertadores, Independiente, on away goals. The Argentine giants had come from behind in the first leg, but couldn't score in Ecuador as they fell to a 1-0 defeat, 2-2 on aggregate.
Then came the win in Arena Corinthians last Wednesday, a result that sees them with one foot in the Sudamericana final.
Formed in 1958, IDV had spent most of their history in the third tier or lower of Ecuadorian football, much of that time with amateur status.
Since their meteoric rise in the mid-to-late 2000s, they have continued to take great strides in their bid to become a leading club in Ecuador and have been in either the Libertadores or Sudamericana every year since 2013 — a run few clubs of comparable size can match.
IDV's playing budget each year stands at about $5m-$6m [USD] while the giants in Argentina and Brazil are playing at the top table with at least ten times as much. Their current Sudamericana semi-final opponents Corinthians are said to have a budget of $96m.
IDV's ground is in Sangolquí, but is rarely used for major matches these days, especially continental ones due to its poor pitch quality and low capacity. It barely has 2 sides, but could just about cram in 7,000 spectators on matchday in theory. It is rarely filled as the fanbase is yet to grow substantially, despite many admirers.
One of its most striking features is a huge billboard at one end proclaiming them as the "Future Champions of Ecuador".

A new stadium has been talked about since 2016, but for now they play many of their matches in the Olympic Stadium in Quito, which is shared by various clubs.
For these big continental clashes they are able to attract many casual Ecuadorian football fans through the gates. 22,000 of the 33,000 tickets available for their second leg tie with Corinthians had been sold as of Tuesday evening. 
The last few years have seen them almost make the dream of being champions of Ecuador a reality. Four of the last six seasons have seen them finish in the top three.
As with so many stories across the world of modest clubs punching well above their weight, their success can be traced back to the president and the directors having a clear vision for how a football club of their size should operate and bridge that gap to the continent's more traditional dominant forces.
The run to the Libertadores final in 2016 was a story of intelligent scouting combined with a promising set of local players harvested at the right time in the right system. It had elements of fortune too, with IDV scraping through the early rounds.
The tactics then relied more on keeping it tight defensively. They were happy to concede possession under the guidance of their Uruguayan coach Pablo Repetto, while choosing their moments to counter.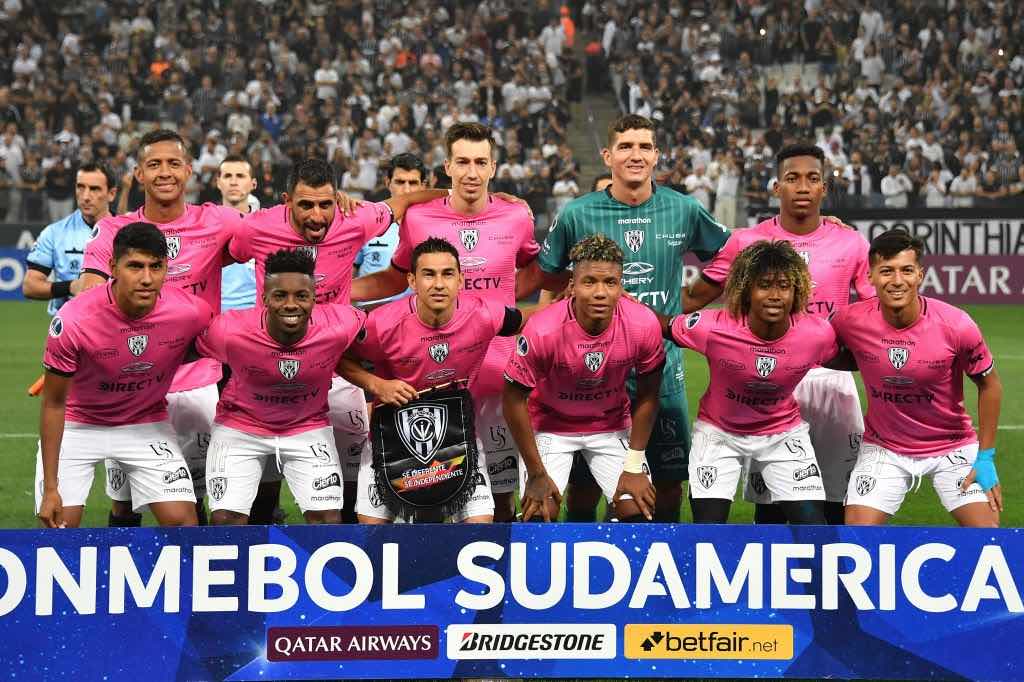 This year's journey in the Sudamericana has been shorter but feels much more a result of strategic planning.
The performances have seen them gain much more control of matches and it now feels like the club believes in itself more than ever, and with good reason too.
At the start of 2018 they were able to attract Roberto Olabe to the club as Sporting Director, a man with a good reputation in Spain who had done excellent work at the Aspire Academy in Doha, Qatar.
Olabe's stay at IDV lasted little more than a month as Real Sociedad, the club where he made his name in the sporting director role many years ago, wanted him back for a third time.
His move back to Spain did not upset the IDV directors, who always try to maintain good relationships whenever possible. They could appreciate the foundations Olabe had put in place, even in such a short space of time.
Real Sociedad invited Independiente del Valle to take part in a youth tournament in San Sebastián earlier this year, which serves as evidence of Olabe's appreciation to IDV as an institution, as they were the only non-Spanish side there.
According to El Telgrafo, the connections started when IDV directors travelled to Qatar in 2015 to see what they could learn from the Spanish coaches and the Qatari organisation of the Aspire Academy project in Doha.
From those meetings they built long-lasting relationships with Olabe and current manager Miguel Ángel Ramírez, who made the move across to Ecuador with Olabe at the start of 2018.
Ramírez has proved to be an inspired internal appointment given the shock exit of fellow Spaniard Ismael Rescalvo to Emelec between the first and second round of the Sudamericana earlier this year.
He has consolidated on the work of Rescalvo, and has arguably improved them, too, as they have become one of the finest sides to watch on the continent, both tactically and stylistically.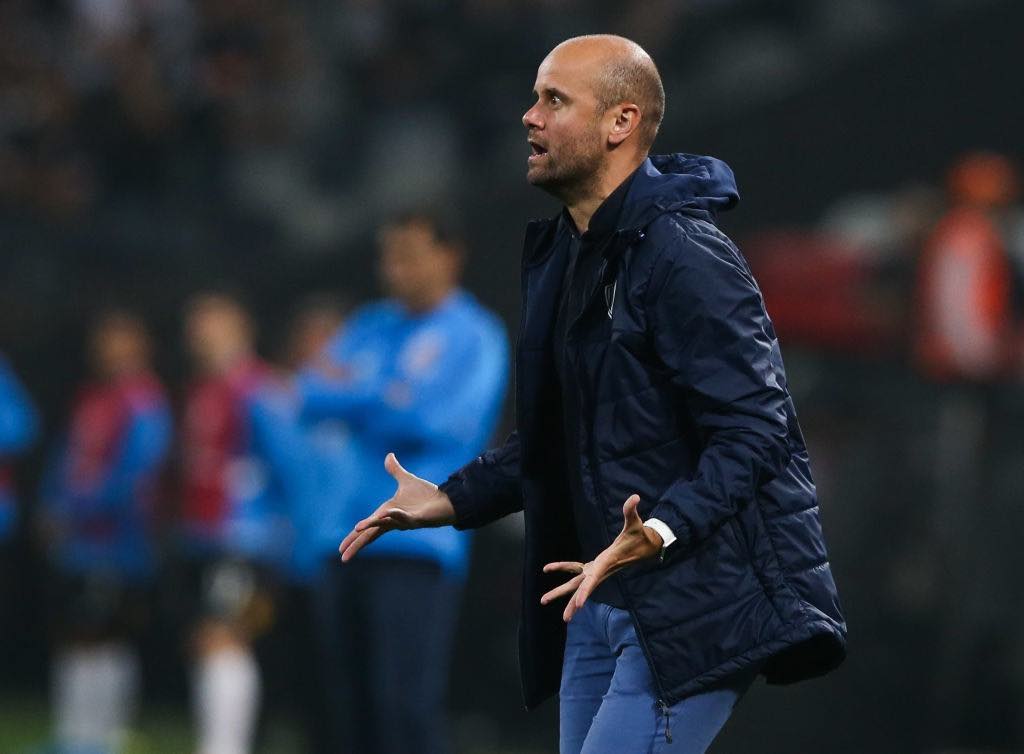 Before the first leg against Corinthians, Ramírez fired a warning shot at their opponents that they weren't going to be intimidated in Brazil.
During an intense and dramatic ninety minutes in Sao Paulo, IDV showcased their football and delivered on Ramírez's promise that they wouldn't negotiate on their style. Despite having an early goal ruled out by VAR, they were unshaken in their belief.
IDV generally play out from the back. They keep a compact shape in both defending and attacking phases of play, leaving very little space for the opposition to play in, and it is clear that each individual knows their duty on the pitch.
It is perhaps the Argentine defensive midfielder Cristian Pellerano, who takes on the biggest responsibility in this side, especially when IDV construct their moves from back to front.
The 37-year-old Pellerano often acts as the conductor in their 4-1-2-3, dropping between the centre backs to collect the ball, or simply recycles possession to start a new phase of play when required. In the first leg of the semi-final he completed 54 of his 60 passes, helping his side maintain control of the match throughout.
He also knows how to dictate the tempo for his side, and his experience is vital for what is the youngest side in the last four.
IDV have the ability to keep possession for key periods of the game, but also know when to use the pace of their front three if they choose to be more direct or/and play on the counter, just as Corinthians found out last week.
The speed up front of Panamanian No 9, Gabriel Torres, as well as from the wings, provides IDV with the option of getting in behind defences if they wish to suddenly quicken the play.
Torres is a good example of IDV´s superior scouting and coaching on the continent. After a successful spell with Huachipato in Chile, Torres earned a million-dollar move to Universidad de Chile where, within weeks, he was somewhat of a scapegoat at times despite often being played out on the wing in a struggling side, rather than in his preferred position through the centre.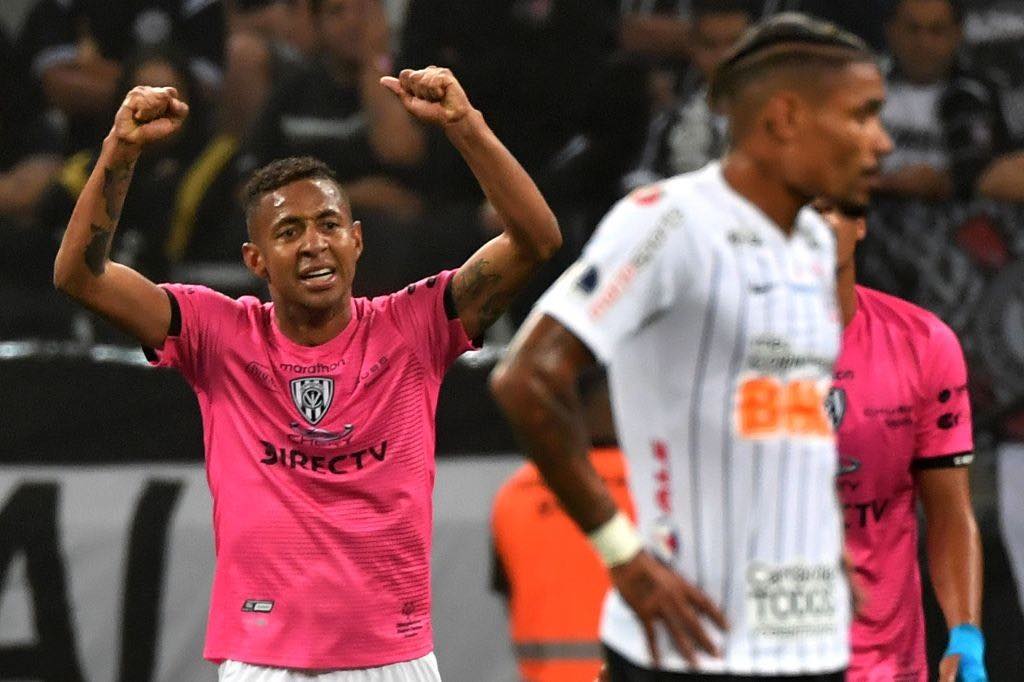 IDV lost their main centre forward Claudio Bieler (injury, ruptured ACL) in July, so the pressure was on to find a suitable replacement for the rest of the season. In came Torres on loan, and he scored both the goals in São Paulo last Wednesday night in a man of the match display.
He will be key again as IDV defend their 2-0 lead in Quito.
It is just not on the men's side of things where IDV are making waves. IDV women were arguably the best side in Ecuador this past year, but a playoff system to decide the winner of the competition means they suffered a heartbreaking semi-final defeat.
The fact they did this in their first year, using many of the same principles applied to the project on the men's side, means IDV could lead the way in women's football in Ecuador for years to come.
The 32 women in their squad includes dozens of teenagers who are paid, given extra financial aid, and education scholarships.
The women's side of the game is not profitable at the moment, so IDV have gained praise for their commitment to try and bridge the gap of inequality between how male and female players are treated by professional clubs.
According to the newspaper El Comercial, the aim is to have at least 80% of their female players gain a university degree over the next few years.
DRAGONAS | @DragonasIDV A construir la Historia del Fútbol Femenino en Ecuador !!! 7 de marzo #DíaNacionaldelFútbolFemenino 🇪🇨💪🏽⚽️ pic.twitter.com/bO44gK4nTI

— Independiente Valle (@IDV_EC) March 7, 2019
Ecuador's men's and women's youth teams feature a number of Independiente del Valle players. Some are locally based and have been at the club since a very young age, while others now are keen to move to Sangolquí when they are in their early to mid-teens to finish their development, and take advantage of the incredible facilities on offer at IDV.
Ecuador's men side won their first ever South American Youth Championships earlier this year and went on to deservedly claim bronze at the U20 World Cup in Poland.
Three players formed at IDV impressed enough at the U20 tournaments to get moves either during or after them, including goalkeeper Wellington Ramírez (Real Sociedad), playmaker Jordan Rezabala (Club Tijuana) and exciting winger Gonzalo Plata (Sporting Clube de Portugal).
Their honorary president, Michel Deller, has a dream of one day seeing Ecuador win the World Cup, and believes that his project at Independiente del Valle could help achieve this but would like to see other clubs in Ecuador work together to produce young talent throughout the country.
The message throughout the club in interviews with Ecuadorian media outlets such as El Telegrafo and Ego Digital is clear: it is more important for the club to form their players as people first, and footballers second.
One look at the facilities at Independiente Del Valle and it immediately becomes apparent why they attract and produce so much young talent.
On the sporting side there are seven high quality football pitches, a spacious gym, and an indoor swimming pool.
There is also a room at the centre dedicated to improving performance, where you will find analysts and coaches working all hours of the day.
The values and playing styles that the IDV directors hope to instil in their players and coaches adorn the walls of the training complex.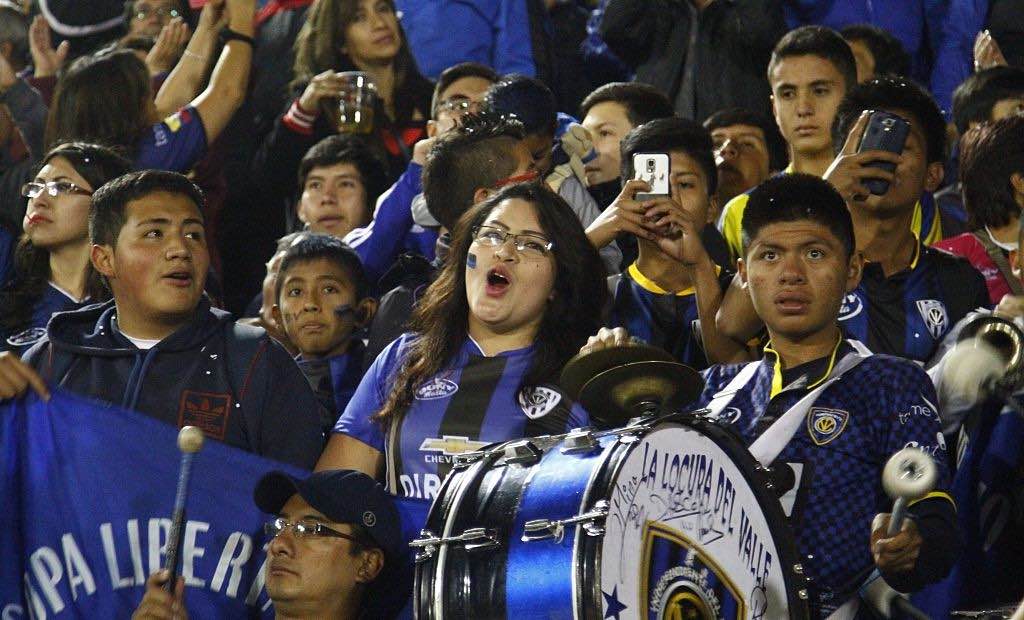 It is not just their sporting facilities and exploits that deserve praise. IDV are an example to many sides off the field, too.
Their training complex is not only to teach their youth players the finer points of the beautiful game, but there is also a secondary school on site where players study. It is a facility that has been approved by the ministry of education in Ecuador.
Many players are from impoverished backgrounds, and the club gives them education, nutrition and in many cases accommodation.
For many who don't make it as professional players, this is likely to give them an advantage in life away from football according to their directors, who believe they are changing lives with their project.
Around 100 young players are reported to live at the training complex and have access to these facilities, as well as being able to talk to therapists and doctors, while there is even a chapel in which to contemplate and pray.
Families and friends are welcome to visit them when they wish, and the club will help to facilitate this whenever possible, with one of the key messages being that they want the players to feel at home in a family environment.
Furthermore, and in contrast to the vast majority of official club accounts in South America, their social media platforms are well designed, engaging, internally broad (youth and women's football is covered extensively) and occasionally funny.
The 2-0 away win over Corinthians was marred by lengthy VAR checks against them, at one point the IDV Twitter account had clearly had enough:
VAR pic.twitter.com/Yfpix4KIeg

— Independiente Valle (@IDV_EC) September 19, 2019
If they do complete the job (IDV are unbeaten at home in 21 Conmebol matches) and knock out Corinthians to qualify for their second major continental final in just three years, then it would be a somewhat unprecedented achievement given the squad turnover in that time.
The likelihood is that their squad will be decimated once again this year, whether they win the Sudamericana or not, yet few would bet against this club excelling again in the near future as they continue to educate and entertain.