By Cain Smith.
In previous years, the Bundesliga has been knocked for it's supposed lack of competitiveness, with Bayern Munich having lifted the Meisterschale seven years in a row.
This could not be further from the truth this campaign, with only nine points separating the top five, though the two most recent league winners, Bayern and Borussia Dortmund, are first and second respectively.
This Tuesday brings the latest Klassiker, which could prove pivotal in this season's title race.
A win for Bayern would almost certainly mean Die Roten would make it eight in a row, but a win for Dortmund would claw them back to within one point of Bayern at the top end of the table, while also opening up the race for others in the chasing pack.
Current Form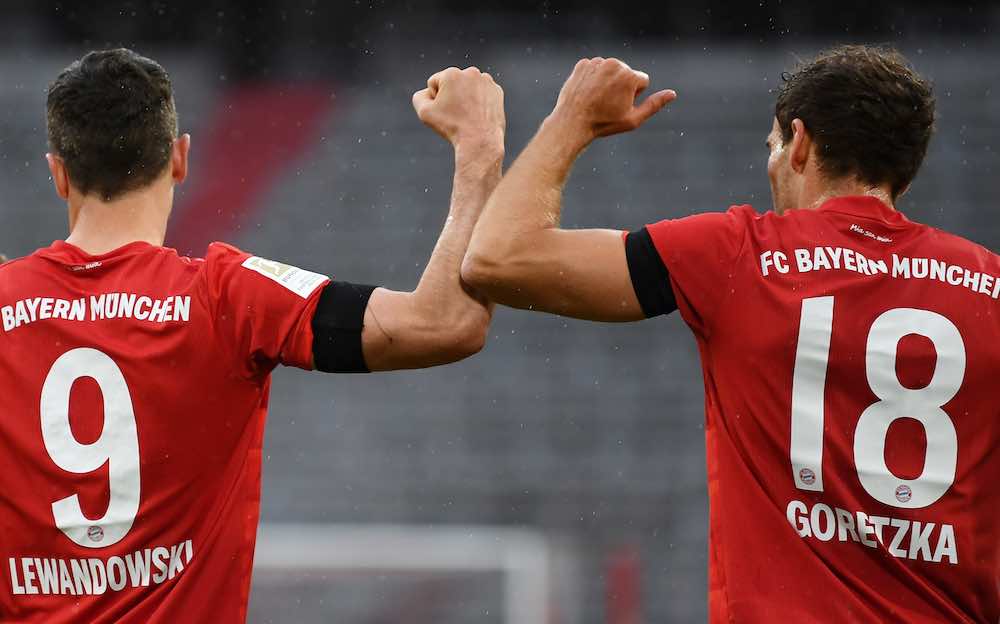 Usually, it would be sensible to look deeper into both teams' form going into a big match like this, but due to current circumstances around Covid-19, the Bundesliga only returned to action last week.
Dortmund did come back with a bang, though. They swept away Schalke in the Revierderby with a 4-0 win. They followed this up with a solid 2-0 win against Wolfsburg at the weekend.
Although Bayern did not have such a comfortable return match, it was still a routine 2-0 win against Union Berlin, before they demolished Eintracht Frankfurt 5-2 on Saturday.
Although there is not any real form to go from, both sides have made expected returns to the Bundesliga with two wins from two games.
Tactical Changes Since The Last Meeting
The last match between the two sides was, in fact, Hans-Dieter Flick's first as interim manager. He has since earned the job full-time with his tactics being pivotal in Bayern's surge back to the top of the table.
Flick has acquired 43 points out of a possible 51 since his appointment. Bayern have also been playing some of their best football in the past few years, thanks to Flick's tactical changes.
The German manager has implemented positional play to his side so that each player operates in a singular zone at a time. It has been a great success thus far.
The last match between the two sides saw a tactical change from Dortmund's perspective, as Lucien Favre looked to change shape from 4-2-3-1 to a 3-4-3, two games after a 4-0 demolition at the hands of Bayern in November.
Their initial shape was clearly not successful, with the side dropping points on seven different occasions in the first 12 matches of the Bundesliga using it.
Since the introduction of the 3-4-3, Dortmund have dropped just seven points in 15 Bundesliga matches.
The tactical changes of both sides have ensured their return to the summit of the table, and this meeting will be the first since the changes have been introduced.
Players To Watch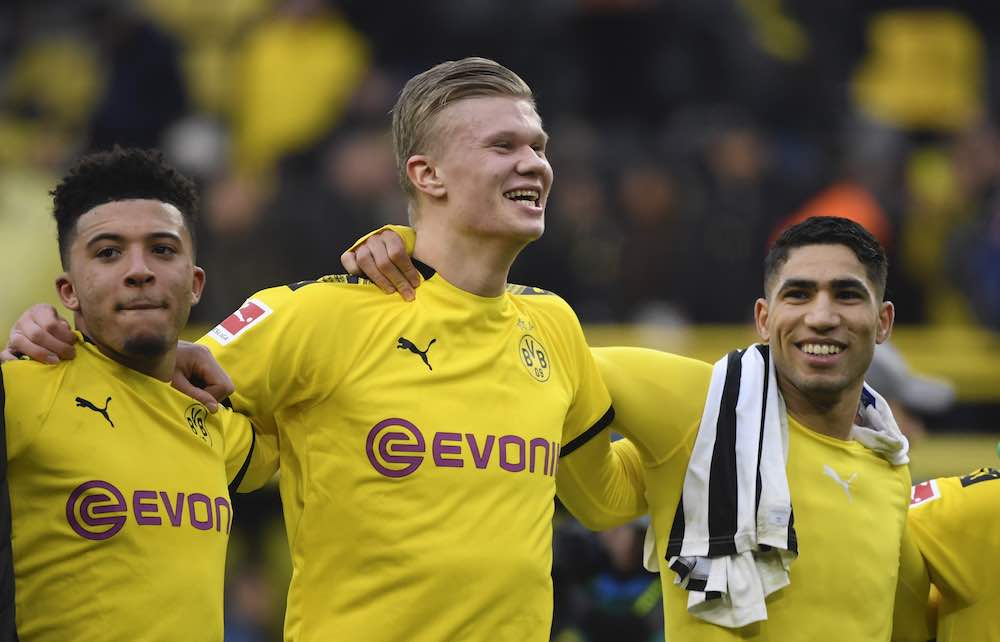 In a game which will be filled with world-class players, there will for sure be a select few who will determine the outcome of the game.
For Bayern, it is clear that Robert Lewandowski will be one of the biggest threats, and if he has his scoring boots on — and it's rare that he doesn't — it will be a very difficult day for the Dortmund defence. The Pole has scored 22 times in this fixture, having played for both teams.
Thomas Müller could also play an important part in this match. The German is having his best season in recent years with 17 Bundesliga assists to his name already.
Another German who could make a difference for Bayern is the impressive Serge Gnabry, who is having the best season of his career so far.
For Dortmund, of course, the two wonderkids instantly come to mind; Jadon Sancho and Erling Haaland. The former had been experiencing a very special season, with 14 goals and 16 assists in the Bundesliga — the latter has also been pretty decent.
Haaland has scored 10 goals in the Bundesliga since arriving in January, and is sure to be looking to make a good impression in his first appearance in Der Klassiker.
One of the most interesting battles to watch out for will be on the flank, where Achrif Hakimi and Alphonso Davies — two of the most exciting full-backs in the game — will go head to head.
Hakimi has 10 assists for BVB in the Bundesliga already, while Davies has been showing his extreme pace and danger on the left all season. The speed and attacking nature of both players will make for a great battle.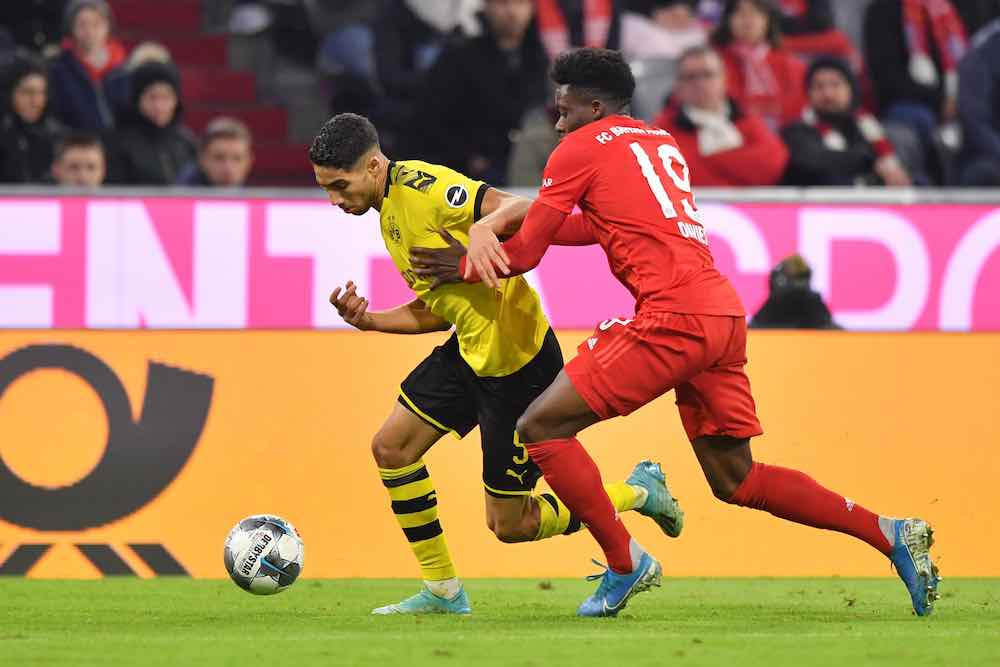 Impossible To Predict
Many previews end with a prediction, but in this case it is only likely to lead to embarrassment for those doing the predicting as this fixture has proved that it can come up with some incredible scorelines.
Just earlier in the season; although Bayern was behind Dortmund in the table; they still decimated them 4-0, and this time home advantage will be almost pointless with the famous Yellow Wall not present.
One thing which can be said is that Dortmund look in fine shape to give this Bayern side a run for their money, and the result of this match will be pivotal in the quest for the Meisterschale this season.