Bundesliga Zeitung, by Andy Wales.
The Bundesliga is about to be the first of Europe's big leagues to return following the forced suspension of football due to the Covid-19 crisis.
Whether you are a Bundesliga regular looking for a reminder, or a newcomer to German football looking to catch up, here is a month by month look at the 2019/20 season so far.
August – Dortmund's Super Statement Of Intent
As always, the season began with the Super Cup curtain-raiser. Usually, this is between the league champions and the DFB Pokal (German Cup) winners, but as Bayern Munich won the domestic double last season, their opponents were last season's runners-up Borussia Dortmund.
Bayern were in something of a dysfunctional state at the time under Niko Kovac. In contrast, Dortmund were favourites for the game, and for the Bundesliga title ahead of the season, having splashed out on Julian Brandt, Mats Hummels, Thorgan Hazard and Nico Schulz.
This was a game I watched in a German pub, mostly populated by Dortmund fans. They enjoyed themselves as their team lived up to their tag of favourites by brushing aside Bayern in a comprehensive 2-0 victory.
Expectations for Dortmund grew further with a 5-1 thrashing of Augsburg on opening day, and a 3-1 victory over Köln the following week.
The defensive frailties that cost them the title the previous season soon returned in a shock 3-1 defeat to newly-promoted Union Berlin. 
Meanwhile, Bayern bounced back from a disappointing opening day 2-2 draw at home to Hertha Berlin to beat Schalke 3-0 and crush Mainz 6-1. The pace-setters at the top of the table were RB Leipzig, adjusting quickly to the demands of new boss Julian Nagelsmann by winning all of their games in August. 
At the other end of the table, Hertha were unable to capitalise on their surprise opening day point gained at Bayern. Despite investment and ambition, the club were on the wrong end of consecutive 3-0 results and already looking at a relegation fight.
In what would become a familiar pattern, they were joined by former champions Werder Bremen and another of the promoted sides, Paderborn.
September – Favre Floundering
September saw Bremen get a couple of wins and a draw to lift themselves up the table. Paderborn remained marooned at the bottom, joined in the relegation zone by the other promoted team, Köln. 
Leipzig dropped their first points in September, losing 3-1 at home to Schalke and drawing with Bayern. This saw Bayern replaced them at the summit, with Freiburg the early surprise package in the top four. 
Dortmund went from favourites to mid-table in September, following consecutive 2-2 draws with Frankfurt and Bremen. Boss Lucien Favre was again coming under scrutiny with the black and yellows giving away cheap goals and dropping valuable points. 
The previous campaign had seen Fortuna Düsseldorf cause many an upset on their return to the top flight. Veteran coach Friedhelm Funkel rightly received plaudits and awards for guiding them to safety. Their follow-up season was not going so well though, with just one win by the end of September.
October – Gladbach Back In The Mix As Favourites Slip Up
October was a tricky month for Bayern, it started with a 2-1 defeat at home to Hoffenheim and continued with a disappointing draw away to struggling Augsburg.
A victory at home to Union Berlin ended the month on a better note, but it did little to relieve the increasing pressure on Niko Kovac.
Despite the club enjoying a perfect start to their Champions League campaign, unconvincing domestic performances and persistent rumours of unrest behind the scenes meant it was a situation close to breaking point.
With Dortmund still displaying their inconsistency and Leipzig experiencing a dip in form and results, Borussia Mönchengladbach were able to take advantage and finish the month in top spot. 
Freiburg were still keeping pace and were joined in the top four by another surprise outfit in the shape of Wolfsburg. Schalke had enjoyed a good start to life under David Wagner and were occupying a Europa League place, closely pursued by Bayer Leverkusen. 
At the other end of the table, Union were beginning to find life a little tougher and were sitting just above Köln, Augsburg and Paderborn. Düsseldorf, Mainz, Bremen, and Hertha were also struggling with just four points separating seven teams.
November – A Month of Managerial Changes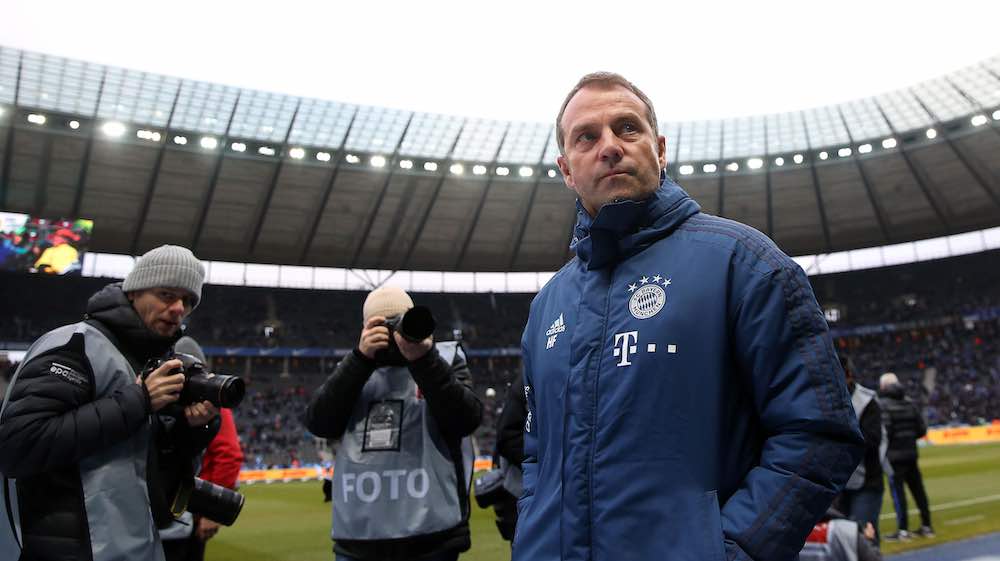 Three coaches lost their jobs in the space of seven November days. First to go was Niko Kovac, he departed Bayern 24 hours after a humiliating 5-1 defeat to his former side, Eintracht Frankfurt.
He was replaced, initially on an interim basis, by former national team assistant coach Hansi Flick, who had only joined the Bayern coaching staff during the summer of 2019.
Next was Achim Beierlorzer at Köln. He was sacked with the club second from bottom of the table, having only won 2 of their 11 games. He had only taken over at the RheinEnergieStadion in the summer and was soon replaced by the experienced Markus Gisdol. 
Just a day after Köln sacked Beierlorzer, Mainz parted company with Sandro Schwarz. Mainz were third from bottom at the time and were on the end of an 8-0 drubbing by Leipzig at the beginning of the month. Interestingly, they turned to Beierlorzer as their next boss. 
By the end of November, Ante Covic left Hertha Berlin with the club embroiled in a relegation fight. Hertha made the headline-grabbing move of appointing Jürgen Klinsmann as coach — a move that would soon illustrate the issues within the club. 
On the pitch, Flick enjoyed a dream debut as coach, brushing aside Dortmund 4-0 in Der Klassiker. Favre was heavily criticised after the defeat and the following week, with Dortmund 3-0 down at half-time to rock-bottom Paderborn at the Westfalenstadion, the end for him seemed inevitable.
A second-half comeback rescued a point and probably saved Favre from the sack, but it didn't dampen the speculation over his future. Victory the following week over Klinsmann's Hertha did create a bit of breathing space.
For Union Berlin, this was a hugely successful month as a famous Berlin-derby win over Hertha brought them the first of three consecutive wins to lift them up the table.  
December – Leipzig On The Rise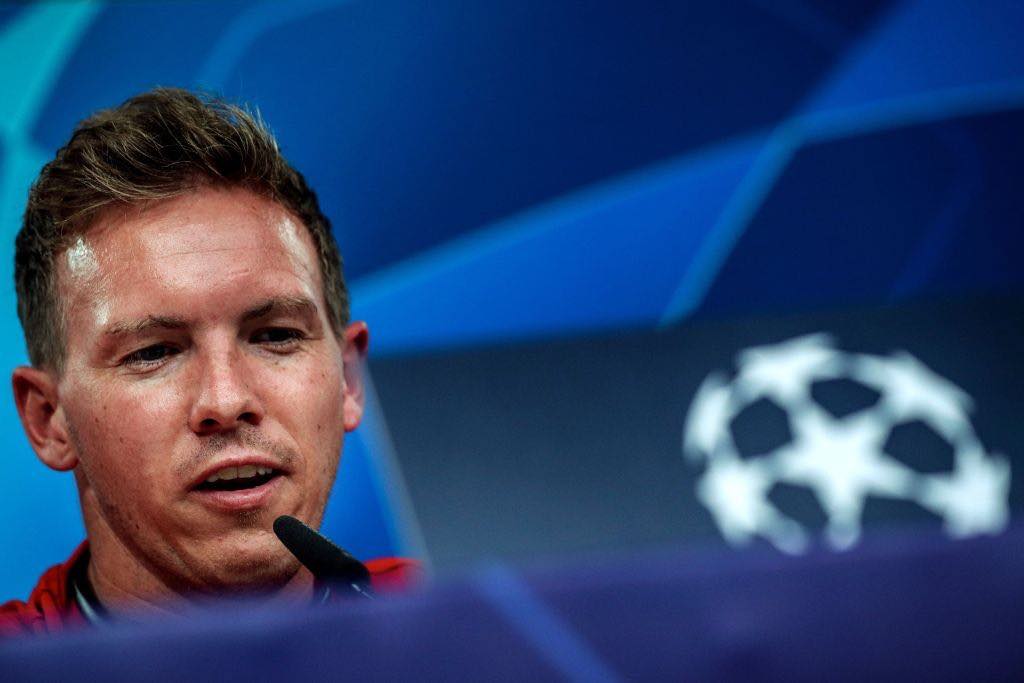 With the winter break fast approaching, Mönchengladbach continued their strong start to the season under highly-rated coach Marco Rose, keeping pace at the top. Although it was not a month of exclusively positive results for the Foals, the victory over Bayern was a memorable one.
Bayern themselves had rediscovered their identity under Flick, and despite that defeat to Gladbach coming after losing at home to Leverkusen, there was a growing belief they were moving in the right direction. The decimation of Bremen was followed by wins over Freiburg and Wolfsburg, as well as progression in the Champions League.
Leipzig, long past their blip, ascended to the top of the Bundesliga and also progressed to the knock-out stages of the Champions League. Meanwhile, Dortmund recovered their form and joined their domestic title challengers in the next round of the Champions League.
Leverkusen were the only one of Germany's representatives not to progress in the Champions League, although with Juventus and Atletico Madrid in their group, it was a tough ask. 
In the relegation battle, Köln had started winning matches. Their rise meant Düsseldorf dropping into the relegation zone, where Paderborn remained and Bremen had fallen into. 
January – New Arrivals – Goals Galore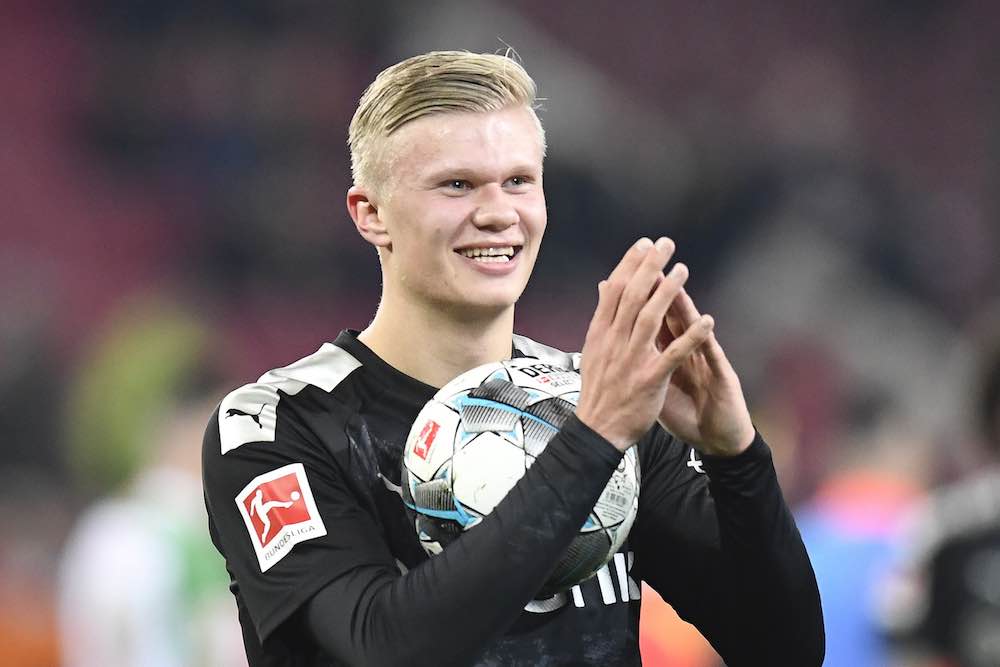 The Bundesliga returned from the winter pause in January for the Rückrunde half of the season. Results continued to be poor for Düsseldorf and just before the month concluded, it cost Friedhelm Funkel his job.
It was a sad day for Fortuna, such is the esteem that Funkel is held in, but the club decided it was a necessary course of action. With it, Funkel officially retired from coaching and Düsseldorf quickly appointed Uwe Rösler as his successor. 
Of course, January also means transfer window time. Hertha Berlin were busy, recruiting Santiago Ascacibar, Matheus Cunha, Krzysztof Piatek and Lucas Tousart as the club reaffirmed its ambition and strived to escape the threat of relegation that continued to loom. 
Another active in the transfer market were Dortmund. They invested in the much sought-after striker Erling Haaland from Salzburg, and snapped up midfielder Emre Can from Juventus, initially on loan.
Both helped transform Dortmund in two areas that needed reinforcement and it was Haaland's prolific start, with five goals in his first two appearances, that grabbed the attention.
Dortmund began scoring for fun and Haaland was suddenly an outside challenger to Robert Lewandowski and Timo Werner to finish top scorer. 
February – Fan Protests – Klinsmann Causing A Stir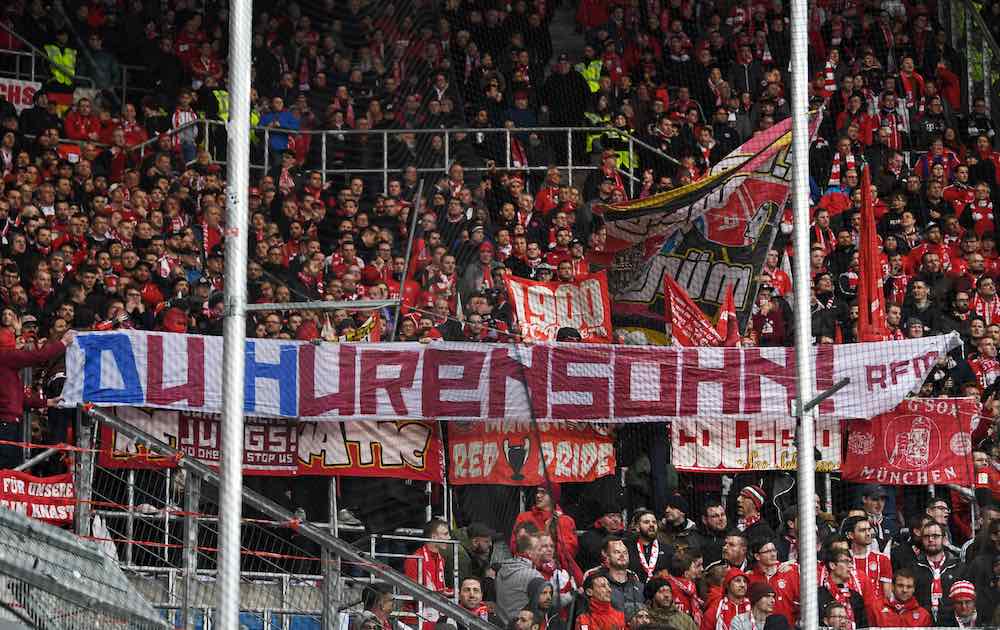 February was an eventful month in the Bundesliga for a number of reasons. Off the pitch, it saw another managerial change with Klinsmann's brief and unsuccessful reign at Hertha coming to an end as he announced his resignation via social media. Neither Klinsmann nor Hertha came out of the mess looking good.
On the pitch, Köln's good run of form had seen them move into the security of mid-table. Joining them there, in relative comfort, was Union Berlin; two of the newly promoted clubs on course to stay up. 
In the title race, Bayern had moved clear at the top, but Leipzig were still chasing hard. The reinvigorated Dortmund had scored an incredible 25 goals in seven Bundesliga games since the return from the winter break.
It helped catapult them back into the title race and quieten any speculation over Favre's future. 
Gladbach were also still in the reckoning and a Kai Havertz inspired Leverkusen were now closing the gap on the leading pack. 
However, the biggest Bundesliga talking point of February came in the stands on the final day of the month.
After a long-running dispute between Dortmund fans and Hoffenheim owner Dietmar Hopp, the DFB dished out a collective punishment to Dortmund fans for a banner directed at Hopp. 
The strong fan culture in German football means fan groups will work together on collective causes and Hopp, who has an exemption from the 50+1 rule to own Hoffenheim, is just such a cause; especially with the collective punishment the DFB handed out. 
To cut a long story short, Bayern fans displayed an anti-Hopp banner away to Hoffenheim and the game was stopped. After a series of exchanges, the game restarted and bizarrely, the players knocked the ball around in a non-competitive manner for the final 12 minutes with Bayern 6-0 up. 
All hell broke loose and it remains an unresolved situation that will undoubtedly come back into focus in the future. 
March – The First Geisterspiele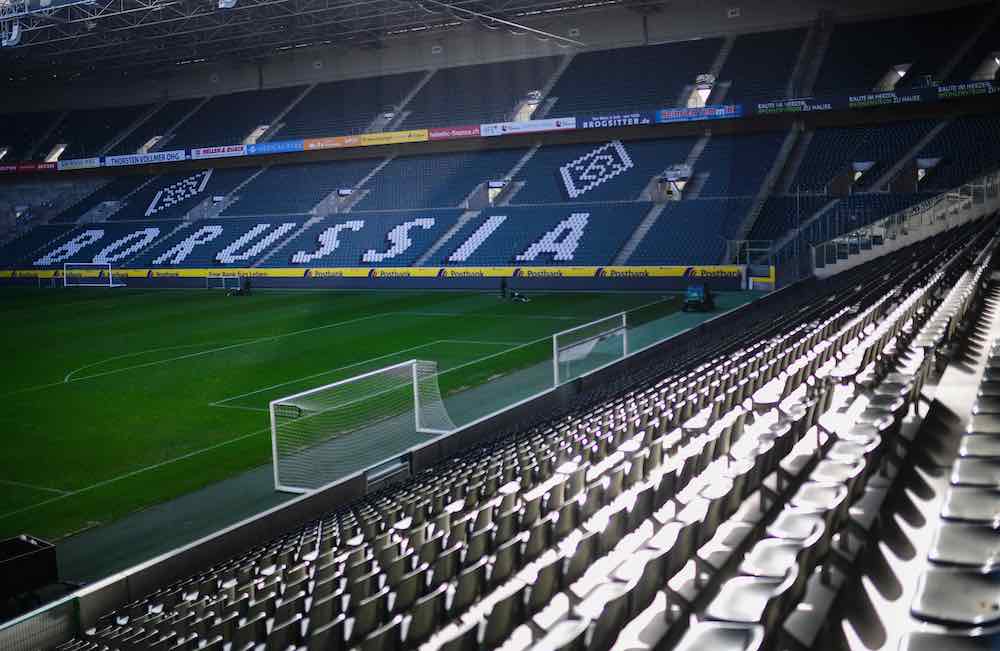 Due to the Covid-19 pandemic, only one matchday was played in March.
The fallout from the match between Hoffenheim and Bayern being stopped, as well as a brief stoppage in Union's 2-2 draw with Wolfsburg, was still a major talking point in German football. 
At the lower end of the table, Paderborn and Bremen remain in serious trouble and, despite picking up a few points under Rösler, Düsseldorf sit just above them in the relegation play-off place. 
Mainz drawing 1-1 with Düsseldorf maintained a four-point cushion between the sides, but Mainz will still be looking nervously over their shoulder. As will Augsburg, just a point above them, for whom defeat against Bayern signalled the end of Martin Schmidt's tenure as coach. He was replaced by Heiko Herrlich the following day, but has now had to wait two months to take charge of his first game. 
It's been an underwhelming season for Eintracht Frankfurt. The threat of being dragged into a relegation fight is unlikely, but they do sit in the lower half of the table. Matchday 25 for them was a crushing 4-0 defeat at the hands of an improving Leverkusen who are chasing down a place in the top four.
Bayern's victory saw them maintain top spot whilst Leipzig only managing a draw with Wolfsburg meant they dropped to third. Dortmund took over second place after narrowly squeezing out Mönchengladbach 2-1. 
The winter storms that battered Europe resulted in a couple of games being postponed. Bremen and Frankfurt have yet to play their rearranged fixture, but the final Bundesliga game to take place before the enforced suspension was Mönchengladbach against Köln. This game turned out to be a taste of what is to come as it was the first geisterspiele (ghost game – behind closed doors) in the Bundesliga. With no fans in attendance, Gladbach triumphed 2-1 in an odd atmosphere to move back into fourth in a delicately poised season. 
---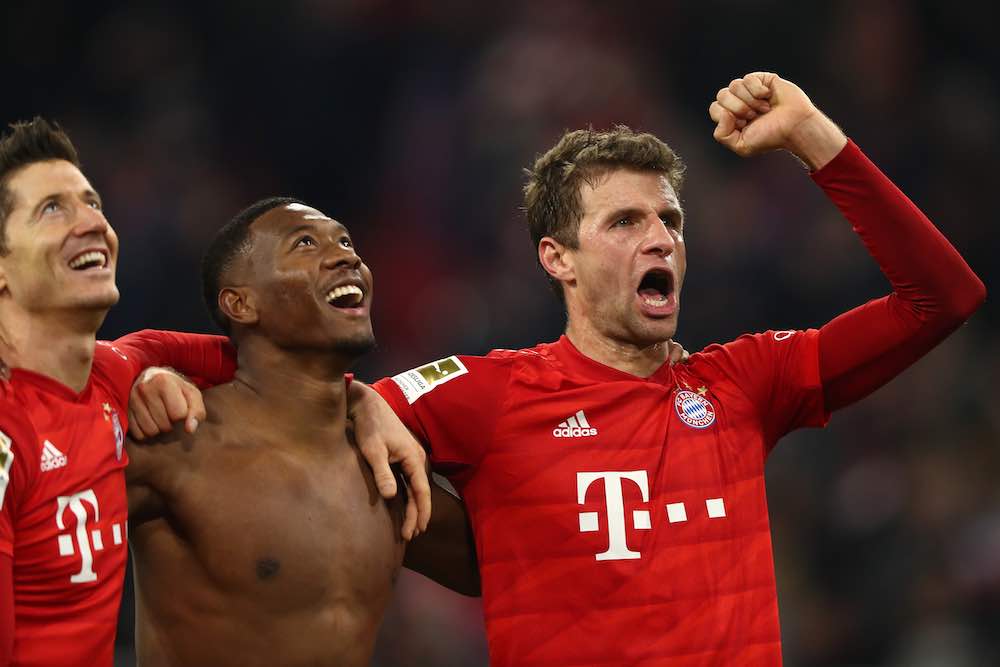 This season has been one of the most competitive and enthralling in many a year and it is such a shame that it wasn't able to conclude in its normal setting. However, Covid-19 has fast become a tragic reality the world over that has taken away normality as well as countless lives.
The fan culture and incredible stadium atmosphere and aesthetics are a major part of German football that are rightly celebrated but, sadly, they cannot be a part of the Bundesliga as it restarts, for obvious reasons.
It's a restart that is not universally popular amongst fans in Germany, but a financial necessity for some clubs. 
So, the Bundesliga is back. Here's hoping for a safe and successful return.