By Chris Smith.
With the improvement of scouting networks and data analysis, Canadian football is on the cusp of being thrown into a new golden age. 
The emergence of Alphonso Davies at Bayern Munich has thrust the nation into the limelight like never before while behind him, the likes of Jonathan David and Liam Millar are showing the makings of true top-class talent. Each could play a huge role in destroying the apathy toward soccer in Canada.
However, it wasn't always so. There was a time when clubs would be hard-pressed to take a chance on a Canadian youngster and even when they did, the player would often have to jump through hoops and create the opportunity himself, rather than being trusted for his talent on the field.
That was the case for ex-Ipswich Town and Chelsea goalkeeper, Craig Forrest — like Davies, hailing from Vancouver — who made over 300 league appearances in England between 1985 and 2002, and picked up 56 senior international caps for Canada. As Forrest exclusively tells WFi, he had to take the hard route to the professional game in England.
"I was playing locally in Vancouver as a youngster and there was a coach in the area that I knew who was actually from Ipswich, was born and raised and went through the youth system there," he said. "He ended up in Vancouver coaching over here.
"He still had contacts at Ipswich, he knew an old scout there, Ron Gray, very well. He brought in some great players, George Burley, John Wark, Terry Butcher, Frans Thijssen. At that time, Ipswich was also a very successful club. They won the FA Cup in 1978 and the Uefa Cup in 1981, so they were a top club."
---
Read more of Craig Forrest's exclusive interview with WFi here:
---
Despite the level of success Ipswich enjoyed at the time, Forrest was still only given a chance with the club on the premise he paid for his own transport from Canada to England. Even then, it very much felt like they were only doing a favour for an old friend of the club. 
"They told me if I paid my way over, they would be willing to look at me," Forrest added. "When I arrived, that was the case but I don't think they expected much, they were just helping out but not expecting an awful lot.
"There was obviously a perception there. If they knew nothing about me and I'd have come from Brazil they would have been saying 'yeah, we'll pay his way'. But they had a goalkeeper from Canada coming over so it was more like 'okay, if he pays his way, we'll look at him'."
Forrest had back-up options to join West Brom or Dundee United, but impressed the Tractor Boys enough that he was able to sign up to their Youth Training Scheme (YTS). On reflection, Forrest counts himself lucky to have been able to get over to England at such a young age and having the chance to work out the "weaknesses" in his game before it was too late.
"You see kids coming over now, really young, younger than I was at 16, but I was told to get over there as early as I could. You can't even go at the end of high school because you're already 17 and you need to be almost the finished product by then. If not the finished product then thereabouts, you can't have too many weaknesses. Get over there as early as you can, they'll sign you on potential. 
"I had a lot of weaknesses but obviously, being 6ft 5" and fitting this mould they liked with goalkeepers, they gave me the opportunity. But getting over there early to get that coaching in YTS was great advice, to get the chance to take the next step."
"You realise that there are jobs and livelihoods at stake"
Even for a modern-day talent like Davies, who himself is used to being on the move having been born in a refugee camp in Ghana to Liberian parents and only arriving in Canada at five years old, the prospect of upping sticks and moving to a foreign country as a teenager can be daunting.
But the biggest difference to standout to Forrest, aside from the obvious step up in coaching standards, was just how much more the sport meant in the professional world, becoming acutely aware of the livelihoods and reputations at stake every time a team takes to the pitch.
"It was a lot different," he says. "As soon as you get there, you find out very quickly that as a kid, you're playing this game that you love and it's fun. And not to say playing professionally isn't fun, but you realise that there are jobs and livelihoods at stake, and results are everything. You find that out and you learn that very quickly.
"If you don't do certain things, they'll tell you. If you don't pull your finger out, you're going to be out of here very quickly and things get really serious. As a kid, you're a little uptight about that. So culturally, that way, it was an eye-opener that this means an awful lot to a lot of people."
Forrest watched his first Ipswich game in 1984 and arrived at the club shortly afterwards but it was during a loan spell with Colchester United in the 1987-88 season where he gained his first taste of first-team football.
From there, he was able to establish himself back at Ipswich, helping the club win the 1991/92 Second Division title to earn promotion to the newly-founded Premier League. In fact, Forrest was one of just 13 foreign players to feature in the Premier League's opening weekend, alongside the likes of Eric Cantona, Peter Schmeichel and Andrei Kanchelskis
"I went on loan at Colchester United, then managed to get into the Ipswich team after that," Forrest adds. "My goal then, and the goal as a team, was to try and get us back into that top flight, and it just so happened to be in that inaugural year of the Premier League.
"So to win that Second Division title, I played all 46 games, it was a grind. That division is really tough to get out of and it was Ipswich's last trophy other than the 1999/2000 play-offs which isn't really the same, it's been tough for the club for several years now."
"Alex Ferguson was constantly telling them to just keep going, fill the net"
Despite being ever-present in a promotion campaign and being one of just a handful of foreign players in the Premier League's inaugural weekend, Forrest is unfortunately remembered most for being on the end of a 9-0 drubbing against Manchester United in March 1995.
Alongside Leicester City's 9-0 thrashing of Southampton in October 2019, this remains the Premier League's heaviest defeat of all time but although Forrest has some choice words for his experience that day — and during a 7-1 defeat against United in 2000, this time playing for West Ham — he does joke that it's better to be remembered for that than to be forgotten entirely.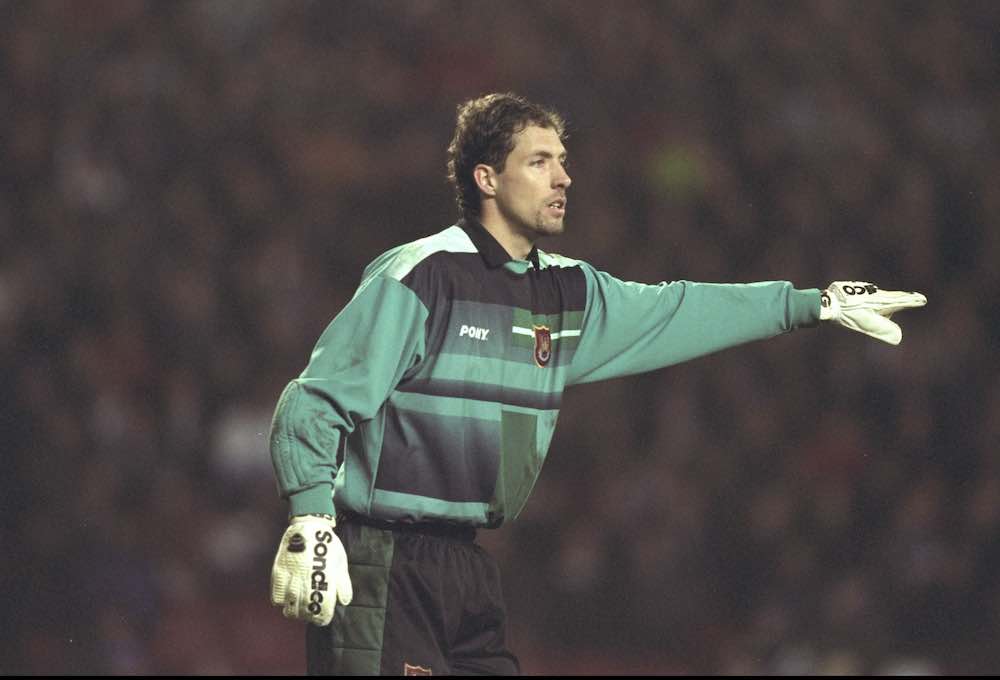 "That was a shitty day," Forrest says of the 9-0 encounter. "We were pretty sure we were going to get beat because we were struggling at that time, we had injuries and a small squad. The guys we had did amazingly well to stay in the Premier League for three years but at that point, we were pretty much lambs to the slaughter.
"Man Utd, unfortunately for us, were chasing goal difference on Blackburn so they thought if they did catch up, goal difference might be important, so the waves kept coming and coming.
"Even at seven and eight nil, they just kept coming at us, which is a situation you don't see very often. Usually, teams will just see out the game, pick up the three points, plenty of goals, no injuries and thank you very much. But that was different, Alex Ferguson was constantly telling them to just keep going, fill the net, which is not something you see every day.
"That's why it's so hard to get to lose 9-0, because I think Man City, Liverpool and some of the top teams in the past, they could have done that but they relaxed because it's not important, they're just trying to see out the game.
"So, do I still get stick over it? Yeah, I still get stick over it and then back that up with the 7-1 for West Ham, it's amazing that's what people talk about. I also had some meetings with about 40 goalkeepers recently and I was saying it's a humbling game, a humbling position. 
"We actually beat Man Utd at home that year 3-2, that was Paul Scholes' first-ever goal for United, but we don't talk about that so much, even after all these years. 
"And nobody wants to talk about the outfield players in that game, it's always the goalkeeper, so that's the nature of the position, you're very exposed and on days like that, that's what happens. 
"On the other hand, here we are this many years later and there are a lot of players I played against that I only vaguely remember, so if I didn't get beat 9-0, maybe people wouldn't even remember me anymore. Even for the wrong reasons, it's nice to be remembered for something."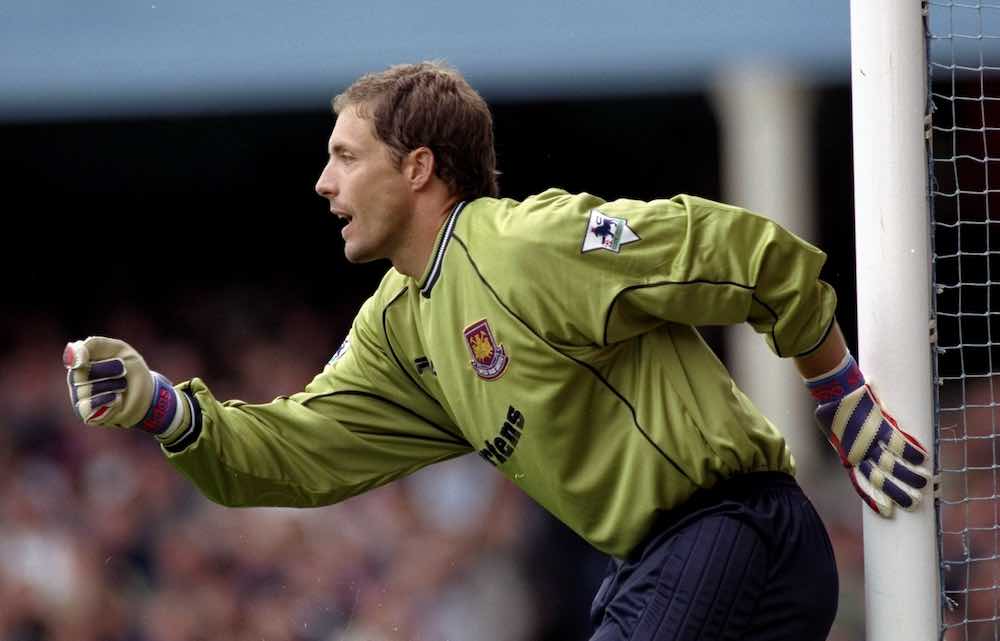 New Experiences And FA Cup Heartbreak
After 12 years at Ipswich, Forrest unexpectedly found himself departing for a new adventure, signing on an emergency loan at Chelsea in 1997, with the Blues in need of some back-up between the sticks. Although he never expected to get much time on the field, another injury fluke meant Forrest became more important to Ruud Gullit's plans than he first anticipated.
"It was one of the best experiences I ever had in football, no question about it," Forrest said of his time at Stamford Bridge, where he shared the pitch with the likes of Gianluca Vialli, Mark Hughes and Gianfranco Zola.
"I went there as back-up. There was Frode Grodås, the Norway international, and Dmitri Kharine, the Russia international who was injured. They needed some cover for a month or two at the end of that season and Mick McGiven — John Lyall's right-hand man at Ipswich — was the reserve coach at Chelsea, so he recommended that they bring me in. 
"My very first game, I'm on the bench at Newcastle. Half an hour in we're 3-0 down, which is unacceptable, and Frode Grodås has a hamstring injury at 30 minutes. So in I go and that was an easy situation because being beaten 3-0 going in as a goalkeeper, there's not a lot of pressure at that point, you're just trying to hold the fort as opposed to going in maybe at 1-0 up and having that high-pressure situation.
"That actually went well for the rest of the game, we ended up losing the game 3-1, Gullit was obviously really pissed off with the team and how they performed, but I was almost sitting in the corner with a grin on my face thinking 'that was freaking cool'. I'd been playing for Ipswich for 13 years and then just playing for somebody else. All these amazing players at Chelsea around me, the five-a-sides at training were incredible, the talent was amazing.
"I played the next couple of games and then Gullit came to see me just before I went on international duty which was unfortunate timing because I really should have stayed at the club. If I did throughout that time, I'd have constantly been in their eyes."
That visit from Gullit was to pass on the news that Chelsea wanted Forrest to play for them in their upcoming FA Cup final against Middlesbrough. However, while Forrest was away on international duty, Ipswich tried to demand a fee from the Blues in exchange for an increased period of his services, but with Grodås nearing a return to action, it was a fee they were unwilling to pay and the clubs couldn't come to an agreement — something which still leaves the 52-year-old with a profound sense of disappointment.
"Chelsea were happy with the way I performed and Gullit said he wanted me to play the FA Cup final against Middlesbrough, but off I went," he said.
"Ipswich tried to demand money from Chelsea for me to stay there and at that point, Chelsea felt like Grodås was going to be fit for the final, so we'll talk in the off-season.
"I missed out on that opportunity and I was disappointed with Ipswich for that because, spending 13 years there, not that I deserved to play the FA Cup final, but it was there in my hands and I thought because of the loyalty I showed them, they wouldn't want to take away that opportunity.
"But they did and that was very disappointing and also played a big part in why I went to West Ham later on."
"We never dreamt Canada could win an international tournament"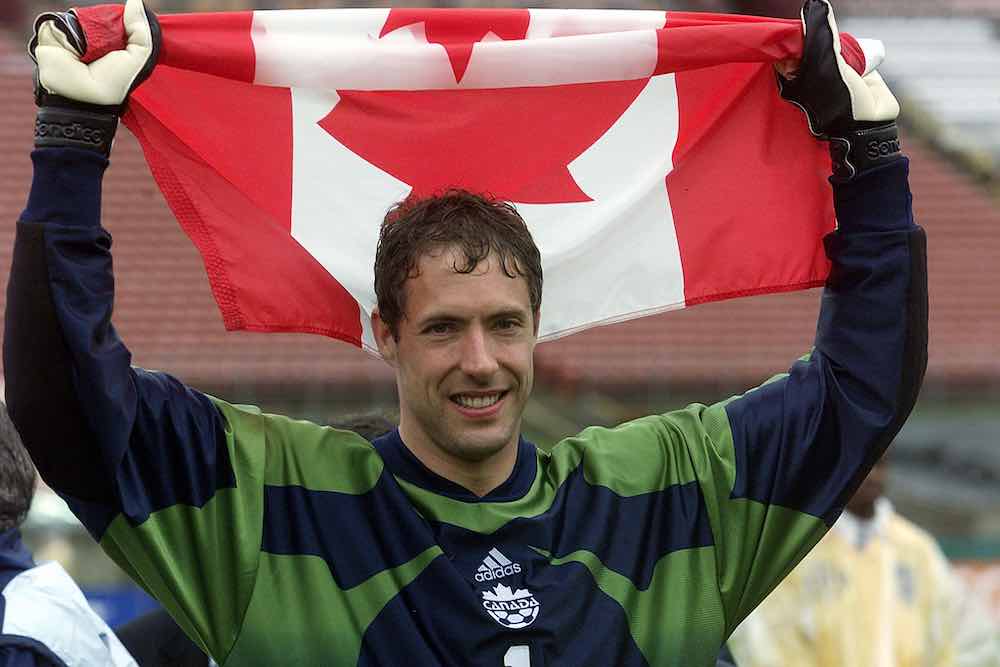 Although Canada have a host of exciting youngsters coming through right now — a crop which could seriously challenge the US and Mexican dominance of North America — the Canucks have often lived in the shadow of their more illustrious neighbours.
However, in 2000, Forrest was able to put some of that FA Cup heartbreak behind him by helping Canada to an unlikely victory in the CONCACAF Gold Cup, beating the likes of Mexico and invitational side Colombia along the way. A triumph made all the more impressive, according to Forrest, by the corruption that was rife in the CONCACAF region at the time.
"Playing for Canada, we never dreamt we could win an international tournament," he recalled. "The best we were hoping for was to qualify for a World Cup but under the circumstances with CONCACAF and even FIFA at the time, over here it was incredibly corrupt.
"Jack Warner was in charge the whole time I was playing internationally, we know all about his corruption. The United States are still trying to get him, but they can't get him out of Trinidad and Tobago. There was Sepp Blatter, all this stuff and the mound of corruption that was going on, cases and jail sentences. 
"So playing in the Gold Cup when you've got the president of CONCACAF owning the TV rights and knowing that we're the only team in the whole tournament that don't bring away fans. Haiti would bring 30k to a game, El Salvador would bring 30k to a game, everybody has someone in the United States to fill a stadium, but Canada doesn't. So that played against us. All the finals of the Gold Cup in the past, USA v Mexico mostly, there are 80-100k people at those games and you have the big TV rights. So for us to get to the final against Colombia was a small miracle in itself. 
"We did feel that when we got to the final against Colombia, at that point, beating Trinidad and Tobago in the semi-finals, we felt CONCACAF would at least give us a level playing field as far as officiating goes because they didn't want an invitational team winning our region, even one as good as Colombia.
"We were also told that because it was an invitational team, no matter what happened in that final, we would be the team to represent CONCACAF at the Confederations Cup, so that took some pressure off, knowing we were going to the Confederations Cup and playing against the champions from around the world. We played our best game of the tournament by far in the final. That was amazing and I'll never forget it."
If the current crop of Canadians fulfil their potential, we might well see Les Rouges lifting another title soon. For now, though, Forrest's time in the national team serves as a reminder of just how far the sport has had to come there, and how much more is left to do.