By Louis Smith.
Douglas Santos is slowly beginning to make a name for himself In Europe at Russian club Zenit Saint Petersburg, but it's his journey to Russia which helped him spark his career.
Douglas' footballing adventure began in the state of Pernambuco in the north-east of Brazil, where he played for Recife based club Náutico.
Santos spent three years in Náutico's youth team before earning a place in the senior side aged 18 during in a state championship victory over Central Sport Club.
Back in 2012,  Náutico were in the top flight of Brazilian football and a few months after his 19th birthday, Douglas came on as a late substitute as they saw off Ponte Preta.
It wouldn't be long before the youngster became a regular first-team starter. On matchweek 14 of that season, he started his first league game for the club against Santos, and didn't look back. Following that, he only missed four matches during the rest of the season, providing a goal and an assist playing in his natural left-back position.
"My time at Náutico was very good!" he told WFi. "I learned a lot there and I am grateful for what I experienced inside that club. I learned what it is to be a professional athlete and what to do to play at a high level.
"I found adjusting from the youth team to the senior team was easy. I was able to adapt quickly and did not feel any pressure."
After only a year playing in the first team, Douglas made the move to Europe, joining Granada CF. Just a few months later, he was loaned out to Udinese — a move which was made permanent in January 2014.
He went on to play just three times throughout the 2013/2014 season — something which can't have done him any good at a young age in a foreign country with a different language. This led to him moving back to Brazil, joining Atlético Mineiro on loan.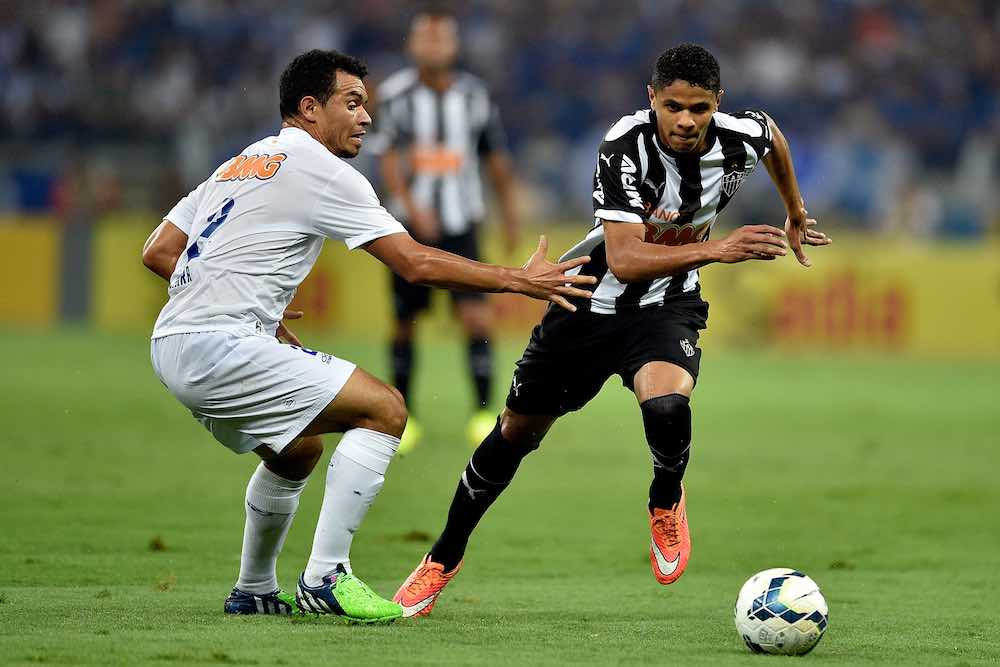 His frustrations in Europe were instantly forgotten. Towards the back end of the 2014 season, Douglas helped Atlético make a late push for a Copa Libertadores place. They ended up finishing sixth, which earned them a place in the Libertadores group stage.
It wasn't just in the league where Douglas and Atlético impressed. Just a couple months after joining, he helped the club lift their first, and to date only, Copa do Brasil.
Douglas used the confidence from the back of his 2014 campaign and took it straight into 2015. Atlético made his move a permanent one and the faith shown in him paid off as they finished the campaign in second place. On a personal level, Douglas was selected in the Campeonato Brasileiro Série A Team of the Year.
"It was great to be back in Brazil because it was at Atlético Mineiro that I managed to be called up for the Brazilian team, which has always been a dream for me," he said.
"To help the club win the Copa do Brasil… fantastic. Unforgettable. I celebrated a lot with the players and my family."
His performances at club level saw him called to represent Brazil in a 2-0 victory over Panama. The following month Rogério Micale summoned Douglas to Brazil's Under 23 squad to compete at the Olympic Games in Rio.
After Brazil's disappointment as hosts of the 2014 World Cup, more pressure was put on the young Brazilians to restore faith in the team for their supporters.
The expectation of Brazil in any tournament is that they should win silverware and, thankfully, in 2016, they managed to do just that — becoming heroes in the process.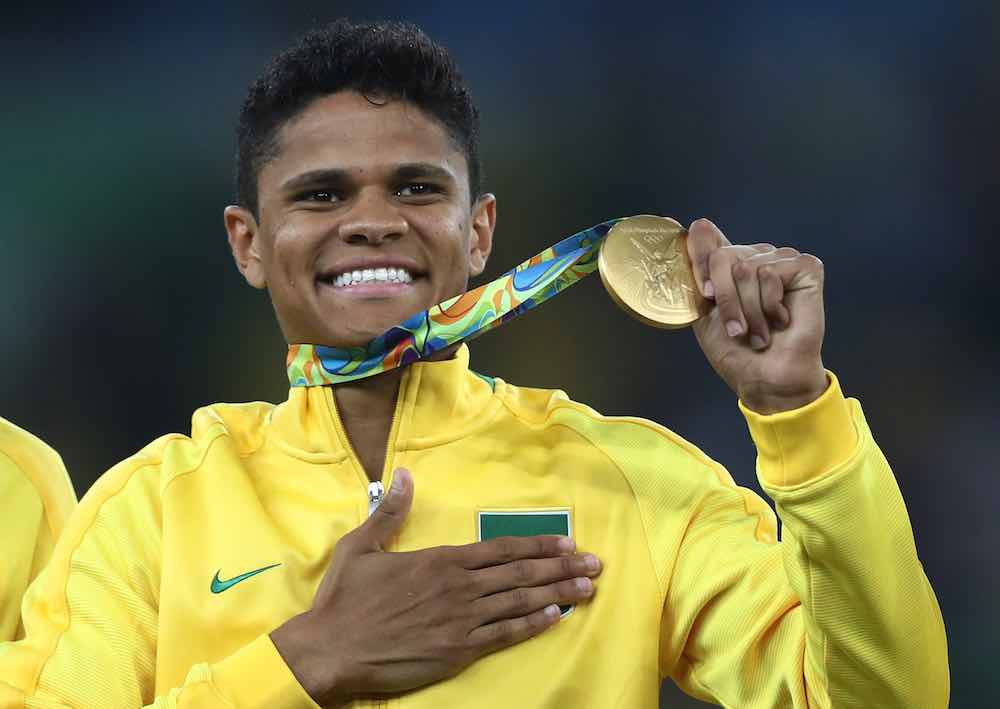 Brazil's Under 23s managed to create history, winning Olympic gold in the men's football tournament for the first time. Douglas featured in all six matches, playing almost every minute.
He provided two assists from left-back during the campaign and was part of a rock-solid defence that conceded just once throughout the tournament — in the final against Germany.
"I knew my name was quoted to be in contention for a place, but when I was officially summoned the happiness was enormous," he said. "I don't even know how to describe what I felt that day.
"The preparation for the Olympics was impeccable. We were all focused on achieving the same goal. Brazil is always a favourite.
"I didn't feel any additional pressure. I handled the situation well because I knew I was working hard to play at a high level. We knew that the title just depended on us.
"Neymar was a great captain. Encouraging everyone and was focused 100% of the time. Throughout the Olympics, I maintained my concentration and envisioned victory. The rest is history
"Winning against Germany is always good. We celebrated a lot, mainly for having been Brazil's first gold medal in football at the Olympics. I felt that I was living in a unique moment. I was part of an event that has a wonderful story behind it.
"I learned in the Olympics how to be a champion, the team needs to be integrated and focused on the same thing, and that's what we did."
Almost instantly after the Olympics, Douglas wanted to challenge himself in Europe again and opted to join Bundesliga side, Hamburg. Unlike his first spell in Europe, he managed to consolidate a place in the starting lineup from the off.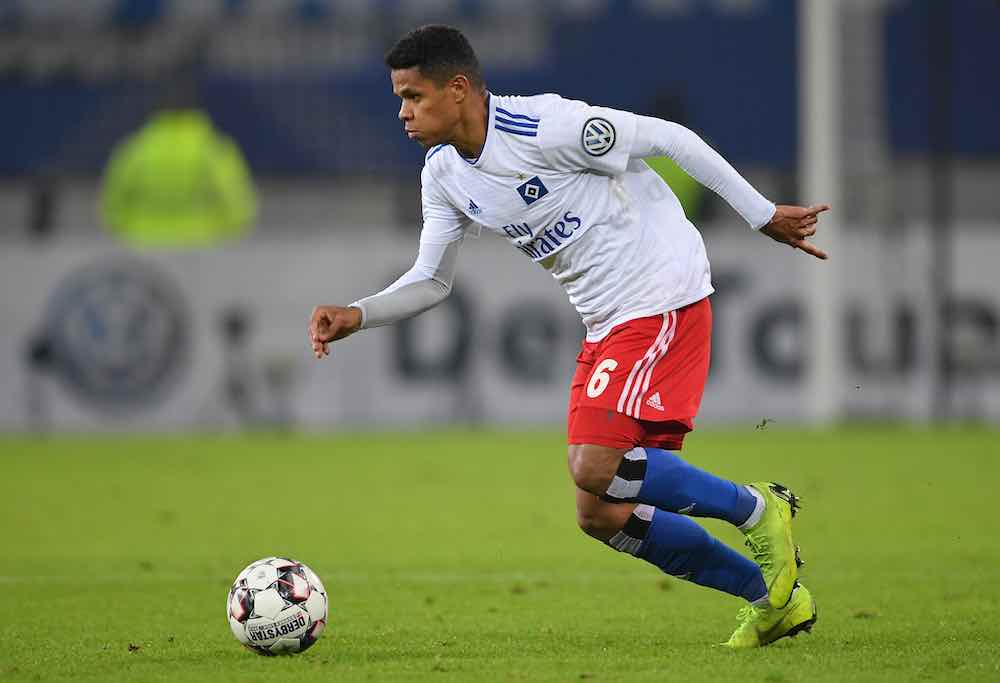 He went on to feature 88 times for the German club enjoying a mixed time. Hamburg suffered a shock relegation in the 2017/2018 and Santos chose to stay loyal by trying to help the club bounce back up straight away, but despite providing a personal best of six assists in the second tier, Hamburg failed to achieve promotion, and Douglas joined Zenit for 2019/2020 season.
"I think during my time at Hamburg, I evolved a lot, both as a person and as a player," he said. "The Bundesliga is a competitive league."
His start to life at Zenit has been what he would have hoped for when he signed the dotted line. He has played in all 23 league games so far this season as Zenit sit top of the standings by a healthy nine-point margin.
Douglas Santos was out and about in St. Petersburg today dressed up as the Zenit mascot 🦁

Our Brazilian fullback was doing his bit to help ill children and raise money for our Davai Davai charity project!

Thank you @DouglasSantos_6! 👍🏾pic.twitter.com/BF6kRItIyK

— FC Zenit in English✨ (@fczenit_en) October 21, 2019
He also played in every match during Zenit's Champions League campaign — giving him European continental experience for the first time.
More importantly, the flamboyant full-back is enjoying life at the Russian club.
"So far at Zenit, it's been fantastic," he said. "I'm loving living here and the club is wonderful. I am very happy.
"The fans here are very fanatic and passionate. It's an incredible thing.
"I'm still learning to speak Russian! My team is helping a lot in the adaptation process. Everyone made me feel at home from the moment I arrived.
"I want to be a Russian champion with Zenit and help the club to conquer and conquer."