By Dylan Baker.
With progression to the next stage of the MLS is Back Tournament on the line for both sides, Montreal Impact's 1-0 victory over DC United was a somewhat muted affair.
It was clear from kick-off that three matches in nine days had taken its toll on the players as the intensity was lower in this match than had been the case during the previous two rounds of play.
As indicated with the blue passing lines in the image below, Ben Olsen's DC United began the match dominating possession and pushing Impact back into their own half for the better part of the first 20 minutes. They spent much of their time recycling the ball and trying to find a weakness in Montreal's midfield — an aspect of their gameplan that worked early on, but would be largely unsuccessful on the night.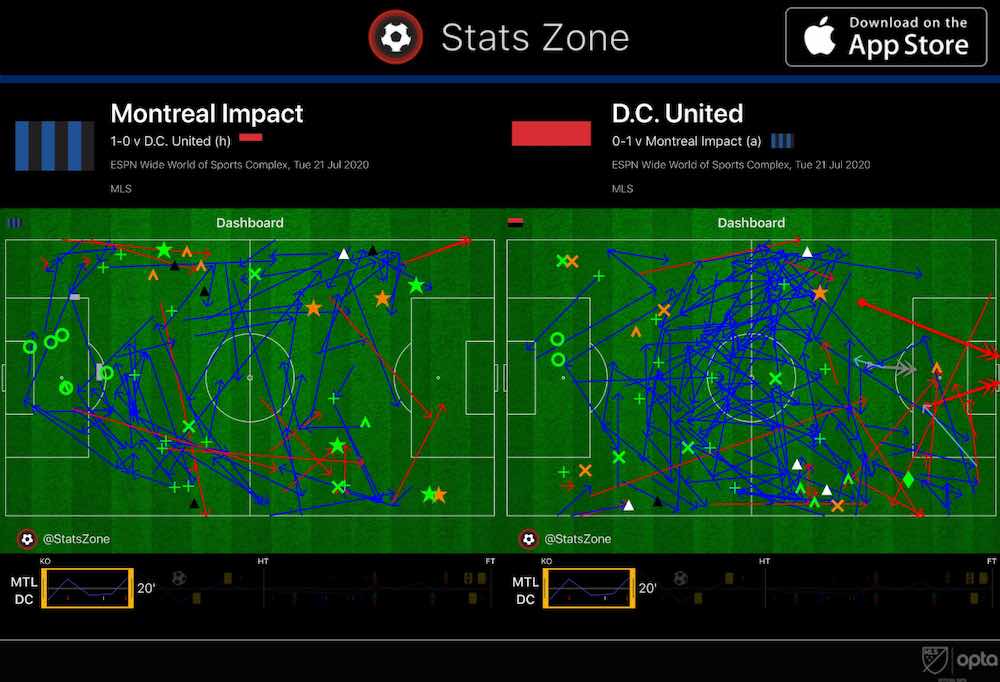 Montreal grew into the match and started finding success sending the ball long into wide areas, stretching the DC defence and creating space for the likes of Bojan Krkic and Maxi Urruti in the centre.
What turned out to be the winner came in the 31st minute from Saphir Taider — a moment that we'll touch on in more detail later.
Through the hour mark, Montreal remained in the driver's seat as DC United looked rather deflated. But the 2013 U.S. Open Cup winners shifted gears when promising prospect Kevin Paredes came off the bench for the third time this tournament. Injecting some fluidity to United's attacking play, Paredes and the rest of the forward line improved immensely on their link-up play and forced some great saves from Clement Diop.
All for nought, however, as even Federico Higuain's introduction on 70 minutes was unable to rally a clearly exhausted United into finding an equalizer.
Montreal are now in a good position to earn themselves a place in the next round, in which four of the six third-placed clubs will find themselves included. DC United, on the other hand, have been firmly eliminated and will now depart Orlando to prepare for the eventual resumption of the MLS regular season.
Some thoughts to consider:
1. Onward for Henry & Co.
As discussed in both episodes of the North American Soccer Show that's highlighted every step of the way during the MLS is Back Tournament, Thierry Henry is on the cusp of either regenerating his managerial career or damning it into lacklustre infamy.
His track record, even early on, is abysmal — only four wins from twenty matches at AS Monaco in France, and finally earning his first win from six for Impact Tuesday night.
That's less than a 20% win ratio.
Against DC United, however, parts of Henry's system not only became more apparent, but showed some effectiveness when implemented on the pitch.
In the first two matches of the tournament, WFi's Brady Reid spent time discussing how Henry came in with a system that he wanted to play after assessing his players in Montreal but hadn't quite figured out the 'who' and the 'how' to do it. His ideology was visible only to those looking very, very hard for it — width was of primary importance to Henry's style, and so was a directness of play that bordered on counter-attacking soccer.
Seeking defensive solidity, Henry has employed a back-three in defence, with wing-backs providing the desired width.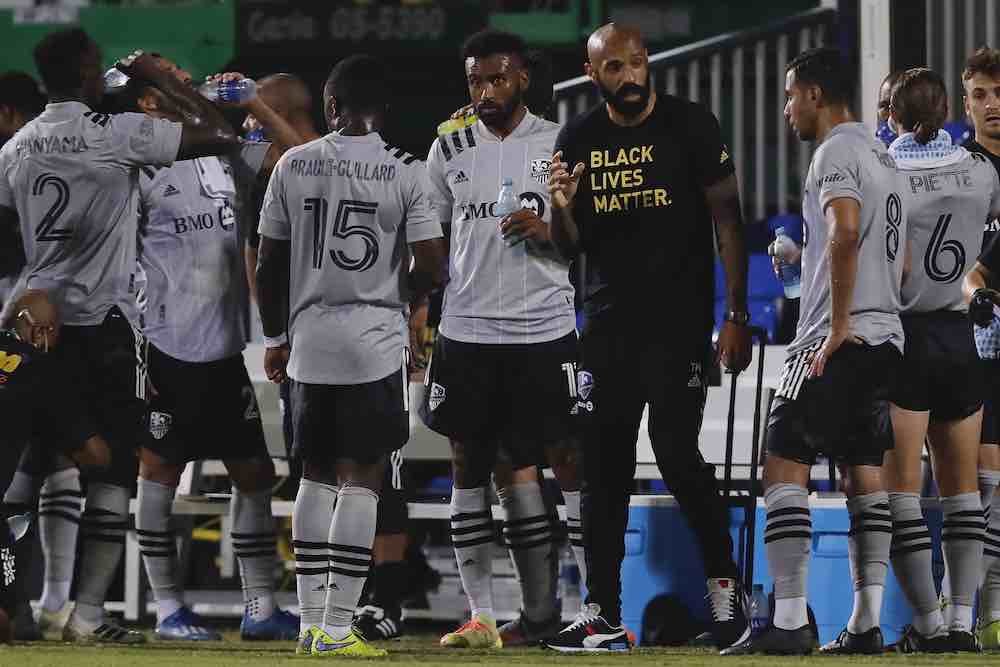 Some of his tactical and personnel decisions were a bit strange: Victor Wanyama, the new Designated Player signing from Tottenham Hotspur earlier this year, spent time as both a defensive midfielder and a centre-back. Samuel Piette, also a defensive midfielder by trade, was deployed as a right wing-back in the first match.
But against DC United, Henry seemed to take what worked in the first two matches in order to develop a third tactical system in as many matches. Wanyama found himself back at the base of a midfield three with Piette and goal scorer Taider in front of him and four defenders behind him. Zachary Brault-Guillard and Jorge Corrales worked the flanks as full-backs. Bojan found himself playing behind Romell Quioto and second-striker Urruti.
Despite achieving victory, there are still some hurdles that need to be overcome before Impact can consider themselves contenders in any realistic fashion. Moving the ball directly to wide areas was a moderately effective tactic for Montreal, but there were few chances created from their many quick transitions forward.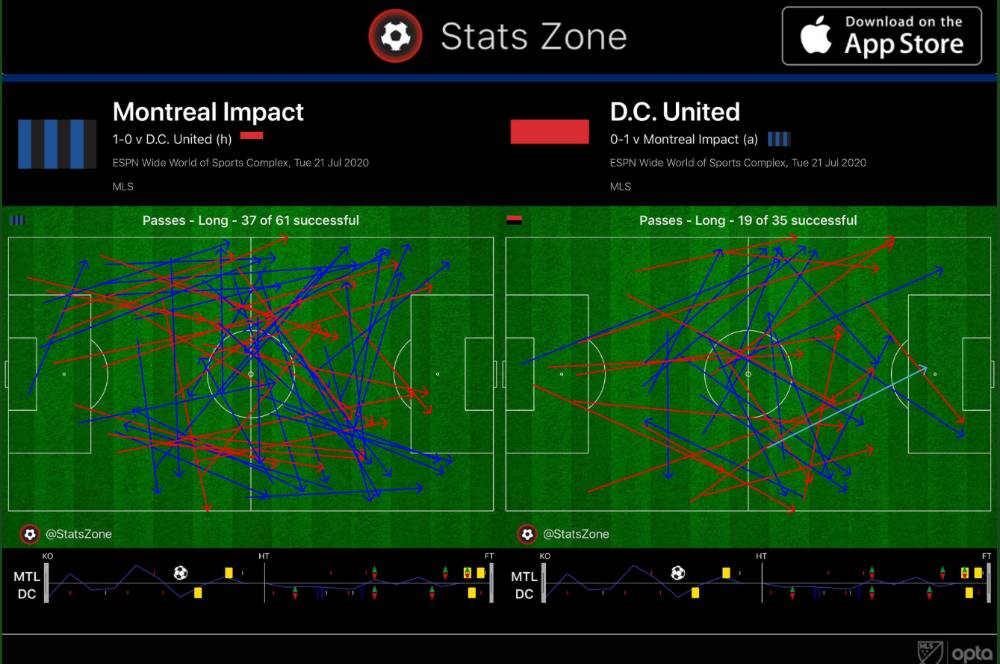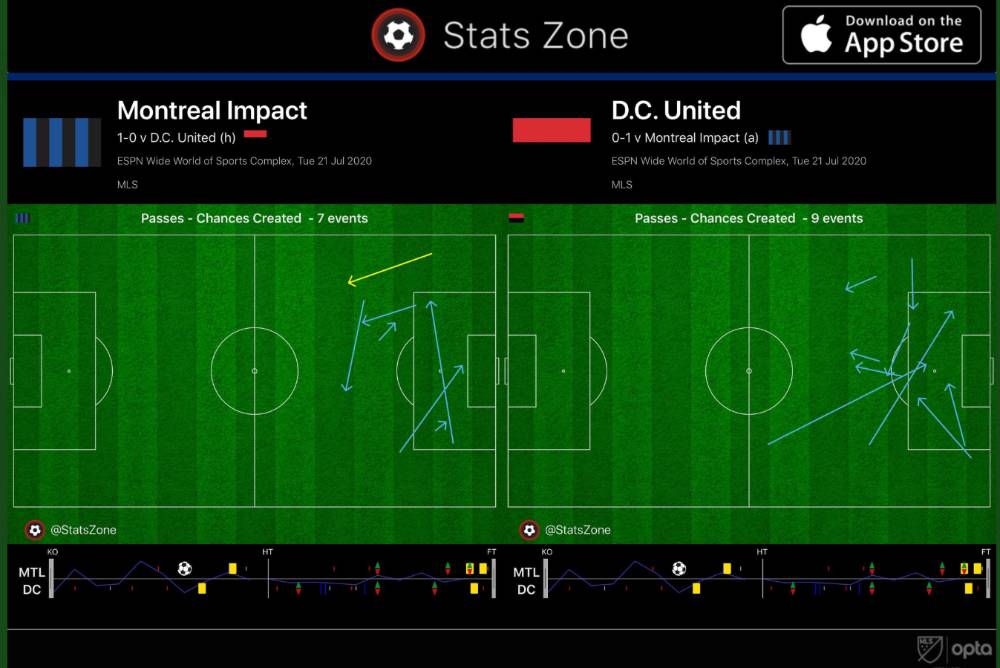 Bojan and Urruti, as well as Taider all but once, weren't quick enough or savvy enough to get into forward spaces for the full-backs to pass into. DC United's lines weren't being broken often enough, which is the tactical basis behind being direct and stretching defences. And there were no "surprise" balls forward in a true counter-attacking sense — Montreal's midfield often elected to settle the ball and regain their structure before bombing forward.
All things considered, however, Tuesday night's game plan all looked like it made more sense to the players on the pitch, both in terms of formation and the instruction they were receiving. Given their slow start to the regular season and the early stages of the tournament, that understanding might just improve Montreal's output going forward.
It also could hand Henry's managerial career the lifeline that it needs to have any chance of extending out of its troublesome infancy.
No Federico, No Fun
Since Federico Higuain didn't score, DC United could only hope for a 0-0 draw against the Impact based on their Orlando performances to date — a result that would see them in contention for a third-place finish and potential berth into the latter rounds of the tournament.
And, for reasons you could only find in MLS that we'll touch on later, they were unable to get just that.
Despite Ben Olsen propagating an intense, hard-nosed style of play that has almost become a traditional United approach over the last decade, their performance was best described as "comfortable until they weren't."
DC had more possession, passes, and chances created in the match, and came with a two-point lead on a winless Impact. Their play on Tuesday night seemed that they prepared for the match thinking that they were all but through to the next round — indeed, a win would've drawn them level with Toronto FC and New England Revolution on points, more than likely requiring tiebreakers to determine who placed where in Group C.
Even after Taider's goal in the 31st minute, it wasn't until nearer the hour mark that DC attempted to shift through their gears and provide any kind of impetus on the match.
Defensively, they were sound enough that their only conceded goal came from two deflections on the same shot that left Bill Hamid flailing. Otherwise, they kept Montreal from finding much joy in and around the penalty area.
Going forward, however, United struggled to find their way past Wanyama's midfield crew. Barring a ten-minute spell just after the hour, any passing sequence that was attempted through the middle was snuffed out before it could gain much traction.
Therefore, they relied on crosses from deep positions on the flank that didn't often find the head or feet of a United player. Luis Binks, Rod Fanni, and Wanyama looked strong in the air as a result — that trio alone won six aerial duels on the night — which should remain constant throughout the remainder of the tournament should Montreal progress forward.
The best moments from DC United came shortly after Paredes came on for Yamil Asad in the attacking midfield. A local Virginian that has looked lively in his cameo during the past two weeks, Paredes made a case for his inclusion in at least the matchday eighteen once the regular season begins again.
His deftness of touch when on the ball and shifty creativity in laying on chances allowed some of DC's forward motion to blossom in the central areas of the attacking third, an area they were practically quarantined from prior to Paredes' introduction.
Olsen will have many aspects of his side to consider in the coming weeks if United are to right the ship and, as their Twitter hashtag parades, 'reclaim their reign' on MLS.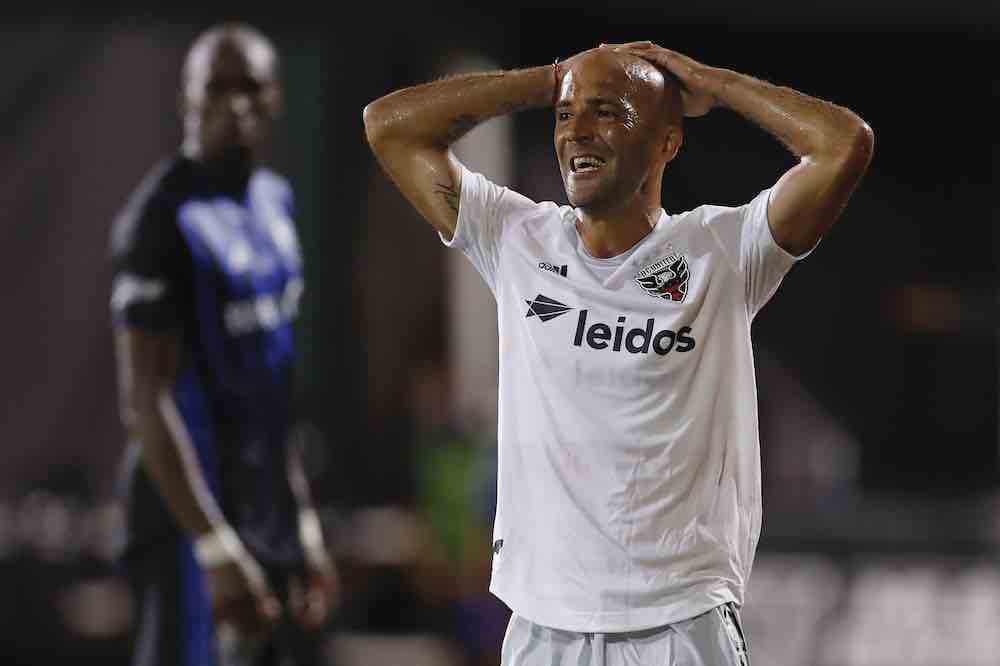 A 'Brillant' Minute of Calamity
Frederic Brillant will be kicking himself after this match.
The culprit for the lone goal of the match, the 35-year-old Frenchman had a horrendous 60-second spell that not only caused Montreal's goal to beat Hamid, but dangerously gave away the corner that led to the chance.
Attempting to cut away a byline cross from Urruti with no other Montreal player in the box, Brillant sliced his clearance inches over the bar. It looked as though he was trying to simply tap the ball on the ground out of play, but after a skip of the ball, it came off his shin.
It would've nearly been a clinical finish had it been at the other end of the pitch.
On the corner itself, Bojan placed his cross towards the penalty spot, but a half-clearance from Russell Canouse dropped the ball at the feet of Taider. He took a touch to settle the ball and aimed for the far post, but his shot tamely deflected off Canouse again.
What would've been a simple catch-and-drop for Hamid quickly turned sour.
Brillant was standing between his keeper and the deflected shot. Having lost most of its power, he could've stepped to the side for Hamid to gather the shot. Or, really, any number of things.
Instead, he flicked his foot up from behind him, channelling his inner Neymar in a rather clumsy fashion. Adding both power and a changed direction to the ball, Brillant's touch sent it into the side netting, just past Hamid's reach.
And, thus, DC United are now headed home rather than watching results to see where they fall among the third-placed teams from the other groups.
What a destructive turnaround.