By Chris Smith.
The morning after their 2-1 win over HFX Wanderers, Cavalry FC striker Marcus Haber connects to us via a Zoom call looking every inch the modern-day professional footballer.
Joining us from his hotel room on Prince Edward Island, where the Canadian Premier League are hosting the Island Games — their restart of play following the coronavirus shutdown — the 31-year-old is dressed out in a Chanel jumper, back-to-front snapback and a gold watch bright enough as to emulate the Sun.
Coupled with a beard shaved and trimmed to mathematical perfection, Haber is clean-cut and if you were to see him in a night club, you would easily imagine him owning the entire room. However, looks can be deceiving and from the moment he begins to talk, Haber hits you with just how humble he is, striking you as a man with a genuine story to tell.
The Canadian Premier League is in just its second year and Haber has been there from the start. However, as he reveals is the case with most of his career to date, the ex-Vancouver Whitecaps man found things anything but easy upon arrival back in his homeland.
First, having spent the previous nine years plying his trade in England and Scotland, he signed up with British Columbia-based side, Pacific FC looking, as he put it, to "be part of history". Just 15 appearances and four goals later in a season disrupted by injuries, Haber once again found himself looking for a new club during the recent off-season.
That new club turned out to be Cavalry FC — 2019's regular-season leaders and playoff runners-up — who reached out to Haber via a call from midfielder Nik Ledgerwood. After spending almost a decade bouncing around the UK and being held back by injuries, he says his arrival into Tommy Wheeldon Jr's side feels like something like a rebirth.
"My main goal was just to get back to where I enjoy what I'm doing," Haber tells WFi. "When you're on the sidelines injured and not able to contribute for whatever reason, that's the worst part of football, I think, because you feel disconnected from the group, regardless of what leadership and insight you have on players, it's all for nought if you can't contribute yourself, it's a shitty feeling, to be honest.
"The biggest thing for me was I needed to put myself to a point where I can get my body in the best condition it can be because if that's your baseline, you're going to be on the pitch, healthy and available, and your whole life is just in a better mood. You wake up every day looking forward to going training.
"Coming to Cavalry was like I was reborn in a way, just because the staff made me feel like they believed in me and that's not something I've felt in a while. Credit to them, that's why Cavalry have been so successful. Nobody else is here on a daily basis with this club more than the players and I think all of them would say the same thing, it's very much like a family mentality."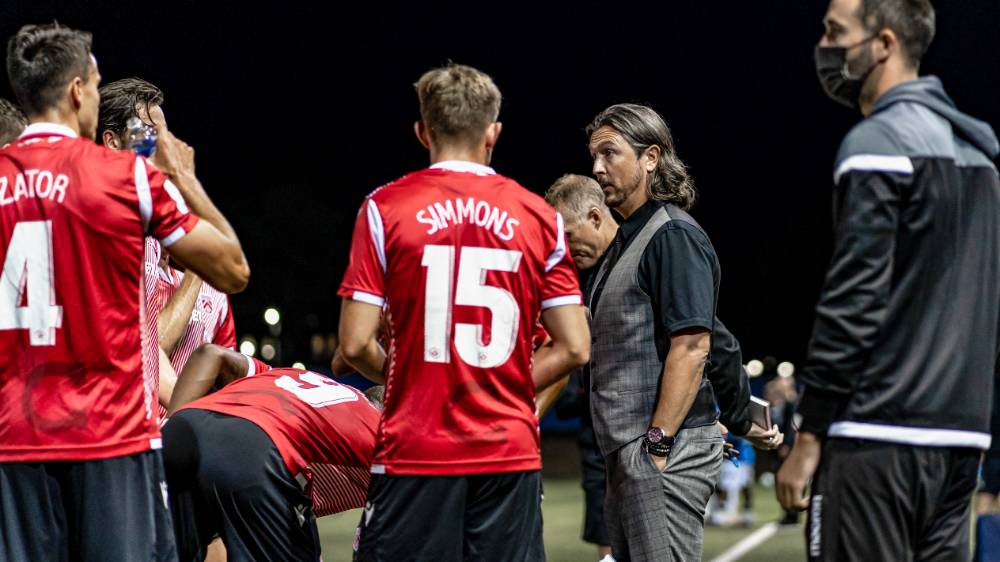 Much of that family environment is fostered by Wheeldon. The Liverpool-born coach is incredibly welcoming and forthcoming with the media and if Haber's testimonial of the 41-year-old is anything to go by, that approach is also taken with his playing staff.
A player who can count Roberto Di Matteo and Roy Hodgson among his former managers, Haber says Wheeldon goes that extra yard to galvanise his squad, more than any other coach he's worked under.
"Credit to Tommy, he's very good at making that extra bit of effort with you as a person and I think that's something a lot of managers miss out on," he adds. "I'll say it with complete honesty that, if I look at some of the managers I've played for in the UK, I think they're very archaic in the way they refuse to approach every person as an individual.
"I think that's the most important thing with people, when you make the effort to understand someone and what their habits are, what their personality is, you know them as a person so you're going to know how to get the best reaction and the best way for them to perform on a regular basis. If you just treat everyone like a pawn on a chessboard, you're not going to be able to get the best out of everyone.
"The most important thing to me was to get back to a place where I'm enjoying my everyday life, enjoying my football and I think I've got to that point. I'm happy. I enjoy what I'm doing and I'm getting results.
"It's no secret for me personally, I'm performing better this season than I was last year because I'm in a place where I feel wanted. I feel like there's trust, transparency and a bond between the staff and the players and that translates out on the pitch."
"When you apply yourself to the utmost extremity, you can lose yourself as a person"
By now, you already get the sense that there is far more to Haber than meets the eye. Underneath the clean-cut, well-presented exterior is, as he puts it, a "human being" who has gone to great lengths to cultivate attachments and friendships wherever his career has taken him.
Things could have panned out quite differently. Haber arrived at West Brom in his early twenties with plenty of promise having netted 12 times in 39 appearances during his first professional season with Vancouver Whitecaps in 2009 but an ACL injury shortly into his time at the Hawthorns curtailed his development, while he would admit himself that he didn't quite push his foot down as hard on the pedal as he could. A struggle to adapt to a promotion/relegation culture where every result counts and jobs are on the line might well be a defining factor, too.
But does Haber regret not climbing quite as high as he perhaps should have in Europe? Most certainly not. In fact, he takes great pride in a career which many Canadians could only dream of, one in which he has never lost sight of himself as a person.
"I won't say it's regret because I don't regret any of the experiences that I've had in my life," Haber replies when asked how he looks back on his career so far.
"It's a double-edged sword. When you apply yourself to the utmost extremity, you can lose yourself as a person as well."
With a seriousness creeping into his voice, Haber adds: "I look back and think maybe when I was younger, if I had been so tunnel-visioned and completely obsessed with my craft, would I have accomplished more? Most definitely. But at the same time, I look back and I've experienced some amazing friendships, I've been able to see the world, live a life and live in some pretty awesome cities throughout my career and never lose myself as a human being.
"I've never wanted to be that awkward individual who couldn't have a conversation because I basically took myself out of society, which a lot of athletes do. A lot of footballers, they can't have a regular conversation with people, they don't really understand how to engage or be in a social setting, or they might be awkward with their friends and family because all they know is to eat, sleep and breathe football.
"So, do I have regrets? No, because I feel like what some more successful pros might miss out on, I didn't because I was able to still experience life. I think that's kind of underrated, in a way."
For all the millions on offer in the modern game, one of the biggest pitfalls which the current generation of footballers must watch out for is becoming so obsessed with their profession that the need to stay in peak condition and the constant scrutiny on social media downcasts them.
Haber believes this is a "fine line" which all players must walk and one that he takes great pride in keeping on the right side of.
"At the end of the day, it just depends on where you get your fulfilment from," he adds. "There are lots of guys that are multi-millionaires that are miserable. You see players say it now, football is a different sport now because of all the sports science, analysis and data. It can become a very strenuous process mentally, with social media and the way that footballers are so demonised and under the microscope all the time, it's a different time than what it was 15 or 20 years ago.
"It's a fine line, to be honest, you need to be able to balance, I will say that's the most important thing. You need to apply yourself, you need have that killer instinct and that drive, but never lose yourself as a person and for me, that's something I'm really proud of, that I still feel like I'm a normal human being at the end of the day.
"If I look back, being 16, 17, would I have thought I would have had a nine, 10-year career within the UK, being a kid that grew up in Dunbar, Canada, playing at that level growing up, in an environment where not many professional footballers come from? I'm very proud of that.
"You've got to look at the bigger picture sometimes and just think about what is important to you and for me, it was football, but also to be a well-rounded human being and enjoying what I have, and never lose the fact that, okay, I'm a footballer but I'm also a person. I also have interests, desires and hobbies. It's good to be social and make friends.
"I remember things about every city I've been in and the people I've met and it's not all football memories. I think that's important for everybody."
"The Canadian Premier League is a big stepping stone for development"
Alphonso Davies' journey from Vancouver Whitecaps winger to starting left-back for Champions League winners Bayern Munich — as well as Jonathan David's €30m move from Gent to Lille — has thrust Canadian football into the spotlight like never before.
With the long-awaited establishment of a professional league in Canada, Davies' rise couldn't have come at a better time with Canucks supporters now safe in the knowledge that fewer players will fall through the cracks due to a simple lack of opportunities.
Already, Tristan Borges has proven the importance of the CPL, making a $300k move to Belgian top-flight side OH Leuven in the off-season after scoring 13 goals and winning the playoffs with Forge FC last season, while the likes of Zach Verhoven and Mohamed Farsi have been turning heads with their performances so far this season.
Haber — who admits he has been pleasantly surprised by the quality and technicality on show in the league so far — is a player at the opposite end of his career but when asked about the importance of CPL in the development of Canadian talent, the 31-year-old exudes passion and clearly cares about the future of the game in his homeland.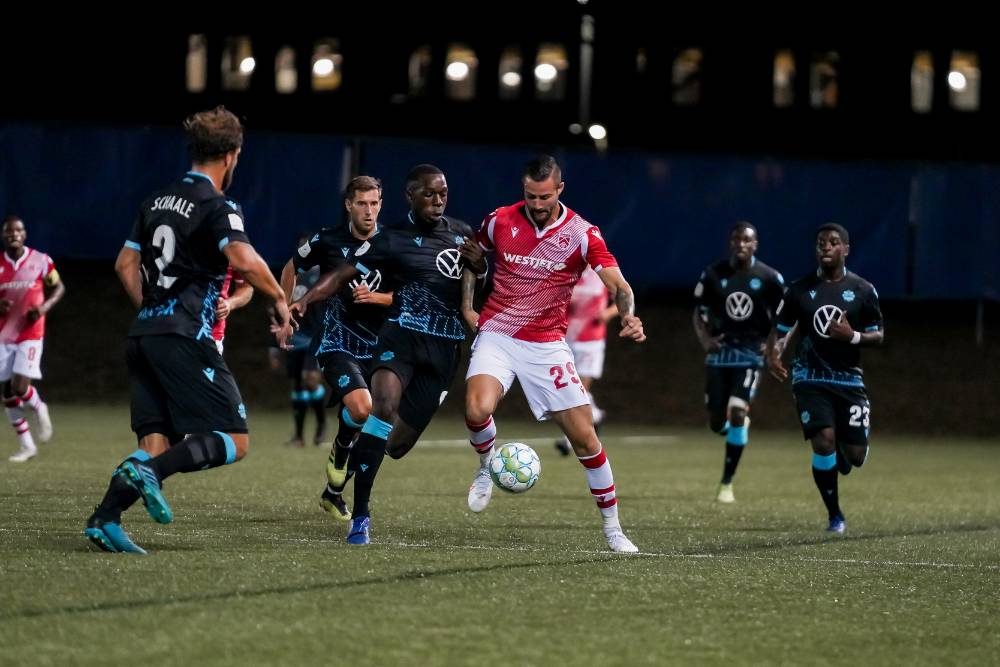 "Football is always about opportunity," says Haber. "In the past, if I look back at when I was coming through, it was pretty much like I had to go to Europe if I wanted to have any sort of career because, if I'm honest, it just didn't have the same academy, coaching and professional environments for kids to progress and improve.
"I think now, it's a lot better of a climate to be in for a young player in Canada than it ever has been and I think that's why this league is so important. The league needs to do a good job of nurturing players and taking care of them, giving them a reason to want to stay in Canada to develop first of all. You need to develop the players, but then also give them the opportunity to play and put the infrastructure and coaching around them in a professional environment to allow them to strive.
"The more teams, the more coaches that are coaching at a high level, and the more academies that we have, is only better for Canada. It's really important, the CPL is a big stepping stone for development, for sure."
Despite not being capped since 2016, Haber still has designs on breaking back into John Herdaman's national team. However, for now, the 27-time international is simply focussing enjoying his time on the pitch with Cavalry. Enjoyment is not something he's experienced in football for some time and perhaps it will be that no-strings-attached, fun approach which will ultimately see him don Canadian red once again soon.