By Raj Das.
After his €222m move from Barcelona to Paris Saint-Germain in the summer of 2017, Neymar was heavily criticised. It was viewed as a downward career move by many, in what was the most heavily dissected saga in the history of football transfers.
The move may not have made sense on the surface, but how can any player deny a weekly contract of £600,000 a week? Would the critics themselves have been able to resist such an offer? That is of course if somebody made such an offer for them.
For the last three years, the road has been bumpy for the Brazil star. He took all criticism in his stride. Injuries also played a part in declining his stock and further propelling his downward trajectory.
Despite all the accusations hurled at him, Neymar has shown great maturity of late and has assumed greater responsibility. He has shown the performances that the PSG faithful have been clamouring for so long.
Reaching the Champions League final against Bayern Munich is a road to redemption for the 28-year-old.
In many ways, he has resurrected his career and is on track to making himself an immortal. Neymar may be Brazilian, but there is something romantically Irish about his resilience and fightback.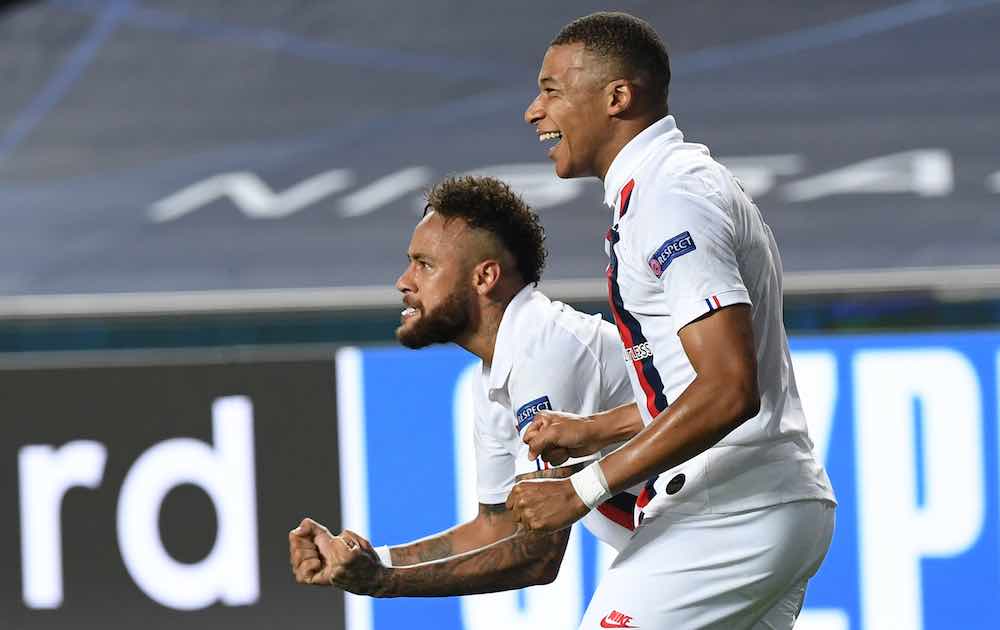 Humanising Neymar
Everything looks rosy from the outside but it is difficult to live the life of a celebrity footballer.
The celebrity footballer is not a human, he is projected as a demi-god into our imagination. Perhaps we need to humanise Neymar and consider him as a vulnerable, insecure athlete.
Did Neymar regret his choice of leaving Barcelona? Absolutely. He regretted his move just a week after leaving the Nou Camp. He sought refuge in videogames to drown out his inner voice. That is when his great love for Fortnite began.
In life, we make choices and Neymar made his. What seemed to be the wrong move three years ago suddenly seems to be the right one today.
It is an interesting crossroads of sorts for the former Santos star. He is 28, and has now entered the stage when most footballers are at the peak of their powers. He feels confident, is in a positive mood, and has the results to show for it.
In 2015, he was among the three best players in the world but since his move to PSG in 2017, he disappeared from the centre of footballing conversations for a few years.
Now he has the chance to shine, to show the world that he is still one of the best.
Accusations of Bad Influence
The French media, especially the likes of Frank Lebouf, have always worried about Neymar casting a bad influence on their wonderkid Kylian Mbappe.
After Mbappe disrespected Thomas Tuchel after the head coach took him off in a match against Montpellier in which PSG were already 5-0 up, critics speculated that the youngster had picked up dissent from Neymar through osmosis.
It is true to a certain extent that Neymar indeed has a penchant for nightlife and partying. It is also true that during his last days at Barcelona, he had an altercation with assistant manager Juan Carlos Unzué when the Spaniard had warned him to mend his ways, or he would wind up like Ronaldinho.
Then, he has been called a spoilt brat, a showoff, a snake who left Barcelona for money.
What is interesting is that people have always shown false concerns. They have tried to 'correct' Neymar. Even now when he is in the form of his life, his detractors, who are in their legions, have attempted to find faults with him.
But his Champions League performances since the restart of football has only proved his detractors wrong.
Recent Performances and Style of Play
Against RB Leipzig we could see glimpses of the confident Neymar. There was the body swerve, the nutmeg and the magnetic ball control and dribble.
Perhaps his greatest achievement of the night was his sublime touch-assist to Angel di Maria that led to PSG's second goal of the night just before half-time.
It is ironic that for all their energy drink sponsors, it was Marquinhos who brandished the wings and headed in the first goal.
But Neymar was at his usual best, pulling the strings sometimes from the middle, sometimes from out wide. He became the old-fashioned enganche, the hook player who enjoined the midfield with attack. It was like a breath of fresh air.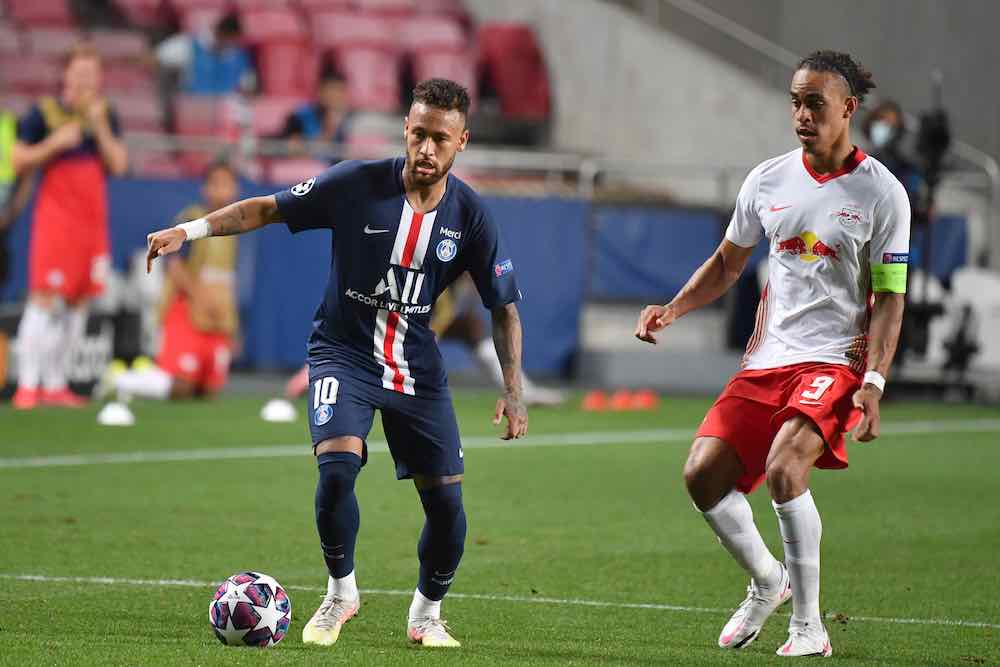 A few days before the Atalanta match, he had told reporters: "I am in the best form since I arrived in Paris." Looking at his performances, we can absolutely agree with him.
Despite massive criticism, he has actually been very prolific for the capital side this season.
In the Champions League, he has scored three goals and provided four assists in six games, playing 495 minutes. That's a goal contribution every 70 minutes. He had also been prolific for PSG in Ligue 1. In 15 appearances, he scored 13 goals and provided six assists.
His statistics would have looked even more impressive had the league season not been curtailed midway through.
But more than his statistics, Neymar is a presence. He likes to take the ball to draw fouls and win freekicks. He likes to dribble past defenders in tight spaces; he enjoys playing incisive passes. He has unrivalled ball control and he looks to use that to his advantage.
There is a sense of leadership in his game, an awareness that this could finally be his year in Europe. He has seized the moment.
The Resurrection of Neymar
It seems that in a span of two months, he has resurrected his career. Winning the Coupe de la Ligue and the French Cup infused him with the confidence and belief to also put sublime performances in the Champions League.
Despite all his faults, Neymar has still been an incredible footballer. Now, after his sublime performances against Atalanta and Leipzig, he has become the centre of footballing conversations all over again. People are once again talking about the former Barcelona player in a positive light.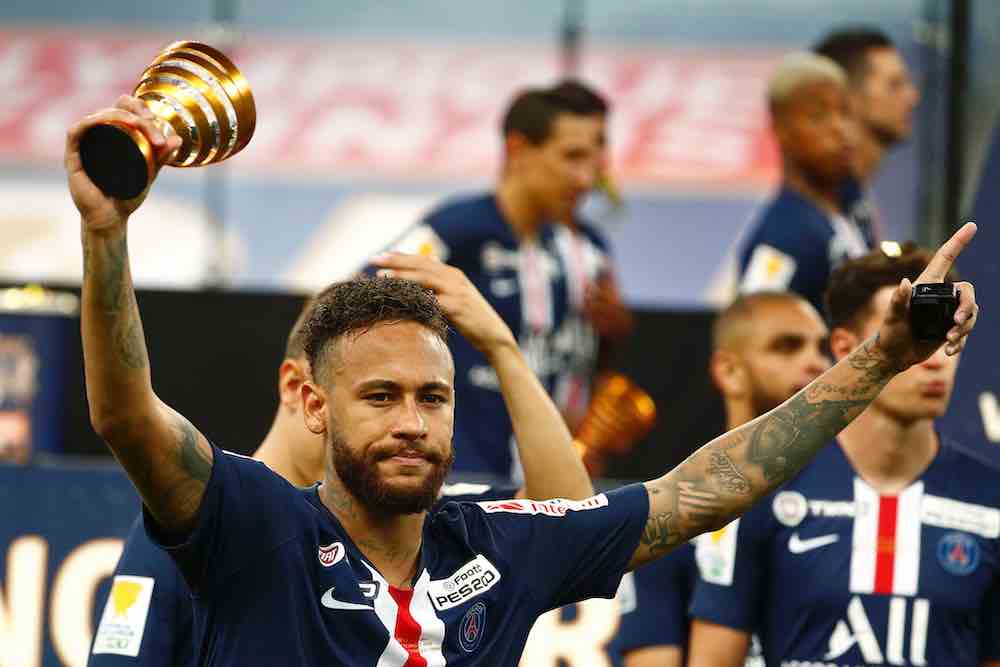 Neymar now has the chance to etch himself in the annals of PSG folklore if he can win the club their first-ever European Cup on the 23rd of August. It will not be easy by any means.
Bayern have been flawless under Hansi Flick, a team who look capable of scoring with every attack. They put eight past Barcelona, and three past a brave Lyon side who did everything apart from finding the back of the net.
Robert Lewandowski has fifteen goals this season in Europe, and will undoubtedly be the main threat for the Parisians. Yet, worryingly enough, Die Roten are not dependent on their prolific number 9. They have other contributors, most notably in 'Surge' Gnabry who hogged all the limelight against Lyon.
Neymar will have to tussle with the likes of Leon Goretzka and Thiago Alcantara in midfield. He must then face Joshua Kimmich and Jerome Boateng further up.
Neymar must undergo the proverbial trial by fire. Immortality must come at a price.
Neymar, Immortality and William Butler Yeats
It is not going to be easy to win the Champions League against Bayern Munich, but surely the footballing gods have created this script for the 28-year-old Brazilian for some higher purpose.
Surely it is divine intervention that has landed him this opportunity to wash away three years of criticism, anxiety and disappointment.
Neymar has the chance to create his own Ben Bulben in Lisbon. He will yet have a long and illustrious career. But victory against Bayern will provide him with a fitting epitaph, just as the great Irish poet W.B. Yeats did for himself:
Poet and sculptor do the work
Nor let the modish painter shirk
What his great forefathers did.
Bring the soul of man to God… (Under Ben Bulben, 1938)
Neymar, PSG's chief 'poet and sculptor', must juxtapose the divine and the human, and play the greatest game of his life. His ancestral spirit blesses him and wants him to shine. From now on, there will be no pain and criticism; a win against Bayern will completely justify his move to France.
Just as Ben Bulben symbolises the towering aspirations of the Irish people, Neymar, too, has the chance to make Paris proud and immortalise himself in the city's folklore.
It is also interesting that like Yeats who was repeatedly spurned by his love interest Maude Gonne, Neymar too has craved love and respect. In Barcelona, he played second fiddle to Lionel Messi, the only love of the Blaugrana faithful.
But he has now found his love in PSG, just as Yeats found it later through his wife Georgiana Hyde-Lees.
If Neymar can inspire PSG in the Champions League final, his journey from footballing resurrection to immortality will be complete. It will be a fitting, folklore-like finale to an epidemic-laden season.