By Jordan Florit.
Two days before President Nicolás Maduro announced a nationwide quarantine on 17 March, the Venezuelan Football Federation (FVF) suspended all football activity.
Whilst the economic and political problems in the country have worsened, football has risen in popularity.
Last year, a new League Final attendance record was set when 38,870 fans watched Estudiantes de Mérida take on Mineros de Guayana, and when Caracas FC hosted Boca Juniors in the Copa Libertadores on 4 March, the Estadio Olímpico sold out for the first time in over two years.
High turnouts are far from the norm, but for the big games, the stadiums fill. However, the global coronavirus pandemic has amplified the unprofessionalism and selfish interests that plague the game and now threaten to quash its recent advances.
On 5 August, Federation President Jesús Berardinelli died in police custody. The cause of death was recorded as acute respiratory failure, noting a "positive case of suspected COVID19."
His arrest on 20 July has not been formalised with a statement from any official institution, but the reasons given include forging a signature, embezzlement, and defamation of former national team manager Rafael Dudamel. According to a statement released by Berardinelli's family, he was offered an ultimatum while in custody: if he resigned the presidency, security officials would release him. To the public, the episode was seen as a mudslinging witch hunt; one with unintended but tragic consequences.
Days before his arrest, he had spoken of his concerns of government intervention, citing Maduro's Minister of Youth and Sport, Pedro Infante, who is also the Federation's second vice-president — a dual occupation prohibited under FIFA legislation. His death has left a power vacuum within Venezuelan football and last month former national team manager Richard Páez called for FIFA to intervene.
"In times of institutional chaos, the contamination and political interference of two public officials on the Federation board, and the lack of clean electoral statutes, intervention and an investigation by FIFA is required to clear up doubts and adopt an environment based on transparency and legality," Páez told FUTVE English for WFi.
On 1 September, his request was fulfilled. FIFA seized control of the FVF, placing a normalisation committee in charge of its daily functions, and will oversee fresh elections.
🚨|FIFA appoint Normalisation Committee for the FVF|

In light of the absence of a President and first Vice President of the Venezuelan Football Federation, The Bureau of the FIFA Council have decided to appoint a normalisation committee in the coming days.

Thread⬇️ 1/5 pic.twitter.com/mlRMVamwMc

— FUTVE English (@FUTVEEnglish) September 1, 2020

With the Federation consumed by politics and continuing its simultaneously overbearing but uninterested relationship with Venezuela's football league, underlying problems, exacerbated by Covid-19, have festered.
Until 30 June, Páez was head coach of topflight side Mineros, but stood down over the league and Federation's persistent seeking of a resumption to the football calendar.
"As a doctor, I decided to be sensible and prudent, with behaviour befitting of my professional training," he said.
"Until now, what we have warned about has happened: infection, the cancellation of training, and the isolation of infected players.
"Still there is no precise date to return and still the curves of 'registered' infected cases and deaths are on the rise."
Worse yet is the financial situation the pandemic has left many players in.
"I suggested to my teammates that it was time to make it known that the debts the club have to us are too big and we see from them no intention to pay us," Lala FC captain Francisco Parra said of his decision to lead the team in the penning of an open letter. For 8 to 12 months, they have not been paid.
"Disappointment, frustration, sadness, and despair," is how goalkeeper Hector Rodríguez summarised the situation. He says he hasn't received his salary since December. To survive he's taken to selling SIM cards and making deliveries by bicycle.
It was a similar story for Lala Femenino's Dianny Pérez, the first player at the club to speak out. In February, Pérez travelled 1,755 kilometres from her city of birth, Maracaibo, to Puerto Ordaz, to join Lala from Zulia FC.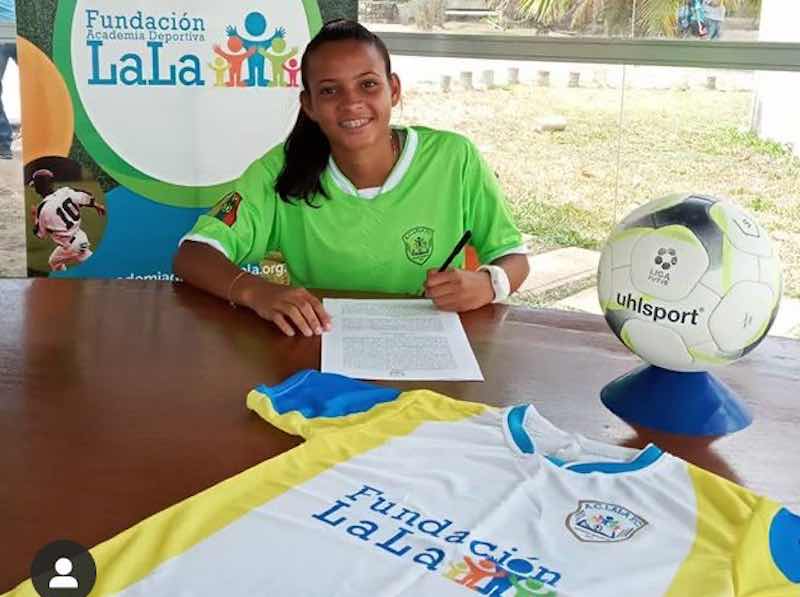 "I haven't even received my first month's wages," she said. "Nobody has contacted me, only the coaches. They just tell us we must wait for a response."
In July, she turned 19 years old. It was a birthday with little reason to celebrate.
"At the start, it was very tough," she adds. "I had to have an operation just after the quarantine began because I had appendicitis and, although I am now much better, it would have been chaos if I didn't have the support of the family friends I am living with."
Without enough money to return home, she is left stranded.
The tragedy of the situation peaked when the child of Ender Pariguan, a striker for the men's team, died of complications in relation to a congenital heart disease.
"He sent all of his son's medical reports to the club, but they said his treatment was too expensive to cover," Parra said.
"We were overwhelmed with sadness because we hadn't been paid in months, yet we were digging into our own pockets to pay for his medication and then we had to ask the players' union to pay for the funeral."
Lala's directors say they have taken the decision to sell the club to pay off the debt to the players, but Parra says that has been their excuse for over a year. Now, some of his teammates have left the state, heading south in hope of finding work at Venezuela's gold mines.
In the Second Division, the players of Llaneros de Guanare are without pay since February and face the same desperation. Compounding their misery is the fact the club were administratively relegated from the top tier just days before the season started after former midfielder Leonardo Ossa brought a lawsuit against them for unpaid wages from 2016.
"I have two children – 5 and 7 years old – to support," one player told me under anonymity, fearful of repercussions.
"I've sold my shaver, my wife's hair straighteners, and I was forced to sell my son's bicycle to pay for treatment when he became very ill with an inflamed eardrum." He speaks while in his fifth hour of queuing for water. The taps at his house ran dry four days earlier.
While the father of two wished to be anonymous, midfielder Manuel Fuentes was willing to give his name to endorse his teammates' testimonies. "I no longer have anything to lose," he said.
In July, Club president Angelo Geretti offered the players an unscrupulous deal: sign a settlement releasing them from their contracts and they would be paid one month's wages. "But there was another condition," the anonymous player said. "You had to go to Guanare and sign the agreement in person. Most of us live far away. In my case, it is a 20-hour drive. To get there during this radical quarantine would take two cars and 140 dollars." Five players signed their contract termination. None of them have been paid.
With more and more players willing to speak out, not only is the caged bird singing, but now its bars are rusting through.
There are, however, clubs that have handled the pandemic's challenges well. In the capital, Caracas FC have complied with all recommendations from FIFA and the WHO, and have honoured the agreements made with players when the league was suspended.
Midfielder Ricardo Andreutti was clear in the distinction that he believes differentiates Caracas from the numerous clubs in debt to their players.
"They are not serious, sustainable projects," says Andreutti. "They have no structure, no planning, and their directors only care about money and power. Caracas has other values, committed to improving sportingly and administratively every day."
Despite the dire situation, Andreutti remains hopeful that COVID could be the virus to kill off the parasitic aspects of Venezuelan football by forcing them, unavoidably, into the public eye.
"The pandemic accelerated and increased a feeling of distrust that already existed," he adds. "Let's hope this is a change that will shake Venezuelan football so hard that it can be rebuilt again. This is my greatest wish."
---