By Louis Young.
Last Thursday, Villarreal, the side to have featured most often in the Europa League since its rebrand in 2009, faced Sivasspor, a team making their debut in European football.
Villarreal, managed by three-time Europa League winner Unai Emery, are tactically what we have come to expect from an Emery side.
They are possession-based but with an emphasis on the security provided by a defensively aggressive midfield.
New signing Daniel Parejo is an example of this. He has played more minutes than any other Villarreal player and completed more tackles per 90 (2.2) than any other player in the side.
They have a consistent starting eleven and have been consistent in their use of either the 4-4-2 or 4-1-4-1 so far this season.
This was the first time Villarreal have played competitively against Sivasspor and there are plenty of reasons to suggest the Turkish side went into this game with a deal of confidence.
Sivasspor finished fourth in the Süper Lig last season, and this season they have started fairly well, especially when compared to other sides like Basaksehir, Besiktas and Trabzonspor.
It's fair to say the Süper lig is showing signs of being a little bit of a free-for-all, with Alanyaspor top of the league and newly promoted Fatih Karagumruk fourth. Much like Villarreal, they are tactically very consistent. In their four league games they have used a flexible 4-2-3-1 and 4-4-2. Pass completion is not their forte as they have a season average of 76%, the second-lowest in the league. They play the second-most long passes per game in the Süper Lig (66), and this was a big part of their system last season, too.
There are some familiar names in their side — former Everton and Wigan striker Arouna Kone, and former Leeds and Bournemouth winger Max-Alain Gradel are among their attacking talent.
Mustapha Yatabaré was their top scorer last season with 13 goals, and the Mali international will hope to get off to a great start in Europe.
Observations
It immediately became apparent that Villarreal came to keep possession of the ball and sustain pressure in Sivasspor's half.
They looked tactically very flexible, playing in a 4-3-3 shape but dropping into others depending on the flow of the play.
Sivasspor did not settle into the game in the same way, with Villarreal finding it very easily to play through Sivasspor's mid-block 4-1-4-1 press early on.
Sivasspor didn't pressing with much intensity in the first twenty minutes but ramped up the intensity after Villarreal scored twice.
Sivasspor came back fighting, pressing with intensity and aiming to win the ball high up the pitch. Their direct attacking football definitely shone through in last twenty minutes of the first half, and this was rewarded with a goal from Olarenwaju Kayode following Mustapha Yatabare's brilliant ball over the top of the Villarreal's back four.
Olarenwaju Kayode scored Sivasspor's first-ever goal in the Europa League group stages and raised his fist in solidarity.#UEL #EndPoliceBrutalityInNigeriaNow pic.twitter.com/MPHavzfvrA

— Soar Super Eagles (@SSE_NGA) October 22, 2020

After a missed penalty from Carlos Bacca, Villarreal had even more trouble dealing with Sivasspor's energy, and a brilliant header from Yatabaré from a Robin Yalçin cross saw the Turkish side going in level at half time.
Yatabaré was definitely Sivasspor's best player in the first half, he was a great aerial presence, winning seven aerial duels in the opening 45 minutes — more than any other player on the pitch.
Not only this but his willingness to come back and defend was commendable, winning three tackles in the first half, again more than other Sivasspor player. This can also underline Sivasspor's frantic and sometimes scrappy approach in this game.
Another stat that highlights this is pass completion. As mentioned before, Sivasspor play a lot of long balls and this game was no different. At half time Villarreal's 89% pass completion rate was far superior to Sivasspor's 74%.
After half time, the number of long balls from Sivasspor seemed to increase, particularly from their goalkeeper Mamadou Samassa. Every time Samassa collected the ball his first instinct was always to go long and very quickly to Kayode, no matter how isolated he was upfront on his own.
Sivasspor's 4-1-4-1 became more of a 4-2-3-1 as midfielders Faycal Fajr and Hakan Arslan instigated the press along with Kayode, coming out of the 4-1-4-1 to press in a number 10 role with defensive midfielder Isaac Cofie filling in as part of a double pivot.
Sivasspor had just started looking comfortable, then Juan Foyth met a great corner kick from Takefusa Kubo to head his first goal for the club.
Villarreal then brought on Moi Gomez for Manu Trigueros, switching to a 4-4-2 shape with half-time substitute Vicente Iborra, and Francis Coquelin in the centre of midfield.
A moment of brilliance from Max-Alain Gradel from a free-kick saw Sivasspor level the game again and restored their confidence, but fatigue was setting in and the long balls to Kayode were becoming less effective.
Paco Alcacer entered the fray for Villarreal and restored their lead 4-3, and by this point the game was really getting away from the Turkish side's control.
Foyth capped off a good night with a brilliant pass to assist Alcacer's second goal.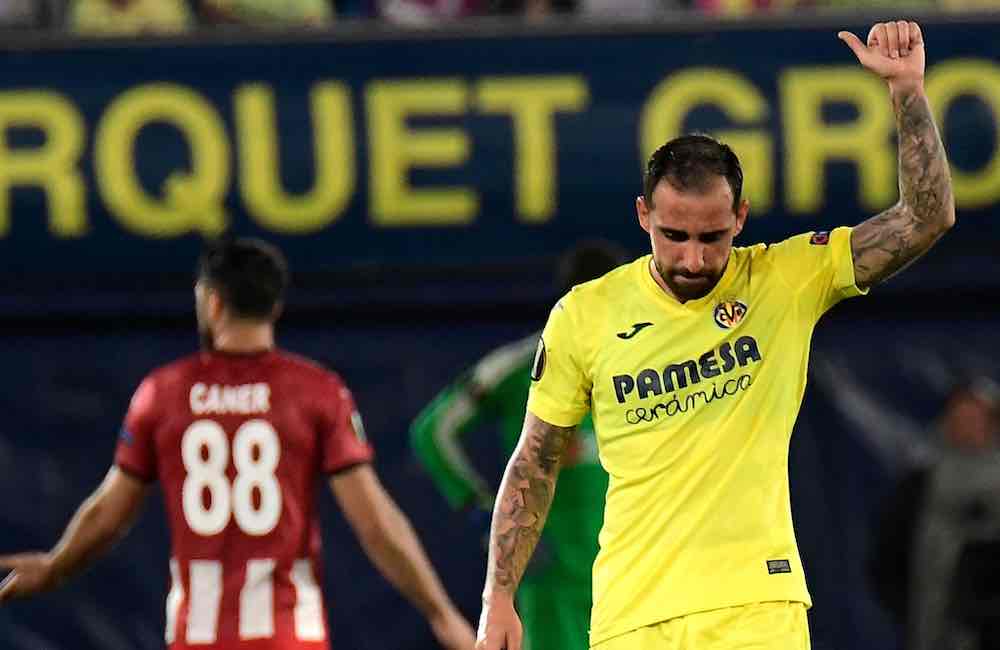 Conclusions
Tactically this was a very fascinating game, and technically it was very intense. It was a game of conflicting styles and, in a way, was always going to be entertaining one way or another.
Sivasspor gave signs that they are a side capable of seriously hurting a very good opposition, but Emery's Villarreal have a very particular, distinct way of playing, and could go far in the Europa League.
Villarreal will take a lot of comfort from the performance of Foyth. A goal and an assist for the defender on loan from Spurs capped off a performance in which he looked completely dominant in possession, completing 100% of his 75 passes. He was integral to Villarreal's build-up play and will be key for them in future Europa League matches.
Emery will be very pleased with individual performances, how his side was able to keep the ball and the quality of chances they made.
Sivasspor also have many positives to take from their maiden game in European competition. In particular, their ability to create chances from little possession, how their long passes created problems behind Villarreal's defence, and the intensity in which they were able to play at for periods of the game.