By Matthew Finn.
The 7-1 demolition of Roma was the catalyst for Sir Alex Ferguson's late-career European renaissance
Manchester United were synonymous with strong Champions League showings during Sir Alex Ferguson's tenure.
Although Ferguson only got his hands on the ol' Big Ears twice during his illustrious career, he finished runners up a further two occasions, as well as reaching three semi-finals and five quarters in 19 Champions League seasons.
With Man United also making the last eight in over half of these years, it is fair to say that the Red Devils were a force in Europe during the Ferguson era.
However, in the three years preceding the 2006-07 season, United endured something of a fallow period. Ferguson's side did not progress beyond the round of 16 stage in any of these Champions League campaigns, as they essentially became Arsene Wenger's Arsenal for a while. This included an uncharacteristically tepid 05-06 Champions League season where they were knocked out in the group stage, something that only happened to Ferguson three times in total.
The Red Devils' European performances mirrored their poor domestic form during this time, at least by Ferguson's lofty standards, as they finished third, third and second in the league, the longest Premier League title drought of the Scotsman's career.
This largely boiled down to the club's transition away from the great sides of the late 1990s and early 2000s, as Ferguson put more faith in youth.
The period between 2002 and 2006 was particularly turbulent with stalwarts like David Beckham, Roy Keane and Ruud Van Nistelrooy leaving, and a glut of younger players coming in.
And while Ferguson had managed to build trophy-winning sides filled with youngsters in the 90s, repeating the trick a decade on was a lot to ask. Maybe Alan Hansen was onto something after all.
But in the 06-07 season, the tide started to turn. Not only did United finally win the league again, but dragged themselves away from the abyss of European mediocrity too, even if they didn't manage to lift the Champions League trophy that year.
One game, in particular, was the catalyst for this, a match Ferguson described as "in European terms, this is, without doubt, the greatest night I have had here [at Old Trafford]", which is quite the statement considering who made it.
The Red Devils put on a kind of performance rarely seen in knockout football, something that gave the club the shot in the arm needed for a huge upturn in Champions League form during the autumn of Ferguson's managerial career. The game, of course, is the quarter-final victory over Roma in 2007. This is the story of United's seven-heaven.
A Mixed Start to The 06-07 European Campaign
Manchester United's 06-07 European campaign was a mixed bag early on, and they showed few signs of improvement from the previous three seasons. Despite the scintillating domestic form that saw United score 83 goals in a league-winning campaign, they generally failed to recreate this in Europe.
They suffered away defeats against Copenhagen and Celtic during the group stage, and despite winning their other four games, only did so conclusively in two.
In the round of 16 matches against a poor Lille side who ended up finishing 10th in Ligue 1 that season, United ground out two functional but ultimately uninspiring 1-0 victories. The BBC described the first leg as "drab" and United as tentative in the second. They ended up making it to the quarter-finals anyway, but certainly hadn't set the world on fire up until that point.
First Leg Defeat Was Par for the Course
This unconvincing form continued in the first leg of United's quarter-final against Roma as they fell to a 2-1 defeat. Despite responding commendably to both a Paul Scholes sending off and going 1-0 down by equalising on the hour, they conceded again just six minutes later.
United were fortunate to go into the second leg just one goal down, with Francesco Totti and Simone Perrotta both going close to adding a third for the Italians late on.
And although a narrow away loss to a strong Roma team was certainly not a bad result, especially considering they scored a crucial away goal and had ten men for over an hour, the real United had yet again not shown up.
Rooney Ends European Scoring Drought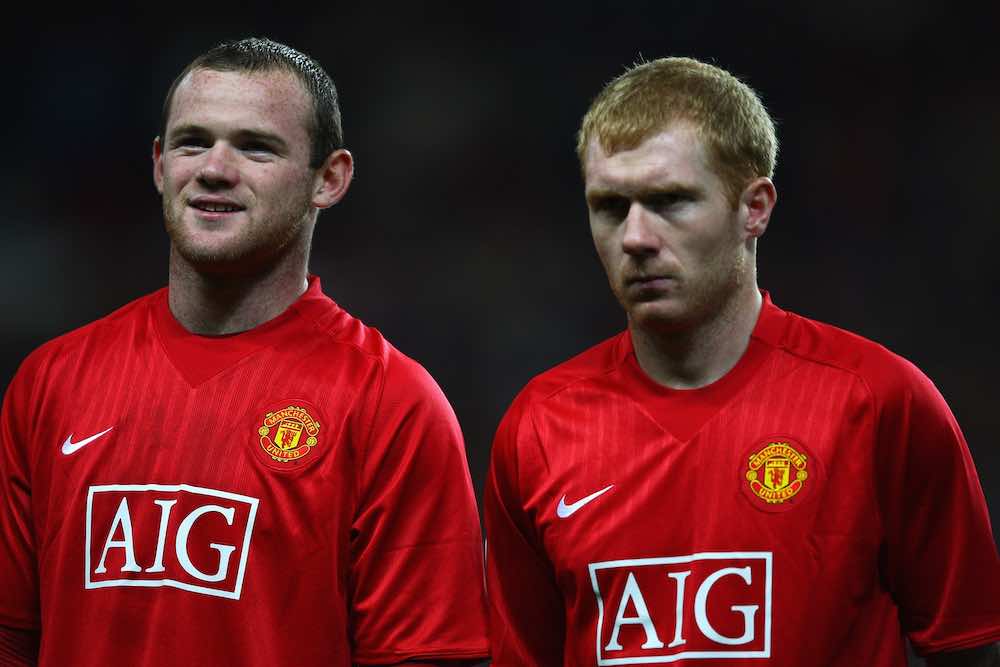 While the first-leg was disappointing from the Red Devil's perspective, the identity of their goalscorer in the tie was a cause for celebration.
The one and only Wayne Mark Rooney scored his first Champions League goal since his debut hat-trick in 2004 (excluding qualifiers), ending an 18-game barren period.
Breaking this spell was of monumental significance for United and Sir Alex in the following years, as Rooney's re-established European scoring ability helped drive the Red Devils onto Champions League success.
He wasn't the only United player to get a monkey off his back in the quarters — more on that later.
Little Cause for Pre-game Optimism
Poor Form
Ferguson's side went into the second leg not only on the back of the first leg loss but having been humbled 2-1 by Portsmouth in the league. This was the first time they had suffered successive defeats in 18 months, a testament to their remarkable upturn in form over that time, but it certainly wasn't the best preparation for a tough return leg against Roma.
Key Players Unavailable
United also entered the match deprived of several key players, with Scholes, Louis Saha, Park Ji-sung, Nemanja Vidic and Gary Neville all unavailable.
As such, you wouldn't have blamed United fans for feeling a little pessimistic pre-game, and this was likely compounded when the line-up was released. Out of seemingly nowhere, Alan Smith had been chosen to lead the line alongside Rooney.
The 26-year-old had barely featured for United since breaking his leg in 2006. Having scored just one goal in 33 appearances throughout the season, his inclusion certainly didn't look like a recipe for success.
Cautious Optimism from the Manager
Ferguson himself was characteristically confident before the game, at least in public. He told reporters: "If we score tonight, and I think we will, we will pull this one off."
What a wonderful understatement that turned out to be. Despite everything they were up against, United went on to prove the doubters wrong — and how (extremely Martin Tyler voice).
The 90 Minutes That Changed So Much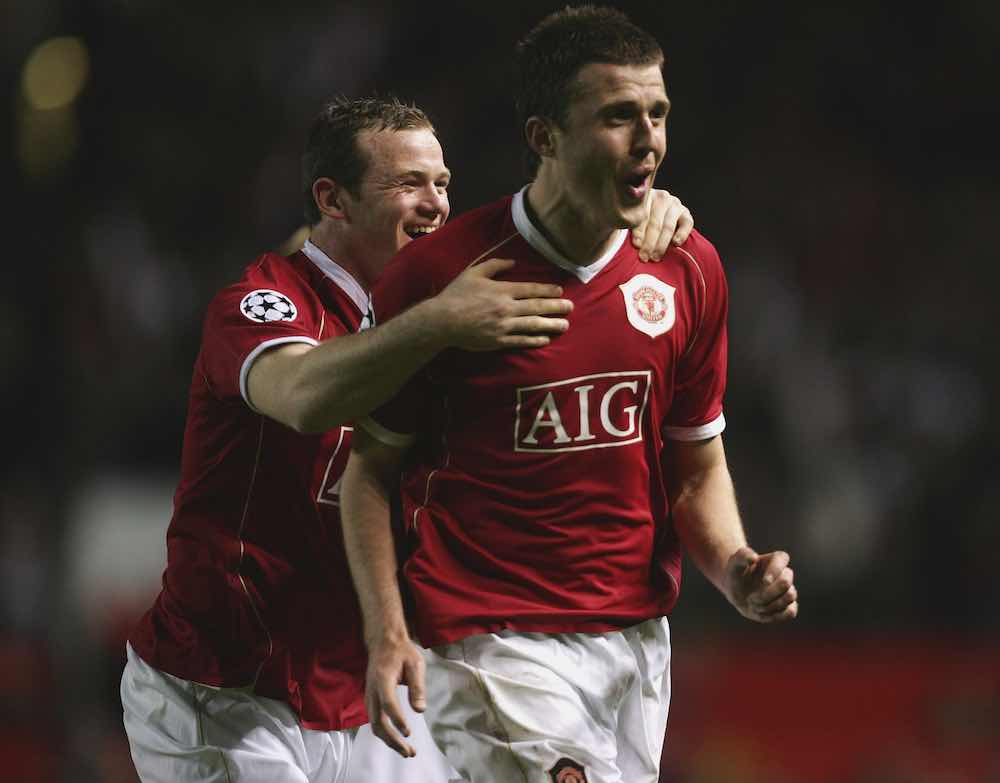 A Stunning First 19 Minutes Set The Tone
United burst into a 3-0 lead within 19 minutes, scoring all three goals in a devastating seven-minute onslaught. Michael Carrick began proceedings with a sumptuous side-footed curler from outside the box, and just five minutes later Smith doubled United's lead, finishing off a sublime, free-flowing team move.
Rooney, Carrick, Gabriel Heinze and Ryan Giggs all exchanged one-touch passes before Smith arrowed a precise finish into the bottom corner.
The words "Magical Manchester United" were bellowed from commentator Clive Tyldesley as the ball hit the back of the net, and it was hard to disagree.
Incredibly, Smith had become an unlikely saviour, with Ferguson later lauding him, asserting that: "He deserved it more than anyone. He has been patient and trained like a beast."
United were suddenly ahead on aggregate after only 17 minutes, and in the 19th minute, Rooney extended their lead further, converting a cross from Giggs and sending the Old Trafford crowd into raptures.
This signalled that his Champions League career was well and truly alive again, and United's other star player was just about to revive his own.
The Birth of Cristiano Ronaldo's Champions League Career
Much like Rooney, many people forget that Cristiano Ronaldo initially struggled to make an impact in the Champions League.
While this was somewhat understandable considering his tender age, he didn't actually score in his first 25 European games (excluding qualifying rounds). Considering the superhuman prolificacy we associate with him today, to think it took him that long to break his duck is astonishing.
He broke that duck against Roma with a burst of pace, a shimmy, and a powerful, low finish before half time. And boy did this open the floodgates for the Portuguese.
Ronaldo went on to notch another goal in the second half of the game and scored a far more respectable 13 goals in his remaining 25 Champions League games for United.
Since leaving the club, he has chalked up a quite ridiculous 115 goals in 119 European games and his 130 goal total makes him the competition's all-time top scorer.
It's fair to say that this Roma tie set the wheels in motion of arguably the greatest Champions League career ever, alongside Lionel Messi's.
Second Half Dominance
With a 4-0 half time lead and the tie all but over with United 5-2 up on aggregate, you would have forgiven them for stepping off the gas. But that was hardly ever the Fergie way and the Red Devils piled more pain on the Italian side in the second period.
Ronaldo added to his first-half goal just four minutes in before Carrick did the same with another magnificent goal from outside of the box.
The rout was complete when substitute Patrice Evra somehow found himself in space on the right-wing (?!) and scuffed a seventh in with around ten minutes left.
This bizarre goal really did add to the feeling that this was the kind of night where anything could happen.
Sandwiched between Carrick and Evra's goals was another fantastic finish, but this time for Roma, as Danielle De Rossi volleyed in on the hour mark, but that goal did nothing to blemish what was a truly remarkable evening for Man United.
Full-time Jubilation
With the game ending 7-1, United fans enjoyed the biggest European quarter-final victory since Real Madrid beat Wiener SC with the same result in 1959.
While the scoreline speaks for itself, this was a truly stunning performance. This was the absolute annihilation of a Roma side including the likes of Totti, De Rossi and Christian Chivu — a team that finished second in Serie A that season.
A game so one-sided and humiliating that Ronaldo claims Roma players begged him to stop dribbling past them, and supporters of their Rome city rivals Lazio even wrote a letter to United thanking them for the result.
In a nutshell, arguably one of the great Champions League performances ever seen by any team, let alone United's.
Although they ultimately succumbed to a Milan side containing Messrs Nesta, Gattuso, Pirlo, Seedorf, Ambrosini, Kaka, Inzaghi et al in the semis, it was evident the tide had changed for the Red Devils in Europe.
The cobwebs of the past three years had been well and truly swept away, and supporters could dream of European success again.
Wider Reverberations
2007-08 Success
While United didn't go on to win the Champions League in 06-07, it is clear that the manner of victory instilled a belief that they could be a force in Europe. And so it proved, as just one season later, United finally lifted the Champions League trophy following a nine-year wait.
Ferguson's side beat Chelsea on penalties after a hugely impressive European campaign in which they remained undefeated and most memorably saw off a Barcelona side in the semis containing the likes of Messi, Xavi, Andres Iniesta, Samuel Eto'o and Thierry Henry.
A repeat of the kind of performance against Roma was not seen in United's 2007-08 Champions League season, however. In fact, the club's success in that campaign was largely built on an imperious Nemanja Vidic and Rio Ferdinand defensive partnership, and the colossal Edwin Van der Sar in goal.
Though, that's not to denigrate the role of United's attack that year. The terrific trio of Ronaldo, Rooney and Carlos Tevez played a huge part in their Champions League-winning campaign, offering everything you'd want from your forwards: pace, trickery, determination, goals, goals, and more goals.
Indeed, United fans still reminisce about the formidable forward line to this day, and it's often included in 'all-time front three' lists.
It's clear the addition of Tevez helped bring Rooney and Ronaldo to the next level, and 2007-08 was the first time that the latter had a truly Ronaldo-level season, scoring 42 goals in all competitions.
The eight of these that came in Europe were plundered in just 11 games, including three separate winners and the pivotal opening goal in the final against Chelsea.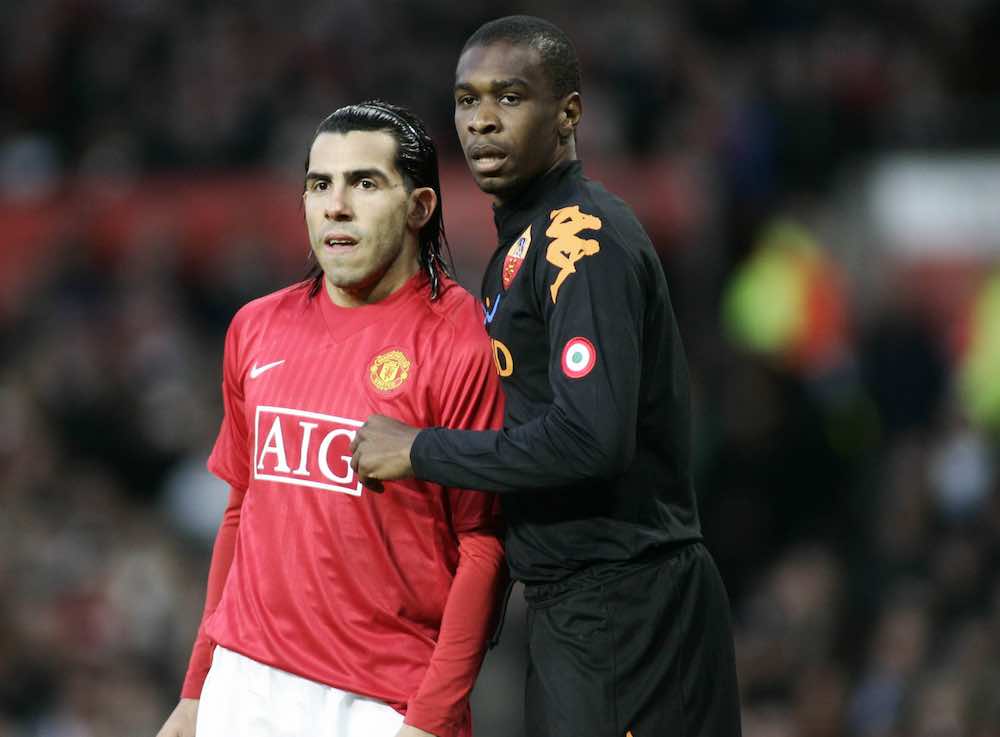 Ferguson's European Renaissance
Although Ferguson would not go on to win the Champions League again, United's previously poor showings in the tournament largely became a thing of the past from the 06-07 season onwards.
The Red Devils went on to reach the final of the tournament in two of the next three seasons, unashamedly losing both finals to arguably history's greatest ever team — Guardiola's Barcelona. This meant United made it to the final three times in five years, as well as a semi-final and a quarter-final apiece, which was easily the most successful European period Ferguson oversaw.
This was the dawn of a new era for the club, and it is entirely plausible that this spell of European excellence stemmed from one of the club's greatest Champions League performances against Roma. While there were clearly other factors at play, especially considering United's domestic dominance, it takes something different to be victorious in Europe;
This point is demonstrated by United's record between the 99-00 and 02-03 seasons. While they won the Premier League three years out of four, showing similar domestic supremacy as the United teams of 2006 2011, they only went beyond the quarter-final stage in Europe in one of these seasons.
Therefore, they could not translate their Premier League dominance into European success. It evidently takes something more to thrive in the Champions League too, something United clearly did have in the late 2000s.
What the Roma Victory Showed
This illustrates just how important the victory over Roma was. It showed that United were no longer a team that floundered in Europe, as they overcame a first-leg deficit against a quality side.
It showed that they could play some of the most ruthless attacking football you are ever likely to see in the world's foremost football competition.
It showed that Old Trafford was a fortress where anything could happen, as evidenced by home knockout victories over the likes of Barcelona, Milan, Chelsea and Arsenal in the following years.
It showed that Rooney and Ronaldo could cut it on the greatest club stage of all and that Alex Ferguson wasn't finished quite yet.
It may have only been a single game, but in the grand scheme of things, it meant so much more.