By Louis Smith.
Palmeiras goalkeeper Weverton Pereira da Silva, more commonly known as Weverton, enjoyed a season he will never forget in 2020.
It began in January with a 4-0 victory in the Campeonato Paulista over Ituano, and Weverton went on to play a further nine games in the Paulista and Copa Libertadores before the impact of coronavirus halted football across the globe.
The Brazilian, like many others, would have to wait four months before taking to the field again, but when he did his three clean sheets and penalty shootout heroics led Palmeiras to their first piece of silverware in 2020, ahead of their bitter rivals, Corinthians.
"Winning a title is always good, pleasurable, especially against the biggest rival," Weverton tells WFi.  It makes our fans happy and us players too.
"Here in Brazil, it's a separate championship to play against Corinthians. Winning a title over them — imagine our party.
"Because it is a classic, it's always very tense and difficult. Being a goalkeeper in a match is always good because we can come out as heroes if we defend penalties.
"So, I went into the shootout calm. I went through this in other games — in winning the Olympics — and I managed to do a good job and help the team with the title."
Palmeiras and Weverton kicked on after tasting success, going 15 matches unbeaten in both the Libertadores and Brasileirão.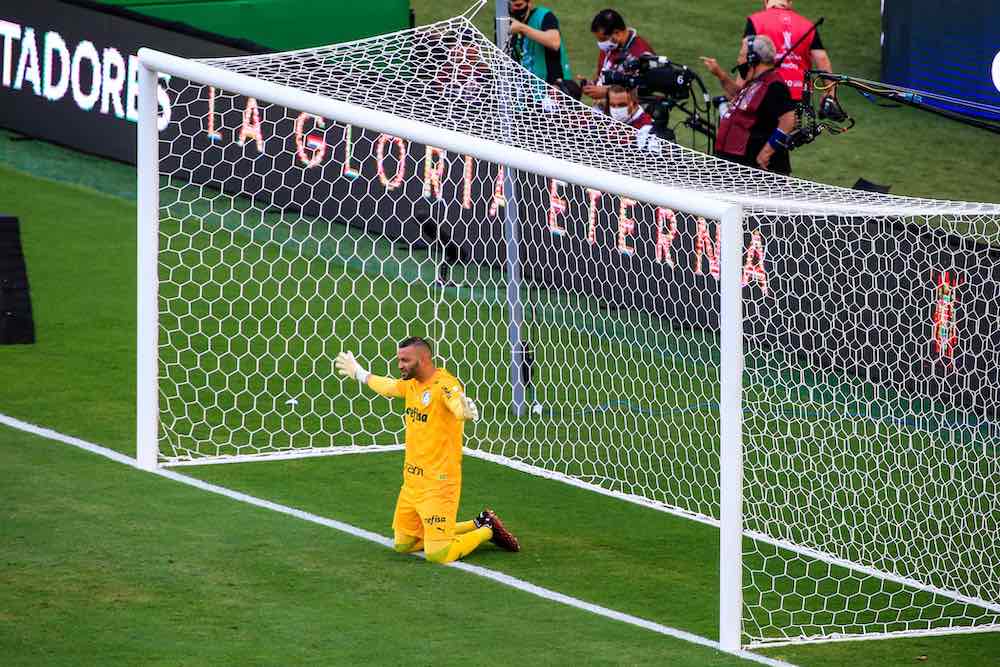 This earned him a Brazil call up. Following his heroics in the 2016 Olympics, the 33-year-old had featured in Tite's 23-man senior squad before but had never been given the chance to play, however, all that was about to change.
On October 9th 2020, Weverton was selected to start in Brazil's opening 2022 World Cup Qualifier. Brazil enjoyed a thumping 5-0 win over Bolivia. The Palmeiras shot-stopper enjoyed the perfect debut.
A few days later in Peru, Weverton once again got the nod and ensured his win record in a Brazil shirt stands at 100% as the away-side enjoyed a 4-2 victory in a classic affair in Lima.
"It was a special game for me," he says. "My debut as a starter in the Brazilian team, in a game against Bolivia, was an important mark. Even more, replacing a goalkeeper of Alisson's quality.
"I think it contributes well to the team, I helped, and I hope to have more opportunities like this, but with all due respect to the other goalkeepers that have been called up."
Weverton also spoke about his thoughts ahead of his Brazil debut,
"We always talk," he adds. "Tite gave me peace of mind, as did Cláudio Taffarel and a few teammates, but I play in a huge team so I'm used to matches of this size."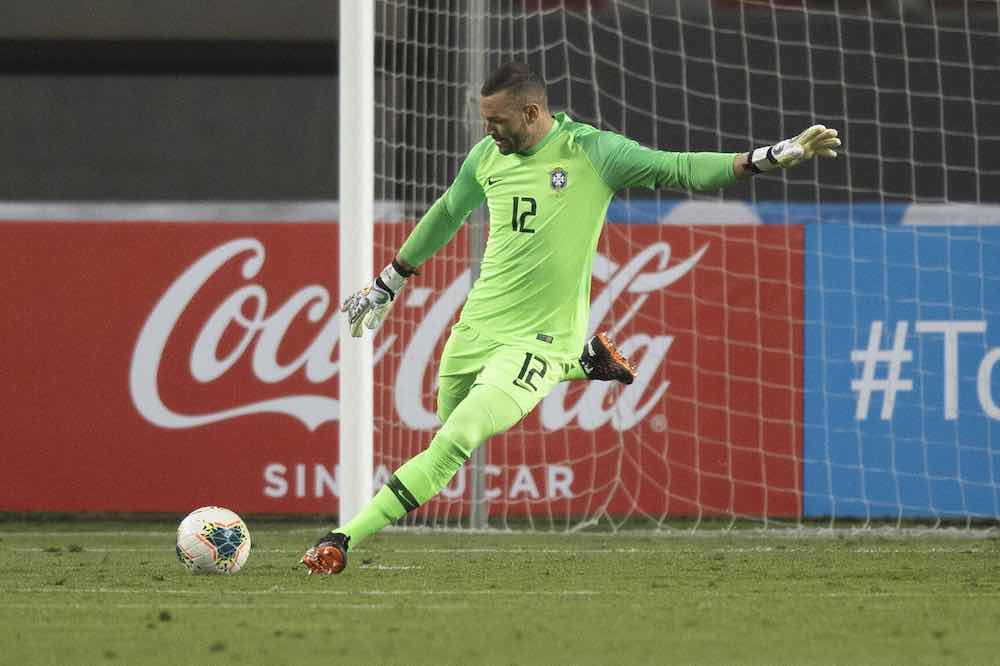 After playing against Peru, Weverton showed his dedication to the game and his club by playing the full 90 minutes against Coritiba in a league match — less than 24 hours before playing an important World Cup Qualifier in another country.
The Copa Libertadores is South America's greatest prize, it's one that fans, players and coaches get excited for.
Verdão played a near-perfect group stage campaign: remaining unbeaten, topping the group and winning five of their six matches. This set up a tie with Ecuadorian side Delfin in the round of 16 and Palmeiras showed no mercy to their opponents, dismantling them 8-1 over two legs.
Next up was Paraguayan outfit Libertad. The first leg in Asunción was a tight game that finished 1-1. Back in Brazil, things were much more smooth for Palmeiras who strode to a 3-0 victory.
In the semi-final, they faced against four-time Libertadores winners River Plate, in what promised to be a tasty battle.
With the first leg being in Argentina, Palmeiras would have been happy to just avoid defeat and hope to finish the job in the second game. What panned out over the course of 180 minutes was nothing but excitement — for the neutral at least.
In the first leg, goals from Rony, Luiz Adriano and Matías Viña saw Palmeiras defy the odds to leave Buenos Aires not only as winners, but winners by three goals.
A week later with a healthy lead, it was expected that the Brazilians would enjoy a comfortable evening to see them into the final, however, it was far from that…
River Plate came out of the blocks flying, dominating from the get-go, Marcelo Gallardo's men went into half-time with a 2-0 lead on the night and it looked like they would only extend that in the second half.
Palmeiras managed to hang on thanks to an incredible effort from Weverton who made save after save to ensure his side's place in the final.
"In that game, I think I made more than 10 difficult saves," he recalls. "I'm happy to be able to help the team when they need me.
"It also shows that my training performance is also important. I am very grateful to Abel Ferreira, to my goalkeeping coaches for trusting my work."
His heroics set up an all-São Paulo Libertadores final with Santos at Brazil's iconic Maracanã. Palmeiras hadn't won the Libertadores since 1999 and their fans were desperate to see the famous trophy in the players' hands once again.
The final was a nervy affair with both sides failing to find their rhythm throughout the game. Heading into added time, it looked like another 30 minutes would have to be played to determine a winner, however, out of nowhere, a picture-perfect cross from Roni found the head of Breno who lopped the ball over John, to place Palmeiras' name on the trophy and send fans back home into a frenzy of excitement.
"It was fantastic, a dream for us and for our fans," says Weverton. "It was a very difficult game, decided in the final minute.
"A very important state and national classic against a respected team of skilled players. We had to work hard and Santos valued our achievement too much. Abel is a born manager, he knows how to deal with each player, talk, expose weaknesses, strengths, I really like his work and how he leads the team.
"To win the Libertadores is one of the most important achievements of my career, due to the importance of competition. A dream come true. A goal achieved, I hope to achieve more often."
Success didn't stop there for the South American champions. They still had one more final to go. Inbetween their Libertadores campaign they saw off Bragantino, Ceará and América Mineiro in the Brazilian Cup to reach yet another showpiece final.
Over a two-legged final, Palmeiras turned out to be too strong for Grêmio as they triumphed with a 3-0 aggregate win, with Weverton once again remaining unbeaten between the sticks.
"Triple crown right? It was a formidable season," he says. "It was not easy. We worked hard to reach these achievements.
"It was an atypical year due to the pandemic, the calendar, but God presented us with important titles for the club's history."
With the 2020 chapter now closed, Weverton has set his goals on what he wants to achieve in 2021: "Win more titles for Palmeiras, make our fans happy, go even further into the history of the club, and continue being called up for the Brazilian team."