By James Nalton.
1994 World Cup changed the face of domestic soccer* in the United States. Could the 2026 World Cup facilitate the next step?
As Major League Soccer (MLS) enters its 26th season it's perhaps more exciting than ever, but it remains a league that, by its very nature, has limitations.
Association football in the United States is approaching a crossroads. It's one it could ignore and continue cruising in a straight line, but there is a real opportunity for some of this traffic to branch off in a new, exciting direction of its own.
It's one that offers a chance of progress and a positive change of direction, or at least a journey on a parallel road to a more inclusive kind of success.
The last period of such significance in US soccer came between 1988 and 1996.
This eight-year stretch began with FIFA agreeing in 1988 that the United States could host the 1994 World Cup on the grounds that a new top-tier league would be created in the country.
In 1990 the United States men's national team (USMNT) qualified for its first World Cup since 1950.
The new top-flight league, initially named Major League Professional Soccer, was founded in 1993.
The World Cup took place in 1994, capturing the hearts and minds of American sports fans and participants.
In 1996, Major League Soccer played out its inaugural season.
The Importance of the 2026 World Cup
Just as the 1994 World Cup was the catalyst for change, there is a similar opportunity ahead of the 2026 World Cup to be hosted across the continent in the US, Canada, and Mexico.
2026 may still seem some way off, but the plans contributing to the effects the 1994 World Cup had on soccer in the US began six years prior to that tournament. This suggests that if any similar plans are to be made to capitalise on the 2026 version, they should already have been set in motion.
Will it Increase the Popularity of MLS?
MLS and the players, represented by the Major League Soccer Players Association (MLSPA) are evidently already aware of the impact this World Cup could have on their league. Labour negotiations between the two parties at the beginning of 2021 regularly returned to the importance of 2026.
Both recognised the significance of the tournament: players hoped to be able to negotiate a new deal close to 2026, while the league wanted to tie them down in a Collective Bargaining Agreement (CBA) running well beyond that year.
Whether a World Cup held jointly in Canada, the US, and Mexico would have a positive effect on MLS itself is debatable, but it's more than likely it would bring at least some more attention to the league in the years before and after the tournament.
The MLSPA were right to suggest that this would be the case as they pushed for improved salaries and working conditions for players in the coming years,
In the end, it could be seen as a victory for the league as the resulting CBA runs until the end of the 2027 season. The results of those negotiations can be debated, but it was telling that the 2026 World Cup played a part in them.
For current professional soccer players in the US and Canada this was an important moment and an important consideration, but what about the importance of the upcoming World Cup to soccer in the US as a whole?
2026 Impact on Soccer Beyond MLS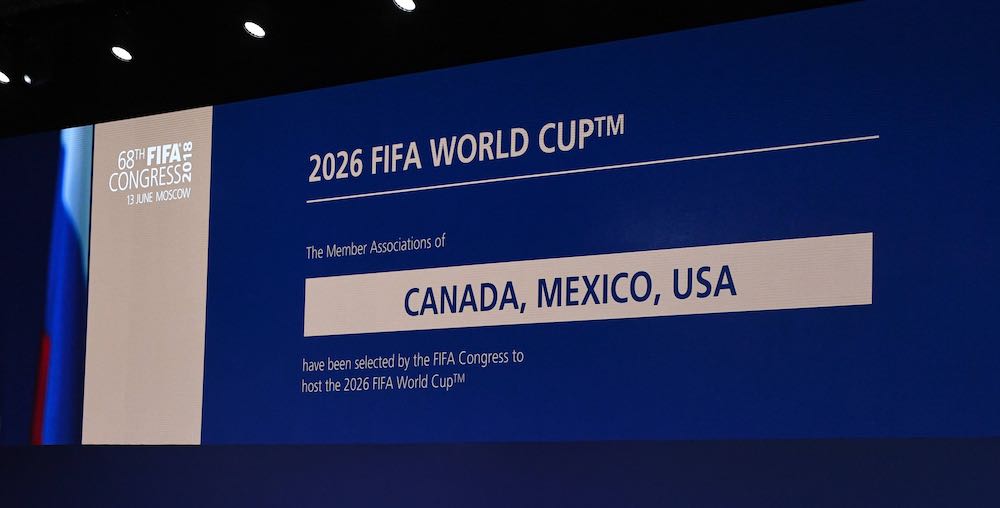 It was natural that recent CBA negotiations focused on the supposed importance of this World Cup to MLS and to its players, but there is a much larger scope for change for professional and amateur soccer players and soccer in the US generally in the build-up to and on the back of the 2026 soccer showcase.
This is because a World Cup raising the profile of MLS and a World Cup being important to soccer in the US aren't necessarily the same thing.
MLS served a purpose when it originally emerged over a quarter of a century ago, aiming to provide stability where there had previously been uncertainty. But, contrary to what is often promoted, there is more to soccer in the US (and indeed in Canada) than MLS, and soccer in the US didn't begin in 1996, or 1988, 1994, or indeed in 1968 with NASL etc.
Just as MLS can be guilty of ignoring what came before it with regards to the sport in the country, it can also be guilty of neglecting what will come in the future beyond its own expansion, and beyond its own closed shop.
For example, MLS clubs are increasingly encroaching on the 'lower leagues', with the United Soccer League (USL) fast becoming little more than an MLS reserve division.
Given its structure, growth beyond its own expansion teams is not something you would expect MLS to be interested in either, so other organisations and clubs need to become more interested and more active in looking at the opportunities the next decade of soccer will offer.
The 2026 World Cup could be vitally important for the future of soccer in the United States, but its real impact could be away from MLS.
MLS – More Local Soccer
If soccer in the US is to thrive, it needs to be more local, county-based and city-based. The single-entity closed structure of MLS doesn't allow for this beyond areas that are lucky enough to have an MLS 'franchise' and/or MLS academy on their doorstep.
Players from other regions of this huge country can often struggle to find a pathway to the top. Take the recent example of Bryan Reynolds, who was able to find a way into the FC Dallas academy but faced logistical issues in doing so having grown up in Fort Worth.
It feels like Dallas and Fort Worth are so close that this wouldn't be an issue, but given the sheer scale of America this is not the case and there is a considerable distance between the two cities.
Had Reynolds' family not been able to make sacrifices to aid their son's soccer development, or not had the resources to move 50 miles from Forth Worth to Frisco where the FC Dallas academy is based, it's unlikely that the promising right-back would have reached the level he has — a level that saw him interest Juventus and eventually make a move to Roma this summer.
It's all about opportunity, and these opportunities should be available at local level, not just at franchise level.
MLS academies have been doing admirable work in recent years, looking to abolish the pay-to-play system in favour of something more open and accessible, but as seen in Reynolds' case and that of countless others, families still need to make sacrifices. Not all families can afford to do so. Just as there are a limited number of MLS clubs, there are also a limited number of MLS academies, and this leads to limited opportunities.
The restructuring of the soccer academy landscape in the US, with more focus on development within communities, rather than milking middle-class families for money and excluding others altogether, should be part of this change in direction afforded by 2026.
Opportunity to Restructure away from MLS
This would be facilitated by a restructuring of lower league and grassroots soccer — where many of the clubs, facilities, and the will to carry it out may already exist — and defining a clear pathway for player and club development on a soccer league pyramid.
Just as the 1994 World Cup bid led to the creation of a new structure in the shape of MLS, the real opportunity of the 2026 World Cup may lie in the shape of a new organisation outside of MLS.
It's a chance to create a structure for soccer in the country which isn't solely reliant on a league that is effectively a group of shareholders invested in a company. Some MLS clubs are still treated more like shares than clubs.
"Major League Soccer is structured as a single, limited liability company (single-entity)," reads an explainer on the official MLS website**.
"In the single-entity business structure, club operators own a financial stake in the League, not just their individual team."
Without going into all the details of the single-entity league, the most telling things are that players' contracts are with the league rather than with their teams; and there is no relegation from the league and therefore no chance for other teams in the country to be promoted to it.
Expansion teams are effectively new owners buying a share in the league, and as part of this they get to run a team. Recent entry fees have ranged from $200m to $325m.
Promotion and Relegation
While it can be argued that progress to any top division would need a considerable amount of investment, even in a system where promotion and relegation exists, the main consideration is that there needs to at least be the opportunity — for clubs and for players — to rise through the leagues. It's not there at the moment.
Many teams can, and have, risen up soccer pyramids as the result of high-quality coaching, youth development, and savvy recruitment.
Granted, there are still some clubs and club owners who will gamble more money than they have in a bid to get promoted, which can then threaten the existence of a club if it goes wrong, but this can happen in a franchise system too (look at the number of defunct clubs in the US).
This is a separate issue around sensible and responsible club ownership. Soccer in the US has a good chance to get this right too — and potentially be the best in the world at it.
But as things stand, local clubs in America's lower leagues can often hit a ceiling. This can then affect their ability to continue their development, which can then affect the development of their players. If there is no opportunity for local clubs to develop, then there is less opportunity for local players to develop alongside them.
Ideally, the current league assigned division one status, ie MLS, would be the first division in the pyramid, but it's increasingly apparent that soccer in the US needs another league structure to develop separately from MLS.
There is no sign that MLS will embrace an open structure or league pyramid anytime soon, and with MLS owners invested in a guaranteed return regardless of whether their teams succeed or fail — something which can, in the worst cases, breed mediocrity and indifference — it's unlikely they will.
The USSF also places a number of obstacles such as monetary requirements and net worth of league owners.
If MLS remains the de facto top division, fair enough. If MLS remains the ultimate goal for professional American players domestically, fair enough. But for the development of players across the US, the popularity of soccer locally throughout the country, opportunities for clubs in all cities and regions, and the overall growth of soccer in America, there needs to be an open pyramid that exists in the US offering opportunities for all.
There need to be more accessible steps at the bottom of the ladder. As things stand the ladder has been pulled up, and clubs need to pay hundreds of millions if they want a leg up.
A Blank Canvas for Sensible & Sustainable Ownership
It's a unique opportunity to create leagues with responsible club ownership — something many historic European or South American leagues would struggle to do given the difficulty of altering such historic, ingrained setups.
In the US there are already the bones of a structure, both geographically and socially for this to happen. If any nation is perfectly set up — from city to county to state to country — for a large football league pyramid, it's the United States.
The increasing existence of community-run clubs, born from the drive of local people and their love for the game rather than quarter-of-a-billion dollar buy-ins, means there are clubs ready to take a place within this structure. Community-run clubs would also be less reliant on media coverage as the people and the locale are already invested in it — though the coverage would come naturally because of that involvement.
When drawing up pyramid plans, the US Open Cup, established in 1914 and one of the oldest domestic cup competitions in the world, could be useful as it involves amateur and professional teams from across the country.
Europe isn't the Blueprint
This is not an "MLS and US soccer needs to be more like Europe" article, as many European clubs and leagues are themselves moving towards a form of franchising and a UEFA single entity Super League, as demonstrated by recent announcements and the upcoming changes to the Champions League***.
The Champions League getting ever-closer to an MLS-style league, and big European clubs becoming even more like franchises than they already are. Group stage = regular season, then playoffs. https://t.co/QwauW8MGKk

— James Nalton (@JDNalton) March 30, 2021
European superclubs are spreading a form of football imperialism that is much more restrictive and imposing than MLS will ever be — indeed, some of these franchises have already moved in on MLS itself, taking over clubs such as New York Red Bulls (Red Bull Gmbh – RB Leipzig, Salzburg etc) and New York City (City Football Group – Manchester City, Girona etc).
Even though many European leagues are open in theory, with promotion and relegation, some of the practices allowed in Europe would be a bad example to follow, especially with regards to their superclubs and increasingly irresponsible or unethical club ownership.
Many European clubs have long since forgotten about the supporters and communities which made them what they are today — so copying European structures like for like is not the answer.
Neither is this an idea to rid the US of its unique sporting quirks such as extravagant team names, matchday fan experience which borrows from a number of cultures, or even playoffs.
Many leagues across the world have a relegation playoff between the third-worst team in the higher division, and the third-best team in the one below it, for example. At the time of writing, the Belgian league is about to enter a series of playoffs to decide a champion.
This is not an idea about starting from scratch, either, as there is too much history in US soccer for the need for that. It's more about building upon what is already there.
MLS was created so the United States could host a World Cup. This time around there are no such requirements. This means there will be less support from the top, so this will need to be a movement that grows from grassroots soccer.
Summary
This is not a set of ideas put forward merely to criticise MLS. It can be a great league to watch and itself has some good clubs and fanbases who try to rid themselves of 'franchise' and become more 'club'.
MLS has recently shown its ability to develop homegrown players and, thanks to the work of some of these clubs, to think outside the box when it comes to recruitment as well as rid itself of the 'retirement league' tag (all leagues are retirement leagues in some way).
This is more to highlight the limitations of MLS and the obstacles faced by many non-MLS clubs and players throughout the country.
It's about an opportunity to make the US one of the most accessible, well-run, and entertaining domestic soccer countries in the world; while also aiding the development of players who might never have had the chance to move to an MLS academy.
It's an opportunity to embrace the rich history of soccer in the United States while also looking to its future.
It's an opportunity for clubs called New York Pancyprian-Freedoms to have the same opportunities as a club called New York City.
It's an opportunity to make the 2020s as important a decade for soccer in the United States as the 1990s. With a World Cup to look forward to, the motivation, excitement, and desire should be there to facilitate it.
---
* The word soccer has been used in places throughout this article to describe association football in order to differentiate it from American football/gridiron. For more, read a history of the word 'soccer'.
** Written before the restructuring of the MLS website – the page with this info is no longer live.
*** In many ways, MLS has more similarities with the Champions League than with a domestic league, but in MLS the group stage consists of two larger groups (conferences) to form a 'regular season' prior to the knockout stages.