The second part of James Rhys' interview with Chicago Fire play-by-play commentator Tyler Terens looks ahead to the 2022 Major League Soccer season.
---
You've been on pre-season duty with the club for the last few weeks. It's a really exciting time for the club, what's it been like witnessing Ezra Hendrickson working to implement a new era at the Fire? 
"It's been special. I don't think I'm truly appreciating it now, in the moment. It'll be cooler in October if we're making a playoff run, or maybe in three years' time when the Fire have built something really special and have become a dominant force in the league year in, year out.
"It's a blank canvas for Ezra. It's his first MLS head coaching job. For a lot of the coaches, it's maybe the highest level of responsibility they've had — with the exception of Frank Klopas — within a club. It's really cool to see him put his Caribbean, laid back but buttoned-up vibe on this team. 
"A lot of the training sessions, we're still trying to find out what it's going to look like, especially in the attacking third, but it's been such a treat to see it start from level 0 and to see where it is going to go from there.
"I'm fascinated by the prospect of how Ezra is going to manage the likes of Xherdan Shaqiri."
---
What has the attitude and atmosphere been like? It's fair to say that it's been a difficult run for the Fire over the last few seasons. Can you see things changing before your eyes? 
"Night and day. The results weren't there and it's not to say that the way Raphaël Wicky dealt with this team is the wrong way, it just wasn't the right way in that moment. 
"Seeing Ezra now foster this culture, it has been absorbed by the likes of Jonny Bornstein, Fabian Herbers, Rafael Czichos and some of the older players in this group.
"It's now about translating onto the field. It's translating it in a way that — I think we're still days and weeks and months away from seeing what this is going to look like from an end product standpoint.
"From a team camaraderie point, I got to travel with the team from June last year so I got to see a lot of it on the road and how the team interacted. Even speaking to Johnny Bornstein a couple of days ago, I was saying 'this feels different than last year. It feels different to any season in Chicago since he's been here.' And he goes 'you're 100% right. There is something different about this group.' 
"Gaga Slonina went to US men's national team camp and said the biggest thing he was surprised by was how much the guys got along and how they were genuinely friends and enjoyed each other's company off the field. He wants to bring that to the Fire.
"He brought a couple of board games and guys are playing cards after dinner — not into the wee hours of the night but for a couple of hours after their meals, and that's what Ezra wants.
"He's a product of the Ziggy Schmidt tree and if Ziggy is known for anything, it's cultivating a winning culture and Ezra picked up on that from his years as his assistant. 
"You're seeing that now, and I think the results on the field will follow. But for now, everything that needs to be taken care of off the field, and the environment and the team culture, is being put in place. You're only going to reap the rewards after that.
"If you talk to anyone who has been part of a winning team, the guys get along and there's a good feeling about the place and I think we're starting to see that play out."
---
It must be a testament to Ezra and the qualities he's bringing in, that he's getting total buy-in from everyone, from a 17-year-old Gaga to a veteran like Jonny Bornstein, right?
"The most interesting part of it is, he's not going around and saying, 'oh we need to be having fun, we need to be loose', that defeats the object, right?
"He's just unabashedly himself. And Ezra is just a laid back, fun, smiling Caribbean — you just want to be around this guy, knock down a couple of beers and talk about football and talk about life. That is exactly who he is and who he is around the guys. And they can see that if he can be himself, hey, I can be myself too!
"But I don't want anyone to get mistaken that this is a free for all and you can do what you want, because I've been calling these pre-season games smack dab between the two technical areas and even the Toronto FC game, where Bob Bradley was to my right and Ezra was to my left, Ezra was screaming even more than Bob was. Which, for anyone who knows Bob, knows that is saying a lot!
"It's laidback, it's fun, Ezra is being himself but once we're not the field or when we're training, it is business. Wipe that smile off your face and let's get the job done."
Ayye, @EzraHendrickson's still got it 🔥#cf97 | @DrinkBODYARMOR pic.twitter.com/jriRXrg27V

— Chicago Fire FC (@ChicagoFire) February 4, 2022
Having witnessed the work that has been done, what do you think the realistic ambitions are for the Fire this season? 
"I think play-offs. I really do. Getting into the top seven in the Eastern Conference is a very realistic prospect. 
"If you think the front line of the Fire could potentially be Shaqiri as a ten, Brian Gutiérrez out on the left, Jairo Torres maybe out on the right and Kacper Przybylko up top — I'm backing that.
"You look at the backline that has only conceded one goal in pre-season matches, Rafa Czichos is an absolute monster coming over from the Bundesliga. I think that the pieces are there to make the playoffs.
"Will it happen? I don't know, but it is a realistic goal and expectation for the club given we haven't been there for four seasons and we are making signings we typically haven't made in the past, or haven't made for a while.
"Bastian Schweinsteiger was signed in 2017 and we haven't made a big European DP slash since then. Once you get to the MLS Cup playoffs, you never know what's going to happen!
"Even if you barely scraped in, like Real Salt Lake last season, you can still find yourself fighting for an MLS Cup."
---
It's very clear how excited and enthused about the upcoming season everyone is. Can you feel the excitement building in the city of Chicago? Does it feel like the start of something special?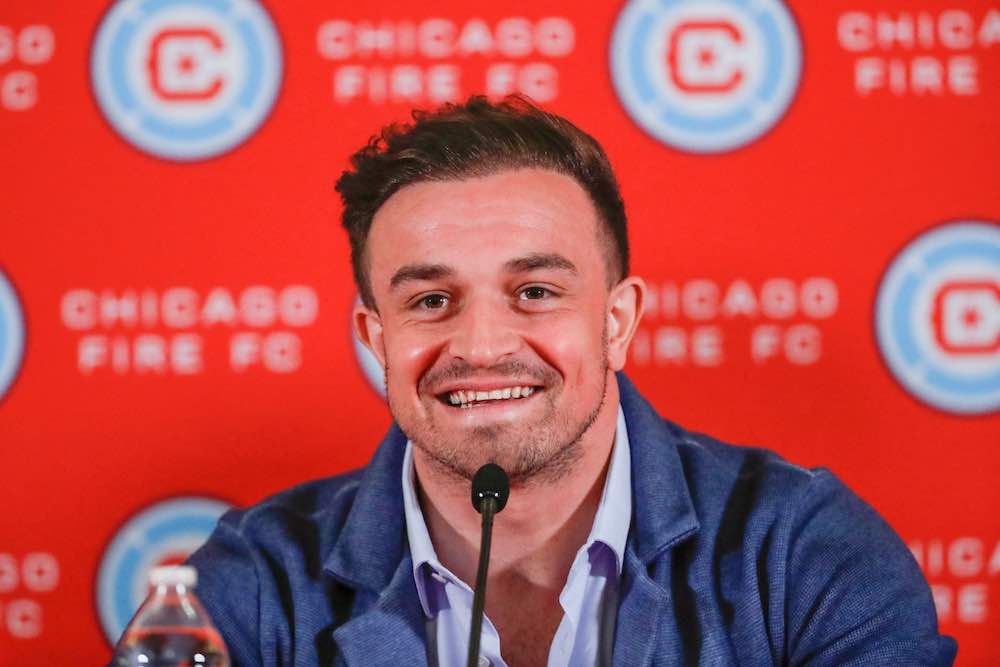 "Even as you're talking about it right now, and each person I talk to, it just gets more and more real, and I'm just starting to get a few goosebumps even saying it right now. 
"Shaqiri's not here yet, he's getting here tonight [February 17] — that's going to be really real when he gets here. When Przybylko puts in his first goal, that's going to be really real. 
"But there's a real buzz around this group. If you think back to the first two weeks of the 2020 MLS season, the Fire are making their return to Soldier Field and we are supposed to have 40-50,000 at Soldier Field for the home opener against Atlanta United, the buzz around that game was second to none. I think it should be even bigger heading into this home opener against Orlando City! 
"When you think about the players we've signed and the talent that is on the field. We saw that 2020 and 2021 group play. Even without seeing this group in a full 90 minutes in a Major League Soccer game, the buzz should exceed that game in 2020 when we were returning to Soldier Field with the new logo, Joe Mansueto taking over the team from an ownership standpoint, Georg Heitz, Raphaël Wicky… the buzz should be bigger. 
"The idea of Xherdan Shaqiri on a set piece from 20-yards out on the right-hand side and him bending in a free kick in front of Section 8 on the south side of Soldier Field — that just keeps me up at night in the best way possible, and I can't wait to see it!"
---
If, somehow, anyone reading this piece is yet to be convinced, how would you sell that first game at Soldier Field to someone still sitting on the fence? 
"Xherdan Shaqiri. That's the first thing. You're getting a guy who's played at Liverpool, Bayern Munich, who's won the Champions League twice, has won two Club World Cups, has 100 caps for the Swiss at international level, scored the goal of the tournament at the 2016 UEFA Euros… Being able to see him in action at 30 years old, not 35 and this being a retirement stage for him — that is special. 
"The second reason, listen, the first few games might be a struggle: Xherdan is just getting here now, he's going to have one week of training, maybe one or two more, signings still coming in, and it might take a few games, but don't you want to say that you were there from the start when something really special was starting to brew?
"That you saw the first game of the Ezra Hendrickson era that could last five, ten years and dominate Major League Soccer — getting back to the days where winning trophies was a force of habit?
"I know it's going to be cold. It's going to be absolutely freezing. But I just think we are on the cusp of something so great and Joe is one of, if not the best, owners in Major League Soccer in terms of how much he loves this city, how much he loves this club and what he is willing to invest in it.
"Just as a supporter of the Chicago Fire, I can't remember a time where you should be more excited than what we have right now, with a new coach, big-name DP, guys who know this league and young players who are hungry and are going to be playing in Europe soon.
"I think Fire fans should see this as an opportunity to see this from the start, as I've had the opportunity to witness in pre-season, and it all starts March 5th at Soldier Field."
---
Read the first part of James' interview with Tyler Terens here.