By Christian Evans.
After several solid displays from Ruben Dias early in his Manchester City career, it appears the club have finally solved their centre-back problem — an issue that has troubled Pep Guardiola for some time.
Prior to Dias' arrival, the Citizens leaked seven goals in four games, most notably five in the humiliating loss to Leicester at the Etihad. However, since the Portuguese centre-back arrived, City have conceded just three goals in seven games.
Interestingly, City have managed to remain unbeaten since that defeat to Leicester. Although Dias hasn't played in all of those games it is clear that his immediate impact has motivated the other centre-backs. That has been underlined in an improvement in John Stones and Nathan Ake, as shown by their displays when called upon recently against Olympiacos.
Dias reads the game superbly. He is vocal, strong in the air, and is always one step ahead of his man. He is the commanding presence Guardiola's team has been lacking since Vincent Kompany retired.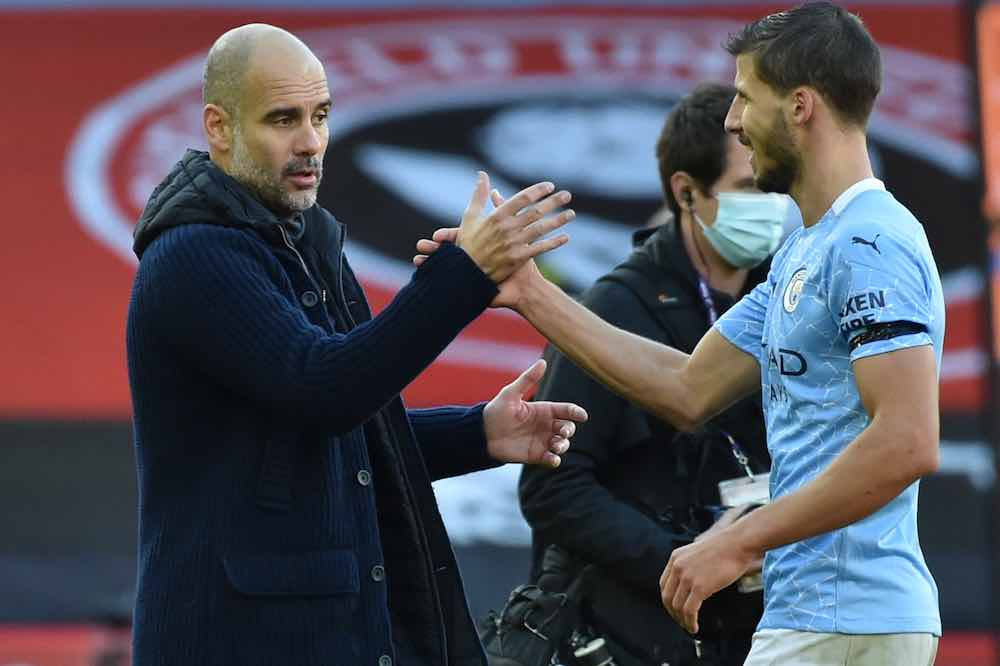 Many questioned whether the Portuguese international could fill the void vacated by Kompany, yet just days after coming into the side following that embarrassing defensive display against Leicester, and despite the hefty price tag, Dias showed just a glimpse of his worth against a Leeds team that took Liverpool to the limit on the opening day of the season.
Dias was assured, confident, prepared and aware, that was evident as he denied Patrick Bamford at the start of the second half in that game. His awareness and anticipation to block a shot at close range underlined the quality at his feet.
Throughout the second half at Elland Road, Leeds were the better team, and despite the expectations and hefty price tag breathing down his neck, Dias was a steady head that kept things together and ensured City left Yorkshire with a point.
Dias' skills in the defensive third show that he loves the opportunity to defend on the front foot and play out of the back when transitioning to attack — a favourable trait in Guardiola's system.
The 23-year-old is the mould of what Guardiola wants from a defender. The former Benfica star is authoritative and confident on the ball, while also aggressive, composed, and strong in the tackle.
Dias can do the basics and the dirty work as effectively as he can perform the beautiful side of the game we all know and love about Guardiola's style.
The defender's form will be a welcome sight for Guardiola, who has struggled to find the right defensive combinations, despite splashing out around £400m on his back four since arriving at the club.
However, with the Portuguese star finding his feet immediately, he has formed a strong partnership with Aymeric Laporte who continues to offer a reminder of why his absence was felt last season. The results have been evident.
In three matches with this partnership, City have won two, drawn one, conceded just one goal, and registered two clean sheets — against Sheffield United and Marseille.
Dias was rested along with Laporte when Ake and Stones stepped in, likely signalling that the former combination will be used in the big games going forward.
Dias has yet to lose playing for City and that bodes well for Pep Guardiola's team. However, in order to continue this unbeaten run they will need Dias to be at his very best.