Bundesliga Zeitung, by Andy Wales.
After ensuring their progression into the Champions League knock-out stages in midweek, Borussia Dortmund could switch focus to the Bundesliga where they hosted VfB Stuttgart — a game which was to prove fateful for head coach Lucien Favre.
The expectation was, understandably, a win for the hosts in their final home game of 2020, but, as we've witnessed over the past few seasons, Dortmund and expectations don't always mix well.
Before dissecting them, it's only right to speak about the victors. Winning 5-1 at Signal Iduna Park is no mean feat, regardless of how feeble the hosts were. Stuttgart were superb throughout this game and unfortunate to only be drawing at the break.
They were quick, strong and aggressive. Their American coach, Pellegrino Matarazzo, got the game plan spot on. They exposed Dortmund's weakness in transition to absolute perfection. But for the post, Stuttgart would have scored six and it might have been even more. Dortmund couldn't handle Tanguy Coulibaly or the speed at which Stuttgart moved the ball.
After the game, both Mats Hummels and Marco Reus praised Stuttgart's game plan and aggressive pressing that was once a hallmark of Dortmund themselves.
Emre Can can perhaps count himself lucky he wasn't sent off for the foul that gave away a penalty. Silas Wamangituka tucked it away with aplomb and was another to cause Dortmund difficulties.
The other four Stuttgart goals all came from Dortmund being punished quickly after losing possession. As much as that was often Dortmund being sloppy and lethargic, it was also down to the visitors. Their focus, energy, aggression and organisation ensured any loose ball was soon transformed into a Stuttgart attack.
Any gaps left by Dortmund were exposed with quick passing and runs into space. The yellow and black defensive line looked as uncomfortable turning as it did when Stuttgart players ran at them.
The one positive on the pitch for Dortmund was a goal that oozed class from Gio Reyna. His delicate first touch and delightful finish brought parity to the scoreline just before half-time. There was never really any parity in the play, though.
As sharp, aggressive and full of ideas as Stuttgart were, the opposite can be said of Dortmund. Slovenly, meek and lacking direction, the Dortmund team appeared as lost as their coach on the sidelines. Like a rabbit caught in the headlights, and the imminent headlines, Favre stared with eyes wide open as events unfolded.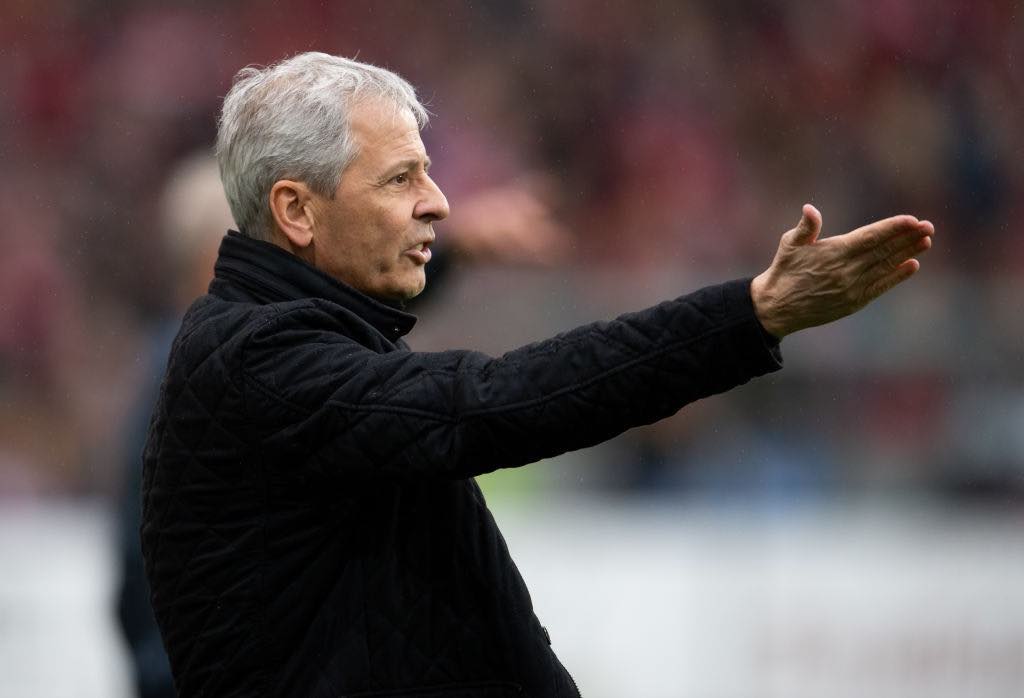 Favre and his team can be thankful that there weren't any fans in attendance for this horror show. This truly was the nightmare before Christmas for Dortmund. CEO Hans-Joachim Watzke was pictured in the stands with his head in his hand. This was no movie he was watching, it was a stark reality that he'd seen before.
Borussia Mönchengladbach sporting director Max Eberl praised Favre in an interview with Archie Rhind-Tutt this week. The fantastic job Eberl has done at Gladbach means that his words carry weight and he clearly still rates the former Fohlen coach. However, as undeniable as it is that Favre has done a good job at Dortmund, they are in Groundhog Day.
Max Eberl to @ESPNFC on how much longer he expects Marco Rose to be at Gladbach and whether Lucien Favre gets a raw deal at Dortmund. pic.twitter.com/arwKJuIHP6

— Archie Rhind-Tutt (@archiert1) December 9, 2020

The same weaknesses that cost them the title two years ago in Favre's first season are still there. The brittleness under pressure, the defensive fragility and the vulnerability in transition.
Last season, Favre switched to a back three in an attempt to plug the gaps. It may have stemmed the flow of goals being conceded at the time, but the gaps are still there. The defensive structure in transition is still there. In the process, they've lost a man in midfield and it was an area Stuttgart dominated.
Having a better goalkeeper and defenders would help, and that's on sporting director Michael Zorc, but the defensive structure and passive nature of the team is a fundamental issue, and that's on the coach.
Dortmund have an excellent squad of midfielders and attackers but have failed to capitalise upon them. Having lost Can to the backline and underutilised Julian Brandt, this key area of the pitch is often overstretched.
An on-form and confident Dortmund can be a joy to watch when they hit teams on the break. The durability of that form and confidence is as much an issue as the team balance and defensive structure though. A few weeks ago, Dortmund were playing well and I suggested that the nature of this season meant there could be an opportunity for them to win silverware. However, this was on the proviso that they didn't drop points in games they should be winning.
Since then, they've lost at home to a struggling Köln, drawn away to mid-table Frankfurt, and then the Stuttgart humiliation… Bayern dropping points to Leipzig and Union Berlin during this period only emphasises the point.
Favre has been on shaky ground before, more than once, but you get a sense that this was different. His contract ended this summer and, like his team, his demeanour didn't suggest there was much fight left.
Favre's departure was announced by Bild the day after this 5-1 defeat, and now leaves the club looking for his replacement.
Salzburg's Jesse Marsch has long been rumoured to be top of Dortmund's list of potential Favre replacements.
He's a candidate that makes lots of sense and his profile matches the squad well. It's unlikely he would be appointed mid-season though. Despite Ralf Rangnick's name being mentioned, I think Derek Rae's suggestion of Matthias Sammer as an interim boss could be spot on.
4/ The other factor is Dortmund will want a German speaking head coach, so that would rule out Pochettino for now. One possible stopgap/internal solution would be Matthias Sammer, already an advisor to the club, ex coach. Interesting times.

— Derek Rae (@RaeComm) December 12, 2020
Being five points off the top means there is still an outside chance for Dortmund, but not under Favre.
The need for change at Dortmund is clear, the question is, who will Watzke and Zorc hire next?