By Cain Smith.
Following a 2-0 win against Crystal Palace, Manchester United increased their unbeaten run to an impressive 19 games.
If they win their remaining two remaining Premier League matches there is still a chance United can finish in the top four, while being in the semi-finals of both the Europa League and the FA Cup also gives them a chance of collecting silverware both domestically, and in Europe.
This kind of optimism seemed a long way off when, in January, following an embarrassing 2-0 defeat at home to Burnley, Ole Gunnar Solskjaer's job looked to be hanging by a thread.
At that time, Man United had not signed anyone in the January transfer window and were without their main man, Marcus Rashford.
Just eight days later, Bruno Fernandes joined from Lisbon side, Sporting. On the face of it, this has been the catalyst for United's improvements, but a number of factors have helped United turn their season around.
A New-Look Midfield
The clearest reason for the improvement in United's form has been the complete change in midfield. While the 'McFred' pivot of Scott McTominay and Fred appeared to work well, there were still some problems in that area.
At the same time, the attacking midfield role had been occupied by Jesse Lingard, Andreas Pereira or Juan Mata, with none of them performing particularly well or consistently in the role.
Midfield was arguably United's weakest area, but when Nemanja Matic returned to the side at the end of December due to an injury to McTominay, his defensive ability, as shown in the graphic below from Twenty3, has given the side a base from which to build. The Serbian has helped his side to nine Premier League clean sheets in just 16 starts.
While Matic was able to screen the defence, bringing defensive stability in midfield, the ability to break down defensive blocks was still missing.
This is where Fernandes came into his own. The Portuguese has been a phenomenal signing. He has 14 goal contributions in just 12 Premier League appearances, as well as 4.55 shot-creating actions per 90 minutes in the league, per FBref.
Paul Pogba's return post-lockdown has further bolstered the United midfield, seeing it become one of the most dominant in the league.
The Frenchman also has an impressive 4.65 shot-creating actions per 90 so far this season, and he joins Matic and Fernandes to complete an impressive, complementary trio.
We often saw United struggle to progress the ball with the 'McFred' pivot, but with Matic's experience and Pogba's pure quality, United's build-up has improved ten-fold.
Man Utd have looked impressive in their build-up since the restart of the Premier League, the polar opposite to earlier in the season.

I have made tactical notes of our build-up in both games against Bournemouth this season to show the improvements.

RT's and Likes appreciated pic.twitter.com/UMq9AvxAWK

— Cain Smith (@cainsmithMU) July 8, 2020
The increased service into the forward line from Pogba and Fernandes is illustrated by the number of chances they are creating. Creativity from midfield is no longer a problem for the Reds.
Mason Greenwood Is A Better Fit Than Daniel James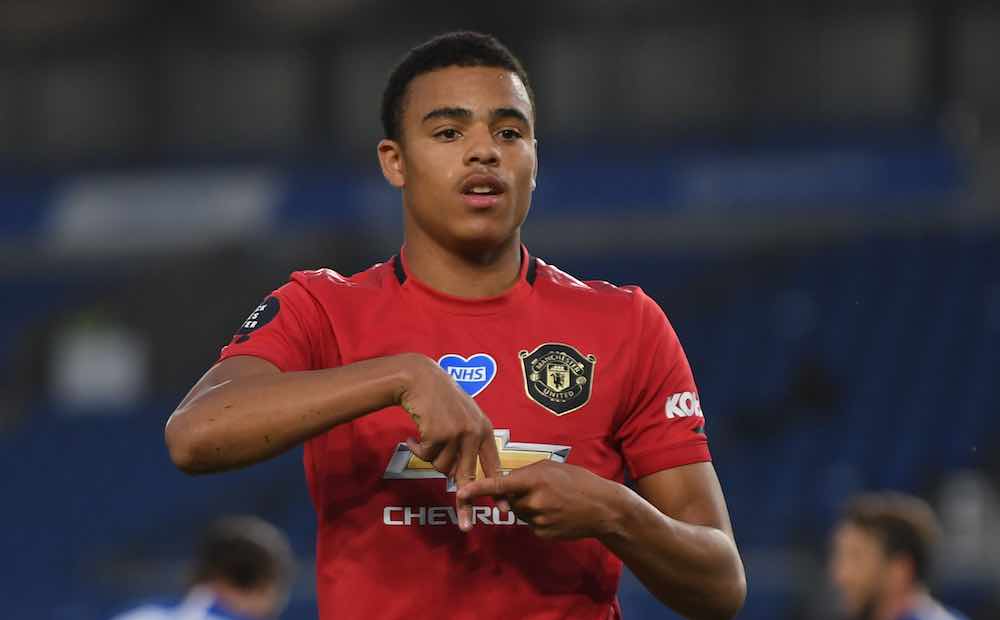 Mason Greenwood has been one of the most impressive youngsters in the Premier League this season, though he initially spent much the campaign on the bench, with Daniel James starting ahead of him on the right.
After scoring four goals in four starts since the return of football, Greenwood has solidified his place in the team next to Rashford and Anthony Martial.
His finishing is quite incredible with either foot, and this can help United break down a deep block. He has scored nine goals in the Premier League from an xG return of just 3.1 (FBref).
This demonstrates his deadliness in front of goal. He has been labelled 'xGreenwood', as he seems to have the sustainability to outperform his xG for the foreseeable future, though such a nickname is not likely to catch on!
Greenwood is a great finisher, but he is also a very well-rounded player. What he offers over James, and what benefits United a lot, is his positioning and movement in attack.
The United academy graduate will start wide but looks to operate in the half-spaces more than the flank. This helps create a more symmetrical attacking system with Rashford doing the same on the left side.
This then allows full-backs Luke Shaw and Aaron Wan-Bissaka to go high and wide, helping stretch the opposition backline.
Greenwood's inclusion helps going forward, but his movement benefits Wan-Bissaka's offensive output, too, something the right-back has been scrutinised for this season while he has been behind James.
Three out of four of Wan-Bissaka's assists this season have come with Greenwood ahead of him and two of these have been since the restart of the Premier League last month.
📝 Tactical notes on #mufc's attack vs Aston Villa | Comparison between our away and home fixture | by @cainsmithMU pic.twitter.com/nl8uXS5EUh

— United District (@UtdDistrict) July 10, 2020
Without a doubt, Greenwood's inclusion in the starting XI has given Man United a better attacking shape and chance of beating a deep block.
A Solid Defence
Since the loss against Burnley in January, United have conceded just eight goals and kept 13 clean sheets. The protection from Matic can not be dismissed, but United's defence deserves plaudits too.
Shaw has started in every fixture in this impressive run except the most recent (due to injury) and has shown why he can still be a top left-back with impressive displays going forward and solid displays at the back. On the other side, Wan-Bissaka has carried on his impressive season, adding impressive offensive displays to his already solid defensive ability.
Another impressive performer since January has been Harry Maguire. The centre-back took the captaincy from Ashley Young when he left for Inter Milan in January, and he has stepped up to the plate — for the most part.
His dominance in the air has been crucial in stopping teams in playing direct against United, he wins 5.14 aerial duels per 90 in the Premier League – only bettered by 1% of centre-backs in Europe's top five leagues.
While his partnership with Lindelof might not be the best long-term option, it is undeniable that the Swede has also been impressive in this run.
Meanwhile, David de Gea might be the only United player unhappy with his performances over this period, having made mistakes leading to goals against Bournemouth, Tottenham Hotspur and Everton. He will be feeling the pressure from on-loan keeper Dean Henderson who has had a stellar season at Sheffield United.
Yes, there have still been mistakes from the United defence. Take Stevie Bergwejn's goal for Spurs, for example, where the blame could be placed on three of the back five.
In general, though, United have looked a solid defensive outfit throughout this run and they will only improve further, especially if they can find a partner to Maguire who can complement him and cover for his lack of pace.
The Front Three [GMR]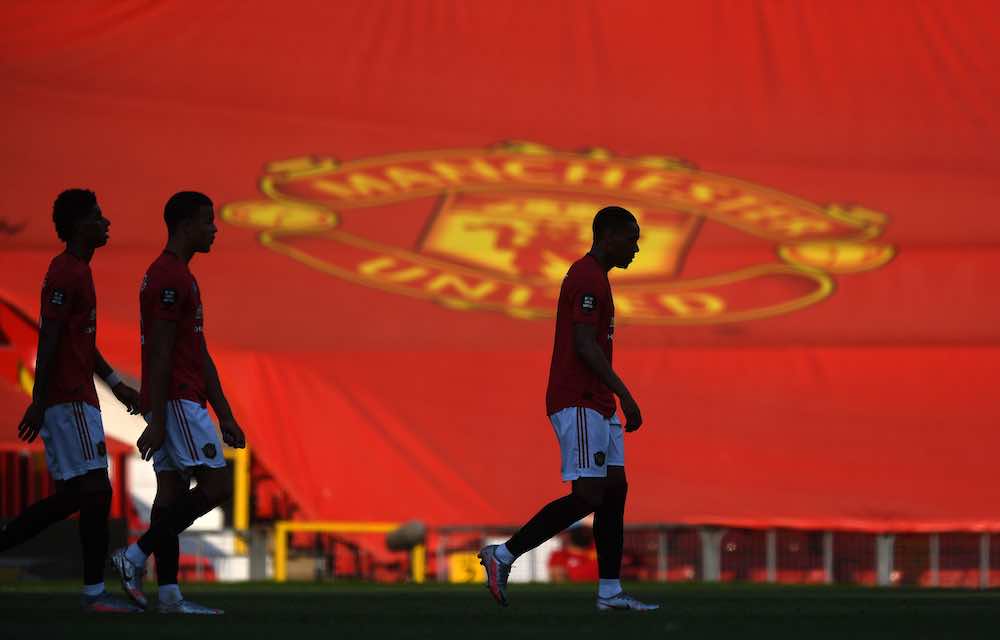 Now for the finale…
United have looked like a solid outfit, but the creativity and goals from the forward line have been crucial in their season and look to be crucial going forward.
Greenwood, Martial and Rashford [GMR] are all comfortable interchanging and linking up with each other. This gives fluidity and unpredictability to United's play. For Fernandes' second goal against Brighton, Greenwood crossed from the left, while Rashford surged into the box centrally with Martial, with Fernandes on the right to finish emphatically.
Martial and Rashford are both on 22 goals for the season, making it the first time since 2010/11 that two United players have 20 or more goals.
Meanwhile, if Greenwood finds the net four more times to reach 20 too; it'll be the first time since 1965 that United have had three players reach that figure in the same season.
The front three have been pivotal in United's impressive run and with the increasing likelihood that Jadon Sancho could be at the Theatre of Dreams next season, United's front line will certainly be in good nick.